Circe
A flashy drink list plus a creative menu results in a downtown destination with a party vibe.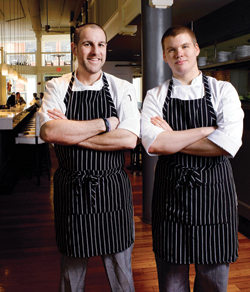 Circe
50 Weybosset St., Providence, 437-8991,
circerestaurantbar.com
.
Hours
Mon.–Fri. for lunch, Mon.–Sat. for dinner, Sundays for brunch. Late-night menu on weekends. Wheelchair accessible. Valet parking.
Cuisine
If Beyonce were a food.
Capacity
150. Vibe After-hours crowd with more decency.
Prices
Appetizers $6–$12, entrees $20–$30, desserts $8–$18.
Karen's picks
Scallop ceviche, Greek-style tuna, roast chicken, grilled pork, Indian-inspired halloumi.
Key
Fair
Good
Very Good
Excellent
Half-star
Carlo Carlozzi is being followed by a few ghosts. In opening downtown Providence's Circe, his challenge lies in extrication: from both its previous incarnation and his former employer. By restaurant standards, Circe sits in a two-story behemoth, formerly home to DownCity and tough to make entirely new. The dominant orange has been replaced by gray and the cross-dressing culture with murals of Greek urns. But it's difficult to reinvent geography meant for a massive party: The bar still lords over the restaurant and the upstairs loft continues to beckon party platters.
Carlozzi and chef Simon Keating, who heads the kitchen, both come from John Elkhay's world — the former from Ten Prime Steak and Sushi and the latter from XO Cafe — and the influence is evident. Drink lists are long and unabashed, while dishes refuse categorization other than to say they're slightly unexpected.
For the most part, customers drawn to DownCity have reappeared at Circe and that's a plus as it's one of the few diverse blocks in an otherwise homogenous downtown.
The bar still crackles with a post-work crowd that's mostly suits and skirts but weekends bring a more balanced array of diners filling the periphery of the restaurant, a trend Carlozzi is actively building. It's no secret that he speaks bar food fluently; Carlozzi handled the drink side of Ten for years and would likely be doing the same at Circe had he not found Keating and his cache of playful presentations.
Keating is an able chef, though his food occasionally gets swallowed up in the liquid revelry deemed "hot and dirty," and "sex on the mezzanine." The truth is that Circe lives somewhere in between Tuesday dinner and Saturday drinks and the dated names belie what is often gastronomically adept.
The menu certainly appeals to a varied crowd as late-night, brunch and lunch offerings include everything from eggs to oysters, though the wide spectrum is still constructed well and artfully. Raw plates are some of the most accomplished and delicate, the effort evident in their self-discipline. A single Bomster scallop served raw with tart citrus vinaigrette ($7) is far more than the sum of its parts, as is seared ahi tuna ($10) on garlic chips with just enough Narragansett feta to balance the dish. Party food, sure, yet better when sober.
But like the crowd, Keating brings an assertive sense of fun that demands small servings. Crispy pork belly ($8), several years into being the Honey Boo Boo of the food world, is intrinsically entertaining (like bacon, with more fat) but, sidled up next to a doughnut, it borders on over-indulgent. Likewise, a few bites of pumpkin fettuccine with chervil cream ($6), roasted beets with a domineering smoked Gouda ($6) or heavily coated tempura with orange saffron aioli ($7) are all good, but a full dish is unwarranted. The kitchen knows it; small dishes outnumber entrees nearly two to one, just as small talk seems to be the native language.
It's surprising then that entrees have more maturity — and more familiarity, given that several of them come from Keating's menu at XO. They're still flashy but more rooted in informality: steak, pasta and roast chicken make a play for lingering diners rather than the happy hour crowd. The staff walks that same razor's edge, some content to put the food down and walk away, assuming that everyone's taste buds have been dulled by hard liquor. On a relatively quiet night, one server left a trio of "Mediterranean dipping sauces" without identifying them (red peppers, herb and peanut). On the flip side, during slow nights servers talk you through everything from a glass of water to the best way to pass a plate around the table. It's a little bit of an identity crisis from which even Carlozzi is not immune, given that he bounces between drinkers and diners, trying to ensure that both experiences are rewarding.
Fortunately, Keating's food speaks for itself, particularly in its most rustic forms. Sliced pork chop with mustard mashed potatoes and roasted apples ($25) as well as seared halloumi with Indian-spiced sag aloo ($20) are dishes that make a menu; people will come back to reorder them on a weekly basis because they're simply better-executed versions of a weekday meal. The same is true of the free range chicken with pan juices ($22), which won't shock anyone but draws a steady clientele.
Not surprisingly however, dessert plays into everything Circe stands for: playful without being puerile. Again, the blueprint will not surprise fans of XO or Ten as it's built upon sprinkling the status quo with enough culinary stardust to render it novel. Creme brulee is infused with pumpkin and playfully presented with caramel salted popcorn, and everything on the list has at least one surprising element of showmanship — or in the case of the Death by Chocolate, far more. Circe holds the best version of this ever-evolving circus of confections: fudge, mousse, super-rich ice cream and a brick of frozen chocolate alongside a tangy raspberry sorbet. But even less theatrical options can hold their own, from the homey Portuguese bread pudding to the best option on the menu: a parsnip ice cream that tastes like vanilla upgraded itself.
This personality is no easy feat to manage. Carlozzi knows it but he still seems to enjoy the chaos on a nightly basis, meandering the wide expanse of his disparate and lively new family. The fact that this crowd, who may discover they can still carouse with a full dinner, can be categorized as such, says something about what Carlozzi brought with him and what he chose to leave behind.