Cinderblock Stories
An experimental theater in Providence brings true tales of incarceration to the stage.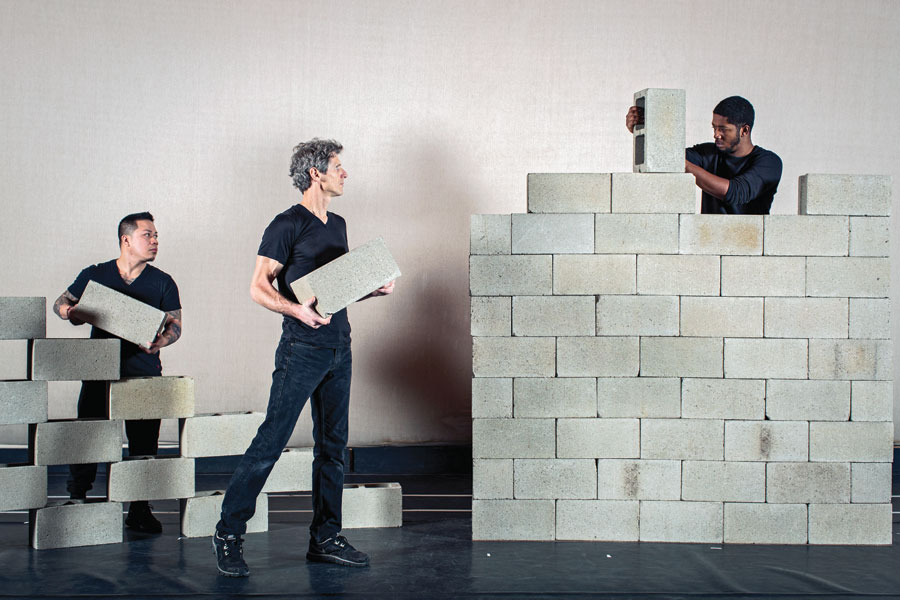 Christopher Johnson is telling a story and he's saying it straight.
Devoid of flourishes yet not without elegance, the acclaimed spoken word artist blankets an audience with the plain truth of his past growing up in Newark, New Jersey.
"At fifteen, I was stealing cars. At sixteen, I was selling cocaine. I loved this shit, this is what I lived for," the forty-three-year-old exclaims, neat dreadlocks tied at the nape of his neck. He heaves a thirty-six-pound cinderblock into place. "At seventeen, I saw two of my friends get shot and killed. On that day, I made the phone call to join the Army. I thought that if I stayed in Newark, that was going to be my life — that that was going to be me."
Johnson, a Providence resident, is a performer in The Freedom Project, a documentary theater production that tells real stories of Rhode Islanders marginalized by the criminal justice system. The piece is produced by Everett Company, Stage and School, a small interdisciplinary theater based in Providence's Mount Hope neighborhood.
Instead of data and statistics, Everett uses dance, poetry, thematic materials and multimedia projections to bring each story to life. On this night in November, an in-progress version of The Freedom Project — the product of a two-year research and creation process — debuts to 100 people at Brown University's Granoff Center for the Creative Arts.
As Johnson tells his story, he and five other performers erect a sturdy, cut-rate wall reminiscent of those confining prisoners across the nation. The melody of clinking cinderblocks reverberates through the small, darkened theater, and Johnson continues. "Some of my guys wanted to join this gang coming in from the West, and it was blood in, blood out. I just so happened to have been sleeping with the gang leader's girlfriend, and I had no idea."
Johnson's name was placed on a hit list, but his friends gave him an ultimatum: Help them shoot another man on that list, or they'd shoot him then and there.
"We put seven bullets in that guy, and he lived," he says. "When I pulled the trigger, some part of me died."
The district attorney wanted to give Johnson a twenty-year sentence, but because he was under duress, the jury gave him three.
"As they read the verdict, I wasn't even there. I was with my mother, I was with my sister, I was mourning that unidentifiable part of me that had died."

The Freedom Project, which formally premieres at Brown's Granoff Center in March, was inspired by Everett Company, Stage and School's community of inner city artists.
"That's the voice we're trying to represent the most," says Aaron Jungels, Everett's co-executive director. "It's also the voice that's the least represented."
Jungels, a Mount Hope native who studied at Rhode Island School of Design and the Trinity Rep Conservatory, founded Everett with his mother, Dorothy, and two sisters, Rachael and Therese, in the late 1980s. The company was named for Rhode Island-born tap dancer, Everett Weeden, a family friend.
The dance company launched first, a Jungels family affair that won over the experimental theater crowd in New York City and earned them a place in the esteemed National Performance Network (NPN), which helps small, progressive theaters tour across the United States.
Everett's last research-based project, BRAIN STORM, which explored the magic of the human mind, toured the nation in 2012. With NPN's support, The Freedom Project will visit theaters in Martha's Vineyard, Cincinnati and other cities through 2017.
Following the dance company, the Jungels developed Everett's community stage — home to the all-ages Friday Night Live improv, music and comedy showcase — and after-school arts programming for low-income youth. Both are housed in Everett's restored carriage house on Duncan Street in Providence and are supported by donations and grants.
"We were doing residencies in the public schools and meeting a lot of great kids," Jungels says. "We were feeling like there were certain kids who needed to be artists, and that maybe we were never going to see them again and they wouldn't have much access to the arts after that. So we created this place for lower-income kids over the long haul so they could develop into the artists they needed to be."
Four of The Freedom Project's six cast members, Providence residents who work at least part-time for the organization, grew up learning dance, improv and theater techniques at Everett. Freedom Project performer Sokeo Ros, for example, started with Everett in high school. Ros runs the organization's hip hop program and is working on a one-man show about his experience relocating from a Cambodian refugee camp to a gang neighborhood in Providence.
"Kind of organically, we've developed a group of artists who share an experience," says Jungels, who also performs in The Freedom Project. "Now, a lot of the work develops out of the issues they are dealing with, and that's how we came upon mass incarceration. It affects this community profoundly."
The impact of incarceration is projected to grow over time. According to the Rhode Island Department of Corrections' (RIDOC) 2014 Annual Population Report, the state can expect a 7.8 percent increase in its prison population over the next ten years, continuing a relentless trend of the previous thirty-five years.
Our prisons' white population has declined by 29 percent since 1986, while the black and Hispanic populations saw significant jumps. Both minority groups are dramatically overrepresented in Rhode Island's prisons and in correctional facilities all over the nation.
"We like to leave things open-ended, but race is a big part of the piece," Jungels says. "It's a big part of what's going on in the whole system — an element of racial control. That's how it operates, if you really look at it and are honest about it. We know people are profiled. We know our guys get pulled over more than I would. It's hard to connect how that's feeding the incarceration state. The results are around you, but you don't really see it."
During the two-year research and creation phase of The Freedom Project, which started in 2012, Jungels and other members of the cast interviewed current and formerly incarcerated men and women, police officers, university scholars, public school teachers, public defenders and correctional officers. Each discussion was recorded and the material is used in myriad ways, from large-scale projections of exact interviews to narrations of interviews set to interpretive dance.
"We put our own weird experimental theater spin on it which, to me, serves the purpose of allowing the viewer to access it in different ways," Jungels says. "It gets away from the statistics and is a little more open-ended. There are lots of ways we understand things and there are lots of ways information comes into our brains. We don't always have to know what everything means. But we feel things. We understand things in a different way that's not through our intellect or our reasoning."
Erik Ehn, chair of Brown University's Theatre Arts and Performance Studies program, agrees. "I don't know if it's the task of art to cause social change; I don't know if art is measured in terms of concrete outcomes," he says. But, echoing Jungles, Ehn says art has the ability to strike viewers at an instinctive level, "and that makes change credible and possible."
Ehn helped secure a grant for Everett through the Creative Arts Council and coordinated Brown's presenting sponsorship of The Freedom Project and several Freedom Cafes, free hour-long public forums that explore relevant themes — the prison industrial complex, the schools-to-prison pipeline and others — in depth. The Freedom Cafes often feature guest experts and include performances of Freedom Project material, a way to experiment with new scenes or work out kinks in established ones before a live audience.
"I think Everett's really on track," Ehn says. "Their work is so earnest and well-conceived. They're taking their time, they're honoring the people they're talking with and their conversations are very humanely staged. They listen well."
Brown also hosted two in-progress showings of The Freedom Project, one last March and the other in November. November's showing was vastly different from March's, and Jungels predicts the material will continue to evolve.
"We want to keep learning and we want it to function as a movement-building process," he says. "There will be lots of variants on the show so we can go into smaller theaters, community centers, even prisons. It's built to be able to change as we learn more."

Outside of Everett's carriage house, a quaint place tucked behind a residential three-decker near Camp Street, one can hear the scraping instruments of incarceration echo from the stage inside.
On this early winter day, The Freedom Project cast is playing theatrical Tetris with dozens of thirty-six-pound cinderblocks. The group works fast, topping off a fifty-block structure in less than a minute. But the physical work isn't over; their figurative prison wall is constructed, deconstructed and reconfigured onstage throughout the entirety of The Freedom Project.
During this rehearsal, the wall is paired with a scene written by twenty-five-year-old cast member Ari Brisbon. It details his experience as a troubled kid who, if not for the arts, would've followed his friends, cousins and uncles on their paths to prison. The wall serves as the canvas for a distorted, psychotropic projection of cast member Grace Bevilacqua's face — a character deemed the "dystopian social worker."
Bevilacqua's character taunts Brisbon, who is seated in an adjacent cell-like space while being pummeled with crumpled paper, thematic material used throughout The Freedom Project that, in this scene, represents public school bureaucracy.
Brisbon was abused as a child and was eventually placed in a group home. His personal struggles went mostly unobserved as he plodded through Providence's public school system. At the end of the scene, Brisbon emotionally dissolves, shouting, "I hate my life, I hate my life; I just want to fight, I just want to fight."
Brisbon isn't the only cast member who shares his personal experiences on The Freedom Project stage. Throughout the production, poet Christopher Johnson drops incandescent lines like "my black skin makes walking lawful movement" and "America is beating the black out of me." His ideas summon the slayings of Michael Brown in Ferguson, Missouri, last August and Eric Garner in Staten Island last July, both unarmed black men killed by white police officers. Johnson also speaks about improving the world for the sake of his daughter.
Alternatively, twenty-six-year-old Edgar Viloria tells of his brother's impending deportation to the Dominican Republic for dealing drugs.

Freedom Project performers, clockwise from top left: Grace Bevilacqua, Aaron Jungels, Ari Brisbon and Sokeo Ros.
Everett looked outside its cast for inspiration, too. Abraham Henderson, dean of student culture at the Paul Cuffee School in Providence, appears in The Freedom Project in the form of a large-scale, shoulders-up projection. Henderson was raised on Providence's South Side, worked with young offenders at the Adult Correctional Institutions and is one of several inspirational threads woven throughout the production. A son of two formerly incarcerated parents, Henderson beat the odds of generational recidivism by avoiding prison, graduating from college and earning his master's degree.
Everett also interviewed Ana Monteiro, a former Everett company member who is currently incarcerated for mortgage fraud and, like Henderson, appears in The Freedom Project by way of projection. Monteiro exercised her right to a trial in 2010 for fear of deportation and was sentenced to up to twenty years in prison. Little did she — or her public defender — know, she gained citizenship as a minor and might not have faced jail time had she gone before a judge.
Serendipitously, after six years in prison and the week of The Freedom Project's in-progress showing in November, Monteiro received news from her parole board. Her date of release is March 15 — the Monday following The Freedom Project's opening weekend at Brown.

One of the earliest Freedom Project inspirations was James Monteiro, founder of the Billy Taylor House, a grassroots organization that provides enrichment and employment opportunities to youth living in the Mount Hope neighborhood in Providence.
Monteiro, an East Side native who spent most of his eldest son's life in prison for drug-related crimes, approached the Jungels family early in The Freedom Project process to thank them.
"My son isn't a bad kid because of them," Monteiro says. "I'm very proud of my son. He's in Year Up, and he's a parkour kid; he runs and does flips off buildings. He takes pictures. He's not shooting anyone."
Monteiro pointedly says we put ourselves in our own boxes and, alternatively, we have the power to determine our own paths. "I applaud Everett, though, because they're speaking about issues that most people don't want to pay attention to," he says.
Jungels and The Freedom Project cast didn't shy from stigmatized topics, especially addiction. During the research process, the team interviewed Tarah Dorsey, a Pawtucket mother of two who started using and dealing drugs as a teen and spent much of her adult life locked up. Since her release from prison last June, Dorsey has helped female inmates connect with recovery resources on the outside through Pawtucket's Anchor Recovery Community Center and mentors at-risk teens through high school guidance departments.
At a Freedom Cafe in late November at Everett's carriage house, Dorsey explains how, during an earlier sentence, she landed in segregation for overdosing on methadone pills inside the prison. She was attempting to take her own life.
Later in the night, an audience member asks how inmates acquire drugs inside the prison and, with candor, Dorsey says, "One of the biggest ways is the correctional officers themselves…. They're just as crooked as we are."
Dorsey also explains how some inmates smuggle heroin by swallowing drug-loaded balloons brought to the prison in the mouths of friends and family members, exchanged by way of a kiss. "They drink a lot of soda so it floats, then go up and throw it up," she says.
Dorsey makes it clear that, unless inmates themselves seek Alcoholics Anonymous, Narcotics Anonymous or Anchor Recovery Community Center's in-prison recovery coaches, they can feasibly maintain an addiction in prison.
After Dorsey speaks, Everett company members perform a narrated dance inspired by Caitlin Patenaude, an Anchor Recovery Community Center volunteer. The evocative scene appears in The Freedom Project and details Patenaude's experiences of homelessness, addiction, crime, prison and her eventual road to recovery.
In the scene, twenty-one-year-old dancer Grace Bevilacqua recites, word for word, Patenaude's original interview with Freedom Project cast members. Fueled by her own momentum, Bevilacqua's body spins and rolls and tangles in the hands of several black-clad performers. In the first person, Bevilacqua tells Patenaude's account of giving birth, then leaving her baby to score drugs from her dealer in the Women and Infants parking lot.
Bevilacqua's voice rises as she's propelled into the air, levitating in her fellow cast mates' hands. She explains how Patenaude committed a robbery while seven months pregnant with a second child and gave birth as an inmate. Not long after, Patenaude landed in segregation; like Dorsey, she tried to commit suicide by way of overdose.

Bevilacqua, the sole female Freedom Project performer, was especially moved by Patenaude's story. "People get in situations that are difficult to get out of, especially with addiction," the dancer and nursing student says. "Caitlin went to prison addicted to drugs, came out years later and the first thing she did was use drugs. She also talked about being in segregation for ten months, leaving her room for ten minutes a day, being fed through a hole in the door. Are we in medieval times? It seems, to me, like such cruel punishment."
Patenaude saw the dance for the first time at the in-progress showing of The Freedom Project, and she expressed regret that her recent successes, which include enrolling in college and leading a recovery group at Butler Hospital, weren't included.
"It's all of her mistakes put up on a stage and she's watching and seeing her own faults," Bevilacqua says. "But we see how wrong everything was that this could happen. I think it's important to know that these people who went through this hardship are still here. They somehow made it through and got to a better place. And once they have that, they're pretty determined to spread it. To teach it. To do good."

November's in-progress showing of The Freedom Project ends with a gift.
A pre-recorded poem by Christopher Johnson plays over a loudspeaker while performers crawl under and wade through vast bodies of wrinkled white paper, marked — scarred, even — but still whole.
We know human in its angelic form and as demons, but we choose to be everything you don't expect us to be.
Johnson's voice rises over a melodic tune. This time it isn't clinking cinderblocks, but instrumentals that soar through the darkened theater packed to capacity with students, educators, theater buffs, neighborhood advocates, artists and activists.
We choose to be love, we choose to be love, we choose to be love even if you don't understand it.
Then, the scent of lemon dish detergent washes over the audience. At stage right, foam builds and gurgles inside a large black plastic bag attached to a cast-constructed prison wall.
We don't do it for the betterment of the world, we do it because love is what we are driven to be.
Performers scoop clumps of froth and manipulate them into clouds over their heads — a theatrical representation of the clouds we all see when we look to the sky, whether we're free on the street or sitting in a cinderblock cell, staring out a frosted window.
Earlier that week, Jungels imagined his ideal form of theater: visceral — a viewer's neurons are firing as the movements occur — yet uplifting. "I want people to feel like they went through the ringer, but in the best way," he says.
The music fades, and the performers hand the foam clouds off to the audience. After a charged night of missteps, sidesteps, recovery and redemption, gentle laughter fills the room.
Everett Company's The Freedom Project debuts at Brown University's Granoff Center for the Arts on March 13 and 14, then moves to Everett Stage for performances through April 12. For more information, visit everettri.org.