Is Christmas Tree Farming a Bankable Business?
More often than not, it's a labor of love for Rhode Island growers.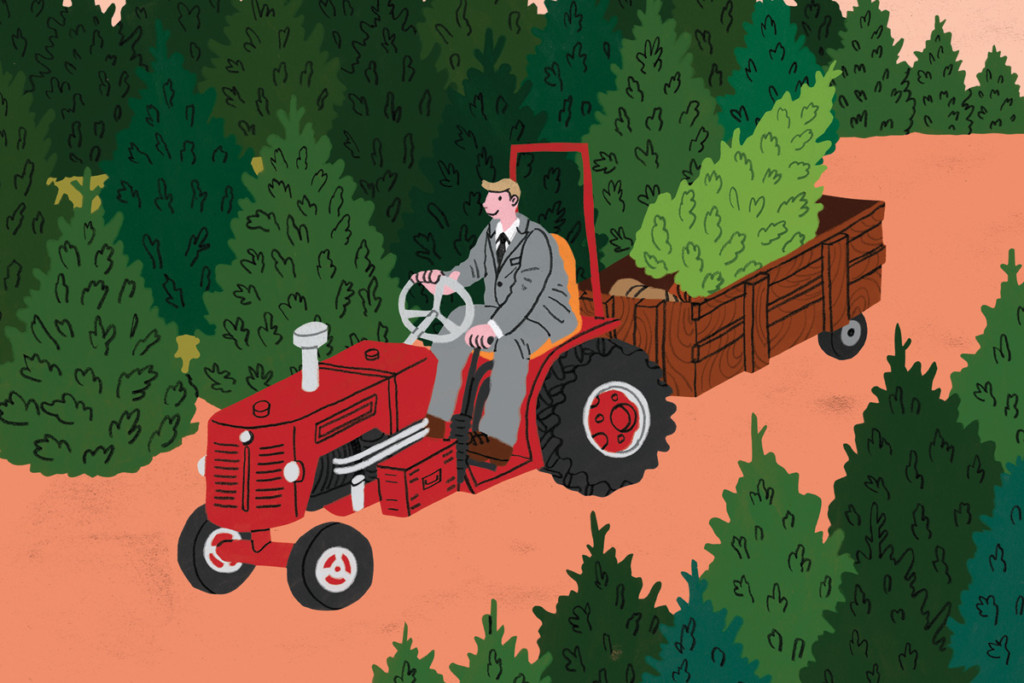 Bob Johnson strides through a field of balsam and Fraser firs, his head swiveling left to right, scanning for limbs that offend a connifer's symmetry. Snip! Johnson's shears claim another errant bough. He proceeds up the row, perfecting each into the bushy cone that careful pruning produces. Johnson's twelve-year-old daughter, Natalie, trails with less certainty, clipping double leaders — the topmost vertical branch that brings the tree to a single point — on the four-footers. The morning is unseasonably warm, and Johnson's forehead beads with sweat as the sun begins to slit the cloak of fog. But they have hours of trimming to do, so they push on.
"It's mostly busy work," Johnson says. "But the trees don't talk back to me. They don't yell at me, and they don't ask anything of me. It's peaceful."
The Johnsons are celebrating their third year as the proprietors of Nagetuck Farms, a 114-acre Christmas tree operation on a winding Tiverton back road. Bob and his wife, Emily, bought the former Boland's Tree Farm, a parcel adjacent to their home, as a family side project. Neither had farmed before; Bob makes his living as the owner of Atlantic Solutions, a wastewater treatment company. Boland's had been closed for a few seasons as the stock of saleable trees had dwindled. The Johnsons cleared new fields, planted and rebuilt the barn. They christened it Nagetuck Farms, alluding not to a mythical Native American tribe, but to the names of their children, Natalie, Georgia and Tucker.
"At first, we were happy," Natalie says of her namesake. "But then we were like, this is going to be a lot of work."
Christmas comes but once a year. Selling Christmas trees lasts eight days. Growing Christmas trees is an all-season, ten-year-long — from seedling to market-sized stock — proposition. The obstacles are many: drought, root shock, insects, blight, inclement weather on the second Saturday in December. But the restless species known as the Christmas tree farmer will brave a Bible full of plagues to preserve a cherished family tradition.
At least, that's how it is for the president of the Rhode Island Christmas Tree Growers Association. Eric Watne had been a happy man, working in affordable housing development financing and living lawn-free in his historic home in the heart of Newport. Then, his realtor wife, Catherine, saw a listing for a former Christmas tree farm in Tiverton.
"Instead of buying a house, I bought a job," he says. "It had been neglected, and I made the ridiculous assumption that it couldn't be too hard to grow Christmas trees. After one year of working on the trees, shearing, mowing, I was covered in sap and sweat and dirt, getting stung by bees, and I thought: This is it. I'm not going to do this again."
Then, Watne opened Clark's Christmas Tree Farm for Christmas.
"The first family came, saying, 'Thank God it's open! I came here as a little kid. This is a tradition,' " Watne says. "Right then, I told my wife that I felt this was like my social responsibility, to keep it going. Nobody is unhappy when they buy a Christmas tree. It's a love fest. And there's something energizing about that."
Few are energized enough to make that trade-off. According to the last United States Department of Agriculture survey, taken every five years, Rhode Island has around fifty Christmas tree farms. But the real number is closer to thirty active farms. And that mirrors the national trend, says Marsha Gray, director of industry communication for the Christmas Tree Promotion Board (CTPB).
"We have lost 30 percent of our acreage in the last ten years," she says.
Nonetheless, "Christmas tree farming is an important industry for us," says Ken Ayars, chief of the Rhode Island Department of Environmental Management's Division of Agriculture and Resource Marketing. "Four or five years ago, there was concern about the future. But my sense of it is: It's coming back. Part of that is the connectivity to the local food and agriculture movement and part of it is the young people getting into the industry."
By noon, the sun beats down on Paul McKenney, cutting long loops on his riding mower around a grid of seedlings at one end of the field; a large flock of turkeys is foraging at the other. Ten years ago, this was one of seven immaculate fields in Maciel's Christmas Tree Farm. A framed aerial photograph attests to the military precision the Maciel family imposed on the forty-acre spread in Little Compton for more than a half-century.