Christian's
The menu at this chef-owned Bristol restaurant is a satisfying combination of big flavors and bold dishes.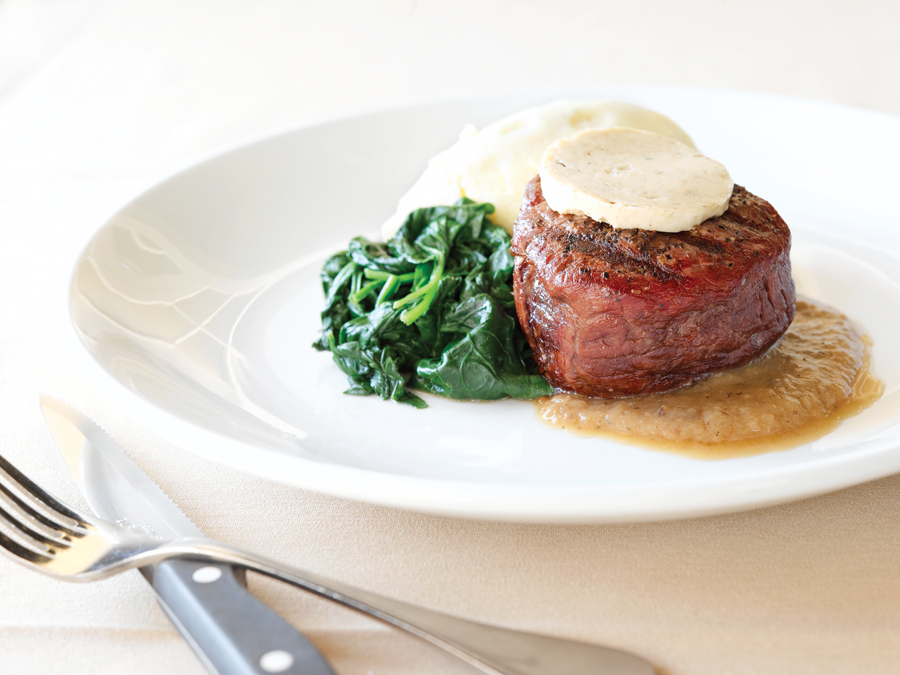 Beef short rib ragu with rigatoni, oyster mushrooms and parmigiana.
382 Thames St., Bristol, 396-9811, christiansri.com.
Open for dinner seven days a week. Reservations accepted. Wheelchair accessible. Some lot and street parking.
Cuisine A cow and a pig walked into a bar…. Capacity Fifty including the bar. Vibe Like your wife made you put on a tie but allowed you to eat ribs. Prices Appetizers $7–$14; entrees $13–$32; dessert $8. Karen's picks Tuna tartare, Brussels sprout salad, short rib ragu, scallops, steak. And a scoop of ice cream.
Key

Fair
Good
Very Good
Excellent
Half-star
Christian's is a manly man restaurant, despite first impressions. The waterfront eatery on Bristol's perimeter welcomes diners into the small space with a spattering of twinkle lights and exceptionally good manners. (The front door, immovable in heavy wind, is graciously held open by a ninety-pound hostess, buckling under its weight with a smile.) The restaurant remains much as it did when it held Hourglass Brasserie: a subdued square room that's dimly lit and exudes the spirit of a well-dressed accountant. Pleasant but innocuous.
Chef and owner Christian Ferreira's food, on the other hand, is a whole different beast. It comes out of the restaurant's wood-burning oven with dirt under its nails and a propensity to drink Scotch for breakfast. If there's a governing flavor, it's smoke. A default ingredient? Bacon. In some sense, Christian's was designed for those who want nothing more than to spend the evening eating farm animals at roadside stands but whose spouses or stomachs have demanded something less punishing.
It does put Ferreira in a precarious position. He's catering to a condo crowd across the street who meander over to fill the bar late in the evening but it's clear that he's only willing to meet them halfway. Androgyny seeps into cocktails ($12) with ease: bourbon is softened by maple sugar syrup, Scotch is mixed with sparkling wine, flamed absinthe is mellowed by root beer. It's a "one part polished, two parts rough" attitude that extends to everything on the menu. Plating is refined but presentation never attempts to mask an aggressive approach.
Expectedly, the best dishes are the boldest — those that hit the tongue assertively. An appetizer of pork belly and fried pickles ($8) is quirky, a de facto indulgence laid out like a checkerboard: thin slivers of crunchy cukes, buckling under weighty squares of deeply browned belly and mustard aioli. The kitchen may call it Cuban, but it's really a bastardized BLT, dressed up but grittier than its progenitor. Vegetables certainly show up but the Brussels sprouts are loaded with bacon and even the beet salad bears a dusting of pork powder. Lighter dishes, such as crab cakes on a raw tomato salad ($10), have a tough time competing if only because it's impossible by carnivore standards to go up against smoked meat and win. Add the earthy undertones of the oven and even an endless supply of white tablecloths will, happily, fail to domesticate the menu fully.
Pan seared scallops with crispy bacon Brussels sprouts, polenta and smoked orange butter.
Servers may sense that certain diners like things civilized and attempt to warn them with the umbrella statement that everything is different here. Maybe. It's more like Ferreira's started what we love most in laid-back American food — intensely cooked meat — and taken the Pygmalion approach. Everything is dressed up enough to introduce to your parents but retains its intensity of spirit. Short rib ragu ($20) is cooked to demi-glace consistency without stepping into bitterness; scallops ($27) are so deeply seared that you forget they come from the water. Steaks abound: sirloin, the occasional ribeye special, filet ($28–$32), all with a strong sear and seasoning. (Christian's is the type of place that reminds you of why it's worth ordering steak in a restaurant that doesn't serve it naked and alone on a plate.)
Like any restaurant that takes the homestyle approach, both seasonal and staple ingredients show up all over the menu. Ferreira is a big fan of Brussels sprouts as well as polenta, potatoes and even brioche. Starch is the straight man to his wood-burning jubilee, coaxing the rebellious parts of an entree into obedience. And all of it is soused in some kind of sauce, making even the vegetarian bits of a meal fully compliant with carnivore law. ("It looks good," said a smiling server glancing over a plate-licker's shoulder. "But I'm gluten-free." Friends no more.) Even the relatively tame roast chicken ($20) is paired with stuffing and more Brussels sprouts, a dressed up version of the culinary equivalent of the girl next door. Drizzle it with a little roasted shallot jus and you're pretty sure she's got something risque under the cardigan.
There are certain diners who drive into Bristol from Providence and far beyond, but many of Christian's customers are local. They're as taken with the waitstaff as they are with the food, but charmed by the familiarity of both. When dinner comes to an end, people shift from table to bar, anything to extend the evening — particularly if the commute home is a single street. But it's worth a little extra time in the car, particularly if you're handling an eclectic crowd. Christian's isn't casual but it's also far from smug. If there's one thing the kitchen wants, it's to be loved by the beer drinker as readily as the guy who's got Scotch in a snifter. And, generally, it's a nightly fait accompli.
Kahlua creme brulee. Tuna tartare.
Of course, there's one more reason to hang around. And, at first glance, dessert is as brazen as everything else. Creme brulee is loaded with Kahlua ($8), banana bread is drowned in sticky toffee sauce ($8), even a special, bananas Foster, is set swimming in a mixture of liquored-up brown sugar ($8). It's straightforward sweetness delivered at a hundred decibels. What is a surprise, however, is the housemade ice cream. True, you never need a hard sell for cold, sweetened cream. But the options at Christian's belong to the grown-up world of goodness, rather than the loaded-up varieties that stock supermarket shelves. A salted caramel with chocolate chunks is just to the left of mainstream, but it's the fig-mascarpone-balsamic that will reappear in your dreams. As dense as gelato (thank you, Italian cheese) and as chewy as a Newton, it's the black sheep of an extroverted family but irresistible. And it suggests that, though we might maintain a short list of American staples, we continue to improve upon the classics.