Choose Your 'Only in Rhody' Adventure
Take one of fifteen tours that highlight what's great about the state.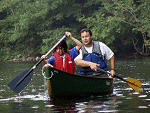 Learn to kayak along the Blackstone River, look for ghosts, visit some of the sites that inspired "The Family Guy."
Those are just a few of the ways you can experience what makes Rhode Island great. For the ninth year, Tour Rhode Island is showcasing some of the beauty, history, nature, culture and yes, quirkiness, that characterizes Rhode Island.
There are fifteen tours to choose from on Saturday, May 5, ranging from cycling along the East Bay Bike Path and an adult treasure hunt with GPS, to tours of the hidden African-American history of College Hill and Providence's new Independence Trail.
Excursions typically include a lunch stop, which could be at Pot au Feu or Walt's Roast Beef, depending on the tour. You can find the list of tours with more details here. Advance reservations are required.