Chef's Secrets
Nine of the state's top chefs dish on their latest ingredient obsessions, guilty pleasures and favorite food shows. Plus, they share expert advice on the best places to dine and drink locally, and their favorite no-fail recipes to make at home.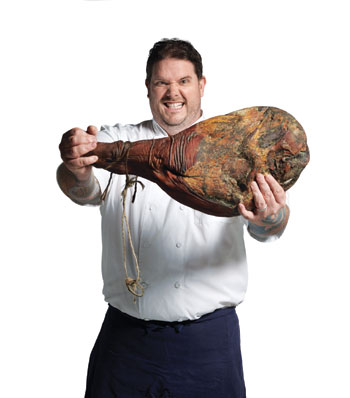 Matt Jennings
La Laiterie, Providence
Why did you become a chef? I was always interested in the arts — music, painting, literature. Still hobbies, but they led to an interest in food. I also grew up in a family that used food as celebration: veggie gardens at home, pizza-making with Dad every Sunday. Food culture has always been very strong in my family.
Ingredient obsession? Simple ingredients that take dishes to the next level by the addition of subtle nuance, like pollens (honey and fennel, for example) and locally grown heirloom paprikas.
Favorite breakfast spot? Nicks on Broadway. Any style of Benedict is great (especially with steak from Blackbird Farm), but I usually just trust Derek to cook for us. He's brilliant.
Favorite place for lunch? Hewtin's Dogs. Matt's hot dogs are the best in the city.
A bite for dinner? The BiBimBop at Sun and Moon is supreme, the potato noodles a revelation and their dumplings are some of the best around.
Cheap eats? Tallulah's tacos. Chef Jake Rojas brings his Chicano flava to a taco cart. It's dope, and the food is on point.
Your kid's favorite spot? Sawyer, who just turned two, has shown considerable interest in the sticky buns from Seven Stars.
Can't-live-without kitchen tool? The Japanese mandolin. We use it for everything. Simple, shaved vegetables and fruits are one of our favorite things.
Always in your home fridge? Champagne, homemade salad dressing and pickles, Sir Kensington's ketchup, my grandmother's mustard, Kenyon's cornmeal.
Special-occasion spot? Chef Beau's charcuterie and simple, rustic menu is inspirational at New Rivers and Chef Matt Varga's innovative menu at Gracie's, made gorgeous with use of items from his rooftop garden, is a special treat.
---
---
To read more of this story please visit your nearest newsstand or click the link below.