Check Out These Photos of Local Wild Babies
They appear in a stunning new book by Providence-based author and photographer, Traer Scott. Meet Scott, and her furry friends, in PVD this weekend.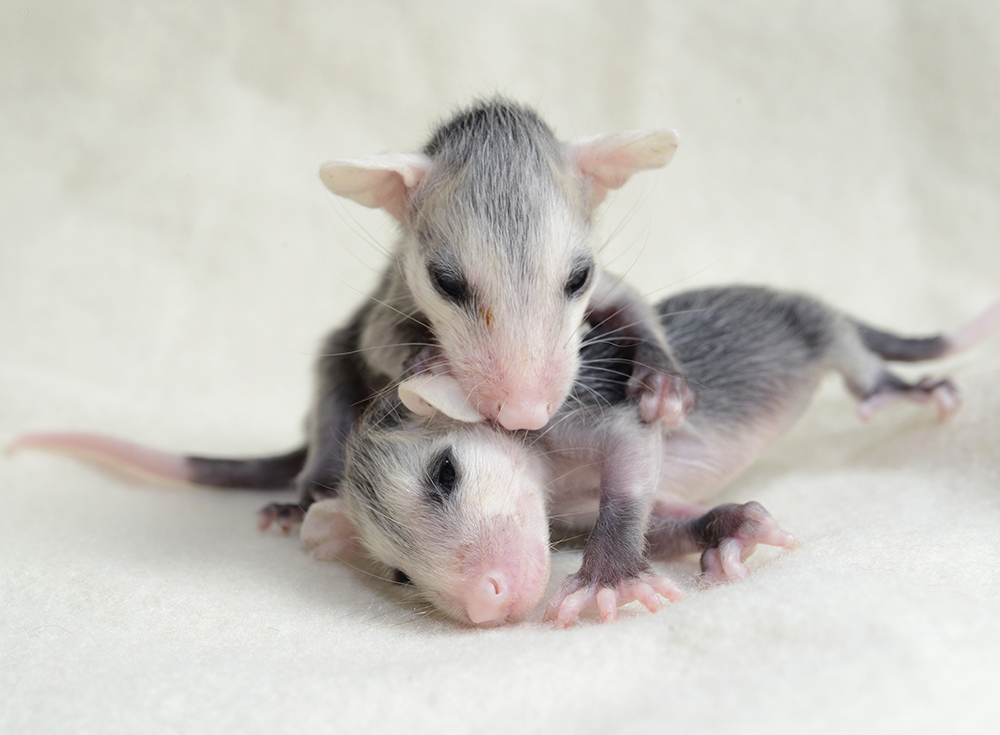 In Fox Point, where photographer Traer Scott lives, the Portuguese wine grapes are beloved by local wildlife, including the opossums. And when one made a habit of snacking in a nearby yard, Scott's neighbors considered shooting it. (With a gun, not a camera.)
Scott talked them down.
"You know, it just wanted to eat some grapes," she says.
Scott learned a lot about opossums, and other species indigenous to New England and beyond, for her book of photos, Wild Babies: Photographs of Baby Animals from Giraffes to Hummingbirds. For example, the opossum is a passive animal whose life depends on a solid play-dead routine. If that doesn't work, Scott says, it'll pass less-than-subtle gas. Hopefully, then, the predator loses its appetite. Ingenious.
"When we see opossums, bats, mice, raccoons or skunks, we really only see them as adults, getting into our garbage or eating our garden or scaring our children," Scott says. "But when you see them as babies, at such a fragile time, you can't help but feel more for these animals. And, frankly, they were here before us and we have to coexist."
Scott's book, which was published by Chronicle Books in early August, features close-up portraits of animals in the first days and weeks of their lives. In addition to capturing the stunning photos, Scott researched and wrote informative captions to accompany them. The colorful, kid-friendly book has garnered praise from local and national media, including a spread on Slate.com earlier this summer.
In the last decade, the author and photographer has published six books of animal photography. Her first, Shelter Dogs, was inspired by her volunteer work at a Providence animal shelter.
"One of my jobs was to take pictures of dogs for their adoption profiles," Scott says. "As those files grew and grew, I realized how many hadn't made it out, and it was a devastating realization."
Shelter Dogs, which Scott says "was supposed to be this quiet little book," became a bestseller. In the decade since, she went on to publish books about wild horses, street dogs, nocturnal animals and a Shelter Dogs follow-up paired with in-depth stories. Now, Scott has graced us with a book that, like Shelter Dogs, spreads awareness about misunderstood animals.
To build Wild Babies' roster of more than thirty animals, Scott traveled to zoos and a marine mammal center to photograph animals born into captivity, often because they were injured or rejected by their mothers. But she felt it was important to keep a strong focus on indigenous North American wildlife. She worked closely with the Wildlife Rehabilitators Association of Rhode Island (WRARI) to capture skunks, cottontail rabbits, robins, wood ducks, an eastern red bat and others.
"I think it's important to remember that these are very sentient, often very intelligent creatures that we need to learn to live with," Scott says. "Baby skunks are just about the cutest thing you've ever seen. They're almost like dogs, so fluffy. Baby raccoons, baby opossums — they're all so adorable."
On Saturday from 2 to 4 p.m., animal lovers of all ages are invited to Books on the Square, 471 Angell St., Providence, to meet Scott, flip through the new book and check out some real life wild babies. (Event details here.) Arianna Mouradjian, WRARI's clinical director, joins Scott for a brief talk about what to do if you find injured wildlife. She'll also have some baby squirrels for attendees to meet.
The event is family-oriented, so bring the kids for an interactive afternoon at the bookstore. If you buy the book — and you'll want to; it's a rare breed that appeals to both children and adults — a portion of the sale will benefit WRARI.
Here's a sneak peek at some of the local babies in Scott's book:
Scott's next book, slated to be published in the fall of 2017, is about raptors. Visit traerscott.com to learn more about her work.