Cheap Eats
Learn how to feast by spending the least with grab-and-go and bar food options, gourmet grub for less and ethnic bites for the global diner.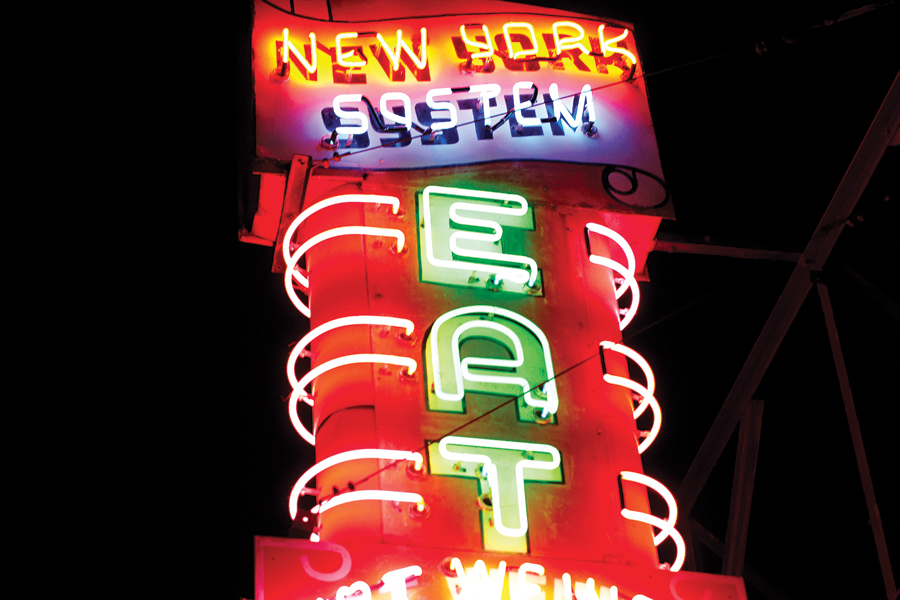 So, where can we get a good, cheap meal around here?
Lots of places!
We've been keeping track of tasty, affordable options across the state for our guide, featuring three different categories for the eater of everything: grab-and-go and bar food options, gourmet grub for less and ethnic eats for the global diner.
Get ready to feast while spending the least.
Traditionalist or gourmand: Which type are you?
New York System hot wiener, all-the-way ($2.15 each)

Olneyville New York System

20 Plainfield St., Providence, 621-9500

1012 Reservoir Ave., Cranston, 275-6031

1744 Mineral Spring Ave., North Providence

383-4155,

olneyvillenewyorksystem.com

Ingredients:

Veal, pork and beef hot wiener

Hamburger meat sauce made with secret spices

Finely chopped onions

Mustard

Celery salt

Steamed bun

Served with: Autocrat coffee milk, of course ($1.99)

Smoked chorizo sausage ($7.50)

Wurst Kitchen/Wurst Window

Chez Pascal

Ingredients:

Smoked housemade chorizo

Fried egg

Raclette cheese

Sweet pepper relish

Hot sauce

Calise hoagie roll

Served with: Yacht Club Sarsaparilla soda ($2)
---
Restaurants across the state shuck $1 oysters on specific days and times.

If you've got a few bucks, an appetite and no fear of dirtying your paws, Rhode Island doles out some of the hottest, tangiest wings around. Get your Wet-Naps ready: It's wing time!
Heat Factor: Serene

Embark on a taste tour at Seven Moons with the traditional East Asian-inspired sauces, including Szechuan, Thai-style lemongrass sauce, oyster sauce and the ever-popular Thai-style crispy chicken wings with red pepper. Get eight wings for $5.95 or sixteen for $10.95.

6900 Post Rd., North Kingstown

885-8383,

7-moons.com

.

Heat Factor: Tangy
Wings Over Providence fries up extensive flavors, styles and sizes. Options range from wimpy to afterburner, and they come bone-in or boneless. Our favorite flavors include mustang ranch, hot garlic and kickin' bar-b-que. Get seven wings for $5.99, ten for $7.99 or fifteen for $10.99; boneless versions are $11.99 per pound.
725 Hope St., Providence
274-9464, wingsoverprovidence.com.
Heat Factor: Extreme
If you're looking to singe your taste buds, look no further than Doherty's East Avenue Irish Pub. They have an assortment of flavors for wing-lovers of all tolerances, including the atomic, inferno and nuclear wings for the bravest of tongues. Enjoy $0.50 wings every Monday night (deep-fried or char-grilled) or ten wings for $9.99 every other night of the week.
342 East Ave., Pawtucket
725-9520, dohertys.com.

–Abby Ringiewicz
This Chinese custom involves more than just dumplings.
Turnip Cake
Turnip is grated and mixed with rice flour batter and steamed, then pan-fried until crispy.
Price: three for $2.65
Lucky Garden, 1852 Smith St., Providence, 231-5626, luckygardenri.com

Sticky Rice in Lotus Leaf
Sticky rice is stuffed with meat and Chinese mushrooms, wrapped in dried lotus leaves and steamed.
Price: two for $5.95
Steamed BBQ Pork Bun
Soft and pillowy rice flour dough forms a ball around barbecue pork and onions.
Price: three for $2.65
Chicken Feet
Most people have no problem biting into chicken wings, so what's so different about those other appendages, the feet?
Price: $3.05
Seasme Balls
Rice flour and wheat starch dough is injected with lotus paste, rolled into balls, coated in sesame seeds and deep-fried.
Price: three for $2.65
Scallion Pancakes
Think of it as a Chinese crepe made with flatbread, folded with oil and minced green scallions.
Price: $5.95