Charging into Battle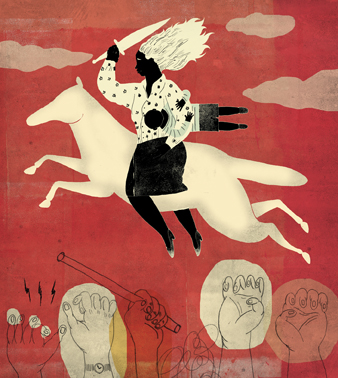 Every morning, Rob McMahon arrives at his North Kingstown office, doffs his jacket and dons his lead overcoat. McMahon is an eleven-year veteran of the Department of Children, Youth and Families, and the lead overcoat is his term for the futility that has come to define his job in the Family Services Unit. Each month, McMahon's first priority is to physically see every child on his caseload. But each month, the goal is pushed further out of reach by court hearings, reports to read and write, meetings, driving and any crisis that comes through the door.
"When people ask, 'What does your job entail?' it's so difficult to express," he says. "The paperwork is completely undoable. There's constant chaos. The morale in this de-partment is absolutely horrible."
Last fall, twenty-one Family Services Unit supervisors expressed as much in a letter to DCYF Director Patricia Martinez. The letter — which took its cue from an October report issued by the state's Child Advocate — warned that caseloads were rising so rapidly that they feared for the safety of the children in state care. The only thing about it that might have surprised the director was that it wound up in the newspaper.
Since her appointment to the post in June 2005, Martinez has flooded the ranks with seventy-two newly hired social workers. Retirements and promotions sluiced thirty-eight workers away. In February, the department stood about eleven short of its 182-member battalion of caseworkers.
Martinez understood how driving children from court to school to appointments to placements chipped away at a social worker's day. She hired twenty-two child-support technicians to take some of that load. She is a believer in the time-saving power of technology and installed Cyber-Secretary, a software program that takes dictation by phone and generates a written report. Neither, according to caseworkers, has made an appreciable dent in the workload.
Martinez created a new monitoring unit to funnel some families into programs offered by community social welfare agencies to relieve some of the pressure on her staff. The new truancy and drug courts freely order new families into DCYF. (The former is a sore point with caseworkers who argue for a less drastic approach to the problem of reluctant students.)
However, in fiscal 2006, the department saw a 10 percent increase in new families. In June 2006, caseloads that had previously averaged thirteen families statewide were back up to more than sixteen in South County and Kent counties, and more than twenty in Providence County.
"The reality is that our child poverty rate is the highest in New England," says Child Advocate Jametta O. Alston. "It's not surprising the caseload is overwhelming." More steps backward may be in the offing. The department is currently facing a $13.5 million dollar shortfall in a state that must tame a projected $350 million deficit in 2007. In January, the governor dispatched a team of financial experts to help Martinez ferret out as-yet undiscovered savings in her department.
And these financial pressures will soon be butting up against pressures to perform. The department is in contract negotiations with the Rhode Island Alliance of Social Service Employees, Local 580. A provision to cap caseloads at fourteen families, as had been required under previous agreements, may return to the table, says union president Lucie Burdick. In August, the department must implement an improvement plan required by the federal Administration for Children and Families. Under 1994 amendments to the Social Security Act, the ACF was charged, for the first time, with evaluating each state's child welfare system against actual outcomes for children rather than mere case file documentation. The review measured benchmarks relating to child safety and family well-being, such as maltreatment in foster care and internal management indicators, such as staff training.
The reviews began in 2001. Rhode Is-land, like every other state, failed and was required to submit an improvement plan. Based mostly on interviews with fifty fam-ilies, the review is more a snapshot than an in-depth assessment. Nonetheless, says Marcia Lowry, executive director of Chil-dren Rights, a national child welfare reform group, "it shows that even when a fairly easy standard is applied, the states aren't passing."
The reasons for widespread failure are complex, she says. But they are largely management issues, ranging from high caseloads to poor training to inadequate information systems. Many child welfare departments neglect to go after all the federal match money available for poor children in state care because they don't do the paperwork. At the same time, their appropriations become targets at budget time because they are so large and because "nobody really protests when they get cut," Lowry says. "There are no consequences, except in children's lives."
Martinez sees her challenge as shifting the culture to allow for more proactive planning instead of a crisis approach. "As we reform the system, we need to share the responsibility," she says. "These are everyone's children. We have a very challenging budget year coming. How are we going to do business differently as a state? Where are we going to make the investment?" She adds: "I can honestly say that it's been ten years since we've had a conversation like this one in terms of our priorities as a state."
That was a significantly darker era in the department's history. In the 1990s, twenty-five Rhode Island children died from injuries inflicted by parents or caretakers; fourteen children — more than half of the total — died between 1994 and 1996. These deaths sparked intense media scrutiny of DCYF practices and a public soul-searching. Since then, a series of court rulings, laws and executive policies began to tackle longstanding issues such as night-to-night placements, to require fingerprinting for adoptive and foster families, and to reduce the barriers to adoption, says Family Court Judge Laureen D'Ambra, then the state's Child Advocate.
What actions will be taken to quell the current crisis is less clear. Pamela McElroy is a vocal member of the DCYF exodus. She quit in January, after despairing that anything was going to get better.
"The perception is they are not working as hard as they tell us they are at trying to fix things, changes that should have been done years ago like reorganize Family Court," she says. "I used to tell my husband I feel like I'm battling everybody: the court system, our own attorneys, the parents, the runaway teens. It's like a little battleground."
Conversations with DCYF social workers are striking for their metaphors. Words seem to fail them in the task of describing their jobs. "It's like," they will begin, as they search for an image large enough to contain myriad tasks, warring emotions and wearying failure. John Campopiano, who left in January after five years, liked to say: "I'm spread so thin, I'm transparent."
McMahon prefers weight: "It's like being a pallbearer," he says. "You think that people are going to offer their support. But you are carrying the casket alone. There's no dignity."
But he stays, out of a nagging sense of responsibility to the children in his care.
If not him, who? Sometimes a social worker is the only reliable adult in a child's life — when he has time to be. In January alone, there were at least six parties for departing caseworkers, and the director issued a directive to tighten controls on expenditures. It required caseworkers, among other things, to submit yet another memo — an out-of-state-travel form every time they visit a child on their caseload over the state line, even if it's a few miles away in Attleboro.