Celebrating Conimicut at Quintessential Quahog
We're swelling with Warwick pride after visiting this sweet bay-side shop.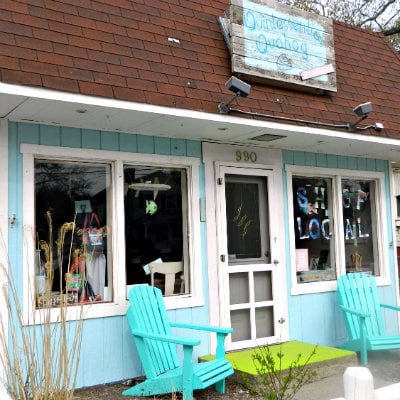 First comes the tourist shop, then come the tourists.
Stephanie Van Patten has made it her mission to share the wonders of her bay-side Warwick hometown, Conimicut, with the rest of the state. Last spring, Van Patten opened Quintessential Quahog on the filled-with-potential yet often overlooked West Shore Road in Warwick. Conimicut Village is dotted with a couple of solid restaurants and a great park with a beach, however its potential boomed the day Van Patten opened up her tiny shop.
"Warwick has thirty-nine miles of shoreline," Van Patten says, explaining that northern and central Rhode Islanders can visit waterside villages without travelling too far from home. The shop is packed with Warwick pride, but also boasts great gift shop goodies, from ornaments, jewelry, soaps and sea glass accessories to rustic signs for various Warwick villages made by Van Patten's husband, George. Here's a peek inside:
Quintessential Quahog, 990 West Shore Rd. in Warwick, is open Tuesdays, Wednesdays and Fridays from noon to 3 p.m. and Saturdays from 11:30 a.m. to 3:30 p.m. Call 401-996-6590 or visit the shop's Facebook page for more information.