Celebrate the Oscars at a Local Red Carpet Event
Watch the Oscars at a local VIP viewing, and check out our predictions for who will win; we're looking at you, Viola Davis.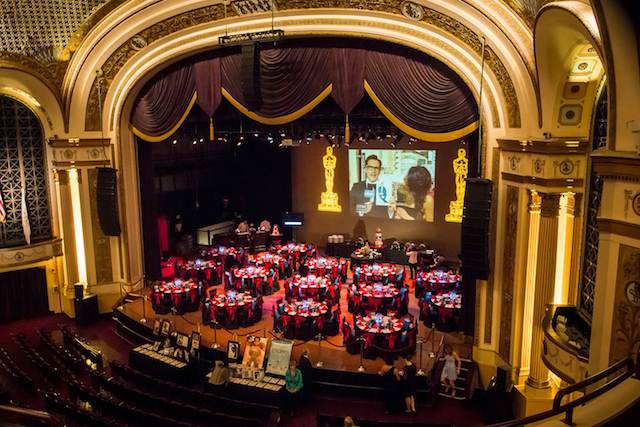 The biggest night of the year in film is on Sunday, and you can celebrate like an Oscar-nominated star. On Feb. 26, Flickers: Rhode Island International Film Festival (RIIFF) will transform the Providence Biltmore Ballroom into the Dolby Theatre in honor of the 89th Annual Academy Awards.
Prepare to be asked, "Who are you wearing tonight?" as the Red Carpet Experience: Providence offers guests an L.A.-style entrance on the red carpet with paparazzi and media interviews. Once you've made your way into the ballroom, enjoy hors d'oeuvres, imported wines and beers, a catered sit-down dinner and dessert, gift bags, a silent auction and, of course, a live screening of the awards show. The event is black tie optional. Tickets are $125 and can be purchased here.
The Ocean State is linked to this year's awards in more ways than one. Per usual, the incomparable Viola Davis of Central Falls is nominated as Supporting Actress for her role in Fences. Also, three films which premiered at RIIFF this past year — the only film festival in New England sanctioned by the Academy — are nominated for Academy Awards. Extremis by Dan Krauss and Watani: My Homeland both premiered at RIIFF back in August of 2016 and will compete against each other in the Documentary (Short Subject) category. Borrowed Time, by Andrew Coats and Lou Hamou-Lhadj, is nominated in the Short Film (Animated) category. Of the 273 films in last year's festival, only these three — a miniscule 1.1 percent of the submissions — have a chance to take home film's highest honor. The competition in film, even in our small state, is serious.
As a movie buff, I followed this year's cycle pretty closely and have viewed nearly all of the top-nominated films. That being said, if you haven't seen La La Land yet, stop what you are doing this instant and head to fandango.com to buy tickets. Yes, it's that good. Anyway, here's what twenty-one-year-old me thinks you can expect while watching the ceremony from Providence's Biltmore Hotel:
Lead Actor:
I'd be surprised to see anyone other than Casey Affleck (Manchester by the Sea) take home the Oscar. However, Denzel Washington (Fences) hit a home run with his performance as Troy Maxson and could steal from Affleck, who is under fire for alleged abuse that might hurt him with the Academy. Side note: Ryan Gosling mastered jazz piano for his role in La La Land. Anyone who has that kind of DiCaprio-like dedication deserves consideration, in my book.
My Pick: Casey Affleck (Manchester by the Sea)
Lead Actress:
The race here is ultimately between Emma Stone (La La Land) and Isabelle Huppert (Elle), with outside competition from Natalie Portman (Jackie). Portman's portrayal of Jackie Kennedy Onassis is freakishly accurate, and Huppert delivered a strong and emotionally charged performance in Elle. It'll be interesting to see who the Academy chooses, but it's hard to deny Stone's overwhelming charm and seemingly ever-improving acting chops.
My Pick: Emma Stone (La La Land)
Supporting Actor:
Indie-masterpiece Moonlight could snag a win here with the beautiful performance given by Mahershala Ali. I'd say Ali is the front-runner, though Lion star Dev Patel has gained momentum as of late. I think Ali fights off Patel and wins one for Moonlight.
My Pick: Mahershala Ali (Moonlight)
Supporting Actress:
There is not a doubt in my mind that Rhode Island's own Viola Davis wins the Oscar for Supporting Actress. Her performance in Fences is breathtaking, and she often steals the scene from Denzel Washington, which is no easy task. I'm predicting a landslide victory for Davis. I think her losses in 2008 (Doubt) and 2011 (The Help) boost her odds.
My Pick: Viola Davis (Fences)
Best Director:
This is a race between the two directors who are front runners for Best Picture, which is often the case. Providence-born Damien Chazelle created a perfect homage to the classic musical in La La Land. Technically, the movie is on another level. The shots are mesmerizing and off-the-charts authentic. The Whiplash director, who is only thirty-two years old, is the talk of Hollywood. Expect big things in the future. Meanwhile, Barry Jenkins truly mesmerizes with his humane aesthetic in Moonlight. Both directors took risks and were ambitious. It's a toss-up. Like most critics, I could see La La Land winning "Best Picture and Jenkins snagging Best Director as a compensatory nod.
My Pick: Barry Jenkins (Moonlight)
Best Picture:
Like I said before, La La Land is just on a complete other level. And honestly, I don't even like musicals. I fell asleep during my high school's production Les Miserables sophomore year. The narrative, score, production — everything; it's near perfect. Moonlight is, of course, the threat here and rightfully so. Both are deserving of a win, but that's not how it works.
My Pick: La La Land