Celebrate Local Shellfish at Saturday's Ocean State Oyster Festival
Eighteen growers are participating in the event that includes local brews and wine, live music, a shucking contest and food trucks.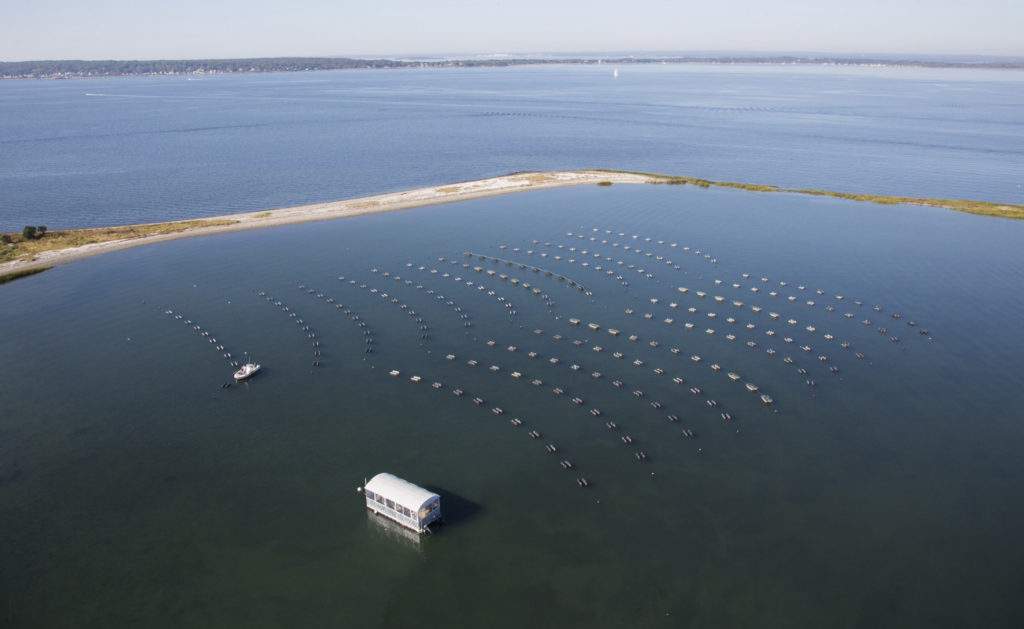 Eighteen oyster farms will be shucking shellfish at this weekend's Ocean State Oyster Festival, on Saturday, Sept. 19 from noon−5 p.m. at Riverwalk Park on South Water Street in Providence. For $25 per ticket, festival-goers will enjoy half a dozen raw or prepared oysters from various growers as well as a local brew or glass of wine, and ten percent from the event ticket sales will be directed to Save the Bay's Explore the Bay youth afterschool program. Of course, you can also purchase additional oysters, food and drink, and enjoy live music, learn from educational exhibits and watch a shucking contest at the event.
September is the perfect timing for a festival dedicated to Rhode Island's aquaculture industry. Oysters are fattening up for the winter, and oyster farming is booming in Rhode Island with more fifty-five farms and 7,547,132 oysters sold for consumption, as reported in the Coastal Resources Management Council's Aquaculture in Rhode Island 2014 Annual Status Report. This means more than $5 million in value for local oysters.
"We have to give Save the Bay a lot of credit for this. When the cleanup of the Bay happened, it was a move that several generations later, now are going to have oyster farms that couldn't exist previously because of the water," says Andy Cutler, one of the founding partners of the Ocean State Oyster Festival, along with Don Nguyen and Frank Mullin. Kaitlyn Frolich serves as event coordinator while Salt Pond Oyster Company founder Dave Roebuck, who owns the Shuckin Truck, is organizing the food trucks.
The success of Rhode Island's oyster farms is what made the partners decide to organize a festival dedicated to the briny bivalve. "Rhode Island's oyster farming heritage is significant and the festival is one way that we can show off our local oyster farmers and celebrate them," says Don Nguyen in a prepared statement. "Oyster farms in Rhode Island are seeing tremendous growth in revenue due to the high demand of their high quality product, and that is a very positive indicator for our state's economy."
Harvesting oysters at Matunuck Oyster Farm. Photo by Frank Mullin.
Participating local oyster farms include Walrus and Carpenter Oyster Farm, 401 Oyster Company, East Beach Farms, Behan Family Farm, Ninigret Oyster Farm and Quonnie Rocks all of Charlestown; Allen Harbor Oyster, Salt Water Farms and American Mussel Harvesters in North Kingstown; Aquidneck Oyster Co. of Portsmouth; Block Island Oyster Company; Chessawanock Island Oyster Company of Bristol; Jonathan Island Oyster Co. and Venus Oyster Company of Narragansett; Matunuck Oyster Farm and Mooresfield Oyster Farm of Wakefield; Salt Pond Oysters of Point Judith; and Watch Hill Oysters of Westerly. Beverages will be available from Campus Fine Wines, Grey Sail Brewing of Rhode Island, Revival Brewing Company, Little Bitte Artisanal Cocktails, Yacht Club Soda and more.
Matunuck Oyster Farm. Photo by Frank Mullin.
Visitors can try as many or as few oysters or littlenecks as they wish, explains Mullin. Once a guest checks in and registers, those who are twenty-one and older and show I.D. will receive a wristband. Ticket holders will be given a compostable tray and they will receive six individual tickets for oysters or littlenecks which they may distribute amongst the growers. They will also receive one drink ticket for beer or wine (or iced tea, soda or water). Additional tickets for shellfish and drinks will also be available for purchase, and you can pay various other vendors or food trucks with cash.
Local oyster experts will judge the shucking contest, including Neath Pal, instructor in the College of Culinary Arts at Johnson and Wales University; Jacqueline Church, Boston-based culinary consultant and founder of the Oyster Century Club; and Dale Leavitt, associate professor of marine biology at Roger Williams University, who has helped many oyster farmers launch their own aquaculture businesses.
The festival even has a mascot, Oscar the oyster, a huge bivalve that was originally grown at Watch Hill Oysters by farmer Jeff Gardner. Nguyen adopted what he believes to be an eight-year-old oyster, after a visit to the farm. "I was seeing [Gardner's] farm operation and he goes over to this one tray. He says, 'Sometimes we get loose oysters that go rogue and they grow really big. I take those and put them in this tray. But what I am really trying to do is get the Guinness Book of World Records for the biggest oyster.' " Now Oscar lives in Pawtuxet Village and serves as mascot for the Ocean State Oyster Festival.
Don Nguyen with Oscar the oyster.
The overall reaction to the upcoming festival thus far is: why hasn't anyone done this before? "We are in this metropolis where the bay is getting cleaned, and it's in September. Everything is perfectly intertwined," says Nguyen.
Adds Cutler, "The equivalent for me is like being in the Silicon Valley and not celebrating the tech sector… All we are doing is a reflection of what we are observing." oysterfestri.com
Young oysters at Matunuck Oyster Farm. Photo by Frank Mullin.