Cease Fire
Strong-arming. Spitting. Federal boycotts. Incendiary radio ads. The Providence firefighters' union and Mayor Cicilline were locked in a bitter brawl over a decade-old contract dispute. The fighting has finally ended, but will this epic showdown — one of the longest labor disputes in state history — bring other local unions to their knees?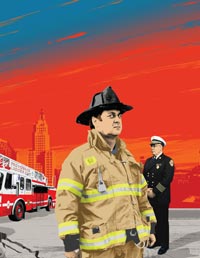 "We kind of feel like Hell's frozen over"
That was the gut reaction from Paul Doughty, president of the Providence firefighters' union, after a tentative collective bargaining agreement with the city was announced on March 22. The agreement was approved by a strong majority of the 360 union members who voted on April 7. According to the proposal, firefighters would share in their healthcare costs for the first time and receive two years' worth of retroactive pay raises but endure a wage freeze for the current fiscal year and the next.
Providence residents exhaled. Some envisioned the city's iconic battle symbol: At Engine 7 on North Main Street, a sign is flipped every twenty-four hours to proclaim how many days firefighters have been without a formal contract. The days add up to nearly a decade. Every contract from mid-2001 through mid-2007 has been decided in arbitration. In March, an arbitrator ruled on contracts for the 2006 and 2007 fiscal years, deciding that union members would receive retroactive pay raises but mandated they contribute to health insurance costs for the first time.
"A good contract is when both parties walk away saying, 'I'm not happy, but I can live with it,' " says Providence Fire Chief George Farrell. "During all these years without a contract, when the bell tipped in the station, the firefighters always responded professionally."
As one of the longest labor disputes in the state's history may finally be resolved, it has long-term implications regarding wages and health insurance for labor negotiations around the state. Since the 2001 contract expired, it's been a nine-year saga of telenovela scenes. What started as a city bout morphed into a statewide fight that took a turn on the national stage.
Last year saw the arc of this epic drama. It was early summer and the Ocean State was ready for its close up. In June we were ripening by the dunes with a bucket of fried clams and a cold 'Gansett, primed for 100 officials from Obama's administration to land in Providence for the seventy-seventh annual U.S. Conference of Mayors. Locals planned to wine and dine and charm the stimulus out of them. But a week before the conference, Rhode Islanders were stood up.
The Feds abstained because Local 799 threatened to picket the gathering over its contract dispute with the city. White House spokespeople said they weren't choosing sides: Neither Biden nor Obama had ever crossed a picket line and they weren't going to start now. Yet their decision turned a city wrestling match into a state brawl.
Given that the union has sparred with Providence Mayor David Cicilline since he took office in 2003, some speculate the mayor wanted to neutralize opposition before this year's election. In February, Cicilline announced his intention to run for the congressional seat being vacated by Patrick Kennedy; he will continue to serve as mayor during the campaign. Union strategy has included thwarting Cicilline's political ambitions by picketing his fundraising events, committee meetings and high-profile appearances.
"If you have the mayor on your campaign then you have the Providence firefighters on your ass," says Doughty. In 2004, the same year Doughty was elected union president, John Edwards' plane beat its wings while the vice presidential candidate debated landing at T.F. Green because Local 799 planned to demonstrate outside his fundraiser at the Biltmore Hotel. Edwards canceled the event and flew on to his next stop. Three years later, Hillary Clinton asked Cicilline to resign as co-chair of her Rhode Island campaign to avoid union cameos at her events. Allegedly, her campaign also urged him to settle with the firefighters so they wouldn't haunt Clinton's local appearances.

All of the city's 450 (non-managerial) firefighters belong to Local 799. There is admitted pressure to enlist and, as one member explains, why wouldn't he join a group that rallies for his best interests? "Clearly it was in the mayor's interest to settle this before he launched his campaign," says Wendy Schiller, an associate professor of political science and public policy at Brown University. "If he couldn't get the active support of the union at least he didn't want the active opposition. This saves him from what would have been a pro-union advantage for his opponent Bill Lynch."
Brokering started in December when both sides learned an arbitrator would likely require firefighters to share in healthcare costs. Patrick Kennedy announced his retirement in February and Cicilline launched his Congressional run soon after. But the mayor says he wasn't worried about Local 799 hijacking the campaign and that several years of picketing hasn't mugged his fundraising. "People have communicated they respect my willingness to fight and to not do what was politically advantageous," Cicilline adds. "In the past, leaders have bought votes by granting concessions. So not resolving the contract would have been the wise move politically."

In a blue state, some residents saw the firefighters as working class heroes fighting The Man, Mayor Cicilline. Passersby scribbled We love Providence firefighters mash notes on the North Main Street sign. When Local 799 vowed to picket the U.S. Conference of Mayors, populist support ebbed. The Man retaliated with a bullhorn of radio ads that referenced "union bosses intent on political extortion." Airwaves bristled with Cicilline's static: If these union leaders think that holding Providence hostage with their selfish and destructive behavior will force me to cave in and sign a contract that does not include a co-share for health insurance and real pension reform, they have made a serious mistake.
Doughty says the White House boycott was unexpected. "You never see candidates who support labor cross a picket line, but usually once they're in office they turn a blind eye. Someone said, 'Obama is not a candidate anymore and he's the most powerful man in the free world — you're not gonna stop him.' It was a watershed moment that the President of the United States stood up for labor that way."
The RSVP with regrets was formalized a week before the conference. Nearly 100 federal officials withdrew, including Vice President Biden and several top Cabinet members: Senior Adviser Valerie Jarrett, Housing and Urban Development Secretary Shaun Donovan, Attorney General Eric Holder, Commerce Secretary Gary Locke and Labor Secretary Hilda L. Solis.
Conference spokespeople confirmed that officials canceled at the request of Local 799's umbrella organization, the International Association of Fire Fighters (IAFF). Conference of Mayors CEO and Executive Director Tom Cochran says he believes the decision was generated by the Vice President's office, in part because firefighters rescued Biden's two sons from a 1972 car wreck that killed his first wife and their infant daughter.
With a recession backdrop, 13 percent of the state unemployed and the perception that Local 799 was eclipsing the city's chance at fiscal dollars, firefighters burned a few bridges. Comments at the Providence Journal website were inked in vitriol. The firefighters were greedy layabouts and parasites. When several readers said firefighters should be well-compensated for risking their lives, a poster responded: A hero is someone who risks his life when there is no duty to do so. These heroes are nothing more than common criminals and pension scam artists.
When the controversy hit national marquees, Napoleanic Lil' Rhody bristled at the unflattering lighting of the big stage. It would be the state's first time feting the mayors and a federal boycott was unprecedented in the conference's seventy-seven year history. Residents' self-loathing was channeled by another reader: Once again, Rhode Island is the laughingstock 
of the nation.
The history and tenor of animosity suggests things got personal long before June. In 2005, picketing firefighters allegedly spit, yelled and slammed their fists on the mayor's Lincoln Town Car while he was inside the vehicle.

The union's contract had expired in 2001 when members began interviewing five candidates for the 2002 election. Farrell was president then while Doughty served as vice president. "I think there was a feeling after 9/11 that everyone should get more and more and more," says Farrell. "Some people were making 5 and 6 percent compounded COLAs and the retiring firefighters thought they should get what their predecessors got."
Firefighters asked each candidate how and when they would rectify the contract. Joe Paolino demurred, saying he couldn't give them a timeline. That wasn't what the firefighters wanted to hear. When Cicilline pledged to resolve it within thirty days of taking office, he had their vote.
"When I talked about resolving it within thirty days, it was with the expectation that Local 799 would be reasonable, because you can't resolve a contract alone," Cicilline explains. "We've made proposals consistent with our other unions. Local 799's proposals are not fair to the other members of the workforce — the police officers and the teachers, the public service employees of Local 1033 — and they are unfair to the leadership of the fire department that I've imposed furloughs on and who are paying 20 percent of their healthcare."
Doughty considers Cicilline's campaign promise a mouthful of rhetoric; the words of someone who wanted to be mayor at all costs. Local 799's bitterness spilled from posters that chide: Anything in election, nothing in office. Doughty wants Cicilline to look him in the eye and say, 'I shouldn't have made that promise. I screwed up.' "
As City Hall juggled its 2010 fiscal budget, it strove to repair a $17 million deficit resulting from losses of $9 million in state aid and nearly $8 million in city revenue. Cicilline requested wage and benefit concessions from public sector unions that would save $13 million. Three unions (school clerks, teachers and Local 1033, which includes City Hall employees) negotiated agreements; Local 799 and the Providence police made counteroffers that went to arbitration.
Healthcare, salaries, staffing and pensions remained contentious for the city and the firefighters. Other public sector employees represented by unions pay 9 to 15 percent. Doughty says his membership offered to pay 15 percent some time ago and Cicilline acknowledges an offer was extended — with risky side effects: "Their proposal was made in conjunction with requests for unreasonable pay raises and other demands that would cost taxpayers an additional several million dollars."
The union also opposed the city's idea to save money by reallocating some of the engine and ladder personnel to rescue companies, calling it a safety risk. "If the union was willing to [sacrifice] staffing," says Farrell, "they could talk to the mayor about how much they could get paid." According to Cicilline, each firefighter or emergency medical technician costs the city an average of $132,000 a year in wages (including overtime) plus health benefits and contributions to the pension plan. His radio ads proclaimed that Rhode Island has the highest per capita cost for fire protection in the country. Factoring the operating cost of the fire department divided by the population, the state spends $231 per resident annually for fire protection; the national average is $113 per resident.
Tom Sgouros, author of the newsletter Rhode Island Policy Reporter, crunched the numbers. He analyzed reports by the Rhode Island Public Expenditure Council that evaluate government expenses using Census Bureau data. In many states ambulances are separate from the fire department but Rhode Island integrates them. Because of this, some states report Emergency Medical Services (EMS) expenditures as a fire expense while others classify them as a health cost.
"Without the EMS workers, we appear to have a slightly higher than average number of firefighters per capita," Sgouros notes. "But we don't pay them particularly well. The average pay for Rhode Island firefighters is twenty-third in the country, 10 percent below the national average, not counting health insurance and pension costs. The Census data does imply that we have an outsize portion of non-payroll costs in our fire departments, so the benefits could be a significant factor. Unfortunately, there's a classification issue with the payroll numbers that makes it hard to compare states' non-payroll costs with each other, so you can't be conclusive with this data."
Cicilline speaks of a dissonance that grew after 2004, when the General Assembly repealed a law requiring that municipal employees reside in the city where they work. Of the fire department's 489 employees, fifty-five live in Providence, which has a residential property tax rate of $24 per $1,000 of assessed value (it's less with homestead exemptions). Donald Iannazzi, business manager for Local 1033, says his members agreed to concessions equaling $450,000 in savings because more than 70 percent of them live in Providence and "the future of this city is the future of this union."
As a former civil rights lawyer, the mayor says he disliked the mandate until he took office and saw the consequences. "Ninety percent of the firefighters do not pay local taxes that support their pay and benefits. When you confront them with how their proposals will result in an increased burden to taxpayers, it's really not an issue because they live outside the city."
"There are twenty-two non-union fire chiefs; two of them live in the city," Doughty responds. "The mayor could require them to live in Providence if it were really a priority. This is America. Do I have to work for the company, buy from the company store and live in the company town? City firefighters spend money in Providence and they also support its Little Leagues, churches, schools and other outreach programs. They are also very involved in their communities, so it's a matter of thinking about their contributions more globally."
According to city councilor Luis Aponte, the fact that so few firefighters are Providence voters means the mayor "pays less of a political price for creating a Waterloo."

When he moved into City Hall, Cicilline inherited an albatross of bloated pensions. "In the past, political leaders bought support with employee contracts that abuse taxpayers," he says. The consequence is a municipal pension fund with an unfunded liability of more than $700 million. (Unfunded liability is the difference between expected employment tax collections and expenditures on retirement benefits and disability income.)
In the wake of an era when tax-exempt job-related accidental disabilities were dispensed like parking tickets, the retirement board is pruning the system, including how disabilities are classified and the annual protocol for proving one still exists. Of the 627 retired Providence firefighters receiving pensions, 265 garner accidental disability monies. Five firefighters who retired from 1990 to 1992 collect between $10,000 and $13,000 a month.
Retired Chief Gilbert McLaughlin makes more than Chief Farrell, whose annual salary is $138,000. When McLaughlin left in 1991, his pension was $58,000; he now receives $156,000 tax-free per year because his contract stipulated a 6 percent compounded Cost of Living Adjustment (COLA). With a compound rate, the COLA increase is based on someone's current allowance and compounds over time. Under a simple rate, the increase is based on a retiree's initial retirement allowance.
"Cicilline is trying to take from us to make up for what went on before," says Doughty, who objects to simple interest COLAs. "If he thinks that pensioners lied about their disabilities, he has the responsibility and the ability to go after them. Chiefs make the highest salaries and they're at-will employees, so neither I nor my predecessors negotiates for them. The city decides what to give them and it has the power to strip their benefits." The union president blames the city's fiscal anemia on its unsustainable tax base (nearly 40 percent of Providence property is tax-exempt hospitals, churches and universities). "It's much easier for Cicilline to go after workers than nonprofits."
After salaries, overtime is the department's heaviest line item, averaging $8 million a year. Doughty blames understaffing; in 2005–2006, he says, lack of personnel meant mandatory overtime averaging ten to twenty-four hours a week; in some cases total overtime was 100 hours a week. "The city will suggest that paying overtime is cheaper than hiring more firefighters and paying their benefits. Then when the OT number comes out at several million, they blame the firemen. Cicilline says the average salary of a Providence firefighter is $120,000, but it was essentially at his hands." Under the proposed agreement, a rescue will be added. That decision will reduce overtime costs by eliminating positions through attrition.

Administrators claim the abuse of injury and sick leave swells the overtime budget. In order to maintain a minimum of ninety-five firefighters per shift (required by the collective bargaining agreement between Local 799 and the city), someone else has to fill in, which clocks up to OT. In 2006 the department hired a private investigator to track firefighters with dubious patterns of injury or sick leave. "There was one individual who couldn't do light duty because of an injury," says Farrell. "We had him on video mowing his lawn, putting up a ladder and using a machine to blow insulation into a house. Another guy was off with a back injury and a couple days later he was playing touch football and moving furniture into a truck."
The surveillance has cost the city $48,000 over three years, but Farrell calls it a deterrent that has saved them close to a million dollars. "Before the investigator," he says, "one-third of the firefighters would call in sick on weekends or holidays." Overtime costs dipped from $9.3 million in 2006 to $7.9 million in 2008. "The union will blame OT on understaffing," Farrell adds. "But you can see how the sick leave and injury hours have declined, and we're not having fewer fires." In 2005, there were nearly 97,000 hours of injury leave; in 2008 it sank to 44,000 hours.
In 2007, Farrell questioned Doughty regarding his overtime and job status. The union president said he had a verbal agreement with the prior chief dispatching him from the special hazards truck in order to handle union business. Doughty says such union release time is a common clause in many collective bargaining agreements and was standard practice for Local 799 leaders. According to Farrell, Doughty (who earns an additional $30,000 for Local 799 responsibilities, which is funded by union dues) was supposed to divide his time between Local 799 and the department's training unit. He contends the union president was essentially a no-show in that unit while collecting overtime on several occasions for filling the vacant position on his former truck.
Farrell ordered him back to the special hazards truck on a part-time basis and stipulated that he request time off for union business. Doughty argued that a union official cannot be transferred involuntarily and filed a grievance; he lost in arbitration. Early the next year, Local 799 held a no-confidence vote on Farrell, which the chief considers a personal vendetta against him.

Some mayors arbitrate while others don cowboy boots. In 1981, Providence sanitation workers went on strike and garbage grew on curbs, cooking beneath the summer sun. (Legally they didn't have the right to strike.) Mayor Buddy Cianci fired the municipal employees and hired a private waste management company. Two dozen city trucks were shepherded to a clandestine spot; after midnight, each vehicle was loaded with a Teamsters driver, two garbage pickers and a shotgun-toting policeman. Sanitation workers later yielded to the city in order to get their jobs back.
Local 799 lost congeniality points by picketing the mayors' conference, but Doughty says their only ammunition is picketing and binding arbitration; as public sector employees it is illegal for them to strike. A typical arbitration panel is composed of three professionally trained arbitrators: one chosen by the city, one chosen by the union, and a [supposedly] neutral one chosen by the the city and the union. Their decisions are only binding for the length of a contract; because these are generally two or three-year contracts, it has meant frequent negotiation.
"People thought it was a last resort panacea, but arbitration has become the option of first resort," says Doughty. "Instead of officials having to give what the contract stipulates, they 
can go immediately to arbitration. Politicians have a certain shelf life so arbitration lets them shovel things onto the next administration."
Doughty believes Cicilline intended to break Local 799 with protracted arbitration, but the mayor claims the union initiates the process. "The biggest misconception people have is that we didn't try hard to resolve this earlier, that me and the union were not talking," the mayor says. "We've invested more hours on this than with any other union's negotiations, and I'm not sure the current union leadership was ever really serious about trying to resolve a contract through negotiation. I think they were always intent on using binding arbitration. If they'd been candid about that, we would have expedited arbitration instead of wasting a lot of time."
Professor Francis O'Brien, who directs the Quirk Institute of Industrial Relations at Providence College, says that a decade-long impasse is extremely rare; he can't think of another case so aged. "This particular firefighter arbitration statute needs a major overhaul," he notes. "The ideal of interest arbitration should discourage parties from using the process; getting to that point should be a little riskier for both sides. The law should pressure the city and the union to settle it themselves and it should not make it easy for parties to appeal to the Supreme Court. This law is too ambivalent for arbitrators to sink their teeth into and reach a decision."
Last June, City Council Majority Leader Terrence Hassett called on Cicilline and Doughty to meet mano a mano until the dispute was resolved because "those who are benefitting are the attorneys who litigate instead of negotiate." From Doughty's perspective, Local 799 has consistently won in arbitration because "the panel's decisions were a lot closer to our proposals than those of the city. When the city's arbitrator dissents on nearly all of the decisions, it sends a clear message that the city lost." City Chief of Administration Richard Kerbel counters that it's not about winning or losing: "Neither side got everything they wanted. Compromises were awarded." For example, Local 799 received retroactive wage hikes for thirty-nine months instead of forty-five.
"Politically it's good to have a bogeyman you will not yield to," says councilor Aponte. "People can say the union has been intractable and unreasonable, but if the city is losing, one could believe that we're probably not picking the right fight. The fact that Local 799 has gone so long without a contract sets a bad tone for relationships with other unions because it's a commentary on how the administration views their work as public servants.' "

Before the Mayor's conference, a group coalesced to protest the protesters. Lorne Adrain, an insurance adviser with Northwestern Mutual Life, co-founded Citizens for a Better Providence at the bequest of Cicilline and rallied residents to sign a petition asking firefighters to reconsider. The organization trumpeted its discontent in a press statement: We do not think that the U.S. Conference of Mayors should be used as a venue for the Providence Firefighters to negotiate their contract. Five hundred people are thwarting the will of the other 180,000 citizens of Providence. Economic activity, something we all desperately need, will benefit the majority. Picketing next weekend might benefit, at best, 500 people.
Adrain appealed to the union president. "Doughty effectively told me, 'I feel bad, but the horse is out of the barn, and it's beyond my ability to unwind it,' " Adrain recalls. He says the demonstration has scarred the city: "What group in their right mind would have a conference in Providence if it can be so easily undermined by special interests?"
In Doughty's opinion, their demonstration didn't starve the local economy or mayors of an opportunity to consult federal administrators about stimulus funds. He says some of that fiscal money was already earmarked and White House officials offered mayors the chance to meet with them in D.C. "The absence just diminished mayors' opportunities to get their photo taken with Joe Biden and for federal administrators to put a name with a face," he says. "It didn't deter anyone from visiting Providence or Rhode Island in the future." When members of Citizens for a Better Providence said the picket would bruise hospitality revenue, Doughty quipped, 'How much do you think Joe Biden eats?'

Last spring Local 799 took a vacation; the picket placards hibernated and the no-contract sign at Engine 7 on North Main Street went on sabbatical. Doughty hoped a cooling-off period might allow Cicilline to negotiate months before the conference so it wouldn't appear that he was bowing to their threat. In March, both sides convened for a twelve-hour mediation that dawned at Brown University's Faculty Club and finished after dark at the Public Safety Complex.
"When the union handed us their proposal last March, I thought, 'They can't be serious,' " Farrell recalls. "I wanted to leave right then."
The union suggested a salary increase of 29.4 percent over six years (starting retroactively with the July 2005 contract), which would equal 4.9 percent a year. "The city's proposal was zero percent for 2010," says Doughty. "They refused to discuss any other years, which effectively left them at 0 percent over six years." Doughty launched the haggling with a high bid."I never expected we'd get 4.9 percent, nor did I expect the city would stay at zero. Part of the strategy of negotiations is to start with a proposal where the middle is acceptable, which would be 2.5 percent." Two months later, the city offered 15 percent over seven years (2.14 percent per year). Doughty agreed with that amount but rejected the package deal, primarily because the city also wanted to trim personnel.
Farrell believes that before this recent settlement, the city had extended two "very reasonable" proposals since he became chief in 2007 and laments that union leadership never served them. "It's easy to say the union would have rejected the proposals. But the only way to know that is to bring them to the members."
On June 10, forty-eight hours before mayors from Seattle to Boston were scheduled to descend, Doughty and Cicilline powwowed at attorney Jack McConnell's office. As he walked into Motley Rice law firm on South Main Street, Doughty suspected the mayor wouldn't equivocate because it would be politically imprudent. Yet he was prepared to call off his signs and White House officials were on standby to confirm T.F. Green flights if there were a truce.
Doughty and Cicilline sunk into leather chairs across an oak table in a glass-walled conference room. The mayor asked Doughty to present the city's latest contract offer to his union for a vote. He refused, confident that Local 799 would reject it unanimously. "Rich Kerbel and the mayor tried to portray me as the union thug boss who wouldn't let my membership decide," Doughty says. "If the membership voted it down, the city could say, 'We keep giving them contracts and they vote no.' I wasn't going to walk into that trap."
Cicilline told him that if the dispute moved to arbitration, the city's offer would not be the same. Doughty made a counteroffer that the mayor rejected. The meeting was over in a hiccup.
Cicilline and Doughty do agree on one thing: the demonstration was anticlimactic. "If their goal was to show they could picket, they accomplished that," Cicilline says. "But in terms of advancing a resolution of this contract or winning public support for their contract they didn't succeed."
Doughty can serve as union president indefinitely and plans to seek reelection this year.
But the tentative agreement that strutted the red carpet on March 22 had semantics on its side — its flaws were minimized by makeup. It was presented that firefighters would pay 15 percent of their health insurance costs. However, union members would actually pay a flat fee. For the first three years of the contract, the amount is based on an arbitrator ruling issued in March that required firefighters to pay a flat rate of $600 (individual) and $1,200 (family) for healthcare plans for fiscal years 2008 to 2010, which represents about 11 percent of their healthcare costs.
In the last three contractual years, they would pay increased rates approximating what it would cost for firefighters to cover 15 percent of their healthcare (factoring an annual 9 percent increase in healthcare costs). The final bill may be less or more than 15 percent.
The City of Providence is self-insured and spends approximately $95 million annually on health benefits for its employees and retirees. Two years ago, the internal auditor's office reported there was no formal monitoring system to ensure that family coverage continued to be extended only to those who were eligible. According to Council Finance Chairman John Igliozzi, "Recordkeeping oversights inadvertently resulted in the City covering employees' family members who no longer qualified; for example, over-aged children or former spouses."
On March 22, both sides touted how the firefighters would have a wage freeze for fiscal years 2010 and 2011. They didn't highlight how the contract is back-end loaded with a 3-percent raise that will take effect June 30, 2011. Following a March 29 Providence Journal article entitled, "Providence Firefighters' Pact not exactly as Advertised," one reader responded: The only reasons this guy settled the contract was to attempt to clean the deck and grease the skids for his possible election to Congress. This is not a landmark agreement, it's a landmark kicking of the can down 
the road.

If City Council approves it, the accord will settle all outstanding contract issues with Local 799 and — according to the city's calculations — equal $16 million in municipal savings over a four-year span.
"Now we can focus on fighting fires," says Doughty, "instead of fighting the mayor."
"Unions don't offer the kind of staunch protection they once did," says Professor Schiller. "It used to be that you couldn't fire teachers. Public service employees are being pressured to give more because of economic deficits, so Local 799 may have wanted to lock in a rate for the next three years in case things decline economically.
"The firefighters may believe this is the best they'll get since they don't know what the next mayor would offer," she adds. "It's a case of 'The enemy you know is better than the enemy you don't.' "
The collective bargaining agreement must still be ratified by City Council (a vote hadn't been scheduled as of publication time). "It will absolutely pass," says councilor John Lombardi. Councilor Hassett says the pay raise in 2012 will be scrutinized. "So long as that's budgeted and there is revenue to cover it, that may not be a big deal," he told The Providence Journal. "But that's still more than a year away."
Could history repeat itself after the final contract expires? "They've already pledged to go to binding arbitration if they can't agree on a contract after 2013," says Professor O'Brien. "With so many years of infighting the parties never really lived up to the spirit of arbitration."
In December, the mayor submitted legislation to the General Assembly that would authorize seven cities and towns of Providence County to create a metropolitan police, fire and public works district. If regionalization becomes reality, the union might have to renegotiate with the city. Cicilline says neighboring mayors endorse metropolitanization but that union contracts will be somewhat of an obstruction. Taxpayers cheer what sounds like a potential money-saver but fear the idea will languish, victim to business as usual. This is Rhode Island, they grouse. The unions ain't gonna let it happen.