Can We Save RI's Crumbling Public Schools?
If passed, November's infrastructure bond measure will inject $250 million into school repair projects.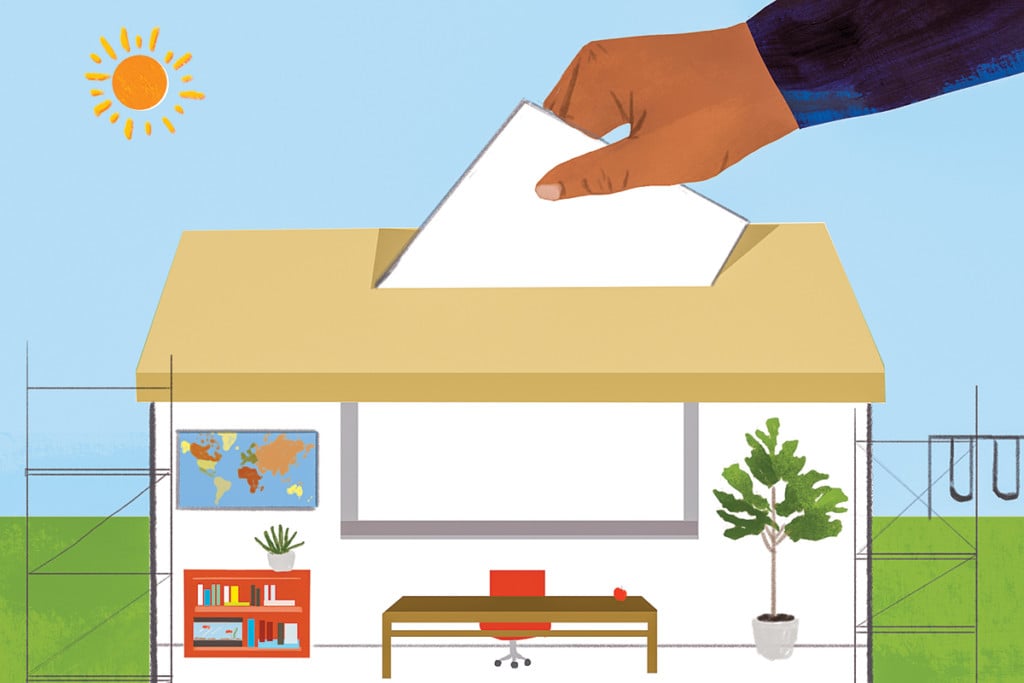 Little Grace Muenter of Newport was at an educational crossroads, and her mother thought she knew which path was best. Kendra Muenter had gone to private school, and she was sure her daughter would benefit from all of the advantages — smaller class sizes, the latest technology, fabulous field trips — that it could offer. She had heard about the local schools, and none of it was good.
Her husband, Mark, a product of and a believer in the public school system, strongly disagreed. Finally, a combination of sticker shock and civic-mindedness nudged their only daughter into the Newport public school system.
By then, the city had dismantled its network of aging neighborhood elementary schools and put all of the district's kindergarten through fourth-grade students into one new building. On Grace's first day of kindergarten at Claiborne Pell Elementary School, Muenter put her on the bus and hoped for the best.
"The day before school, I was on the verge of a panic attack, thinking: 'We have made the worst decision of our entire lives,' " Muenter recalls. "A week later, everything changed."
Grace's teacher was "amazing"; the school's staff was "open and caring and helpful and friendly."
"We're friends with people we never would have been friends with — different social class, race — because we never would have met them," Muenter says.
And the building — Muenter, now president of the PTO, doesn't speak about it so much as gush with a keenness others reserve for rock stars or popes.
"It was so clean and new and bright — exactly what a school should be. Every teacher had a smartboard and the kindergartens had their own private bathrooms," she says. "I couldn't have been more wrong."
Built five years ago, and nestled amid the neatly kept mixed-income rowhouses of Newport Heights, Pell Elementary School has changed a lot of things. Principal Traci Westman proudly leads a visitor through the vegetable garden out back, up the kaleidoscopic stairwells, by persimmon-colored lockers and down blue arteries with names like Kindness Court, an artifact of the in-school postal system in which students write and deliver letters to the cardboard mailboxes outside each classroom.
The building has become a community builder, is a source of enrichment, with sailing and swimming lessons for students, and is an idea incubator for teachers.
"Having a new building changed the mindset of the adults. It set a value, and that's huge," Westman says.
In November, the state will ask voters to help raise the bar in their own districts via a bond measure that will inject $250 million into school infrastructure projects over five years. Should the referendum pass, it will be the first time the state has authorized a statewide school facility bond issue since 1984. Its most ardent proponents, the Rhode Island School Building Task Force, call it a "once in a generation" opportunity.
"Every child deserves schools that are warm, safe and dry; that is a moral imperative," says task force co-chair and state Treasurer Seth Magaziner. "I've been to dozens of schools myself and it is bad. Half a dozen ceilings collapsed this year alone. We need to have school buildings properly equipped to train a workforce that is equipped to be successful in the twenty-first century."
A year ago, the School Building Authority and the Rhode Island Department of Education released its report on the grim state of its 306 public schools. With an average campus age of fifty-six years, nearly 88 percent of the state's public school buildings were in poor condition, the
report found. And the needs were spread statewide, with some of the most comfortable districts like Barrington hosting some of the most problematic schools.
The analysis pegged the total cost of replacement and repairs at $2.2 billion, with $627 million needed to address the most pressing deficiencies. The report also found that the state's current contribution — about $80 million annually — was too low to make a real dent, causing the cost of repair to balloon by $70 million each year.
Rhode Island is hardly alone. In 2017, the American Society of Civil Engineers gave the condition of the nation's school buildings a D-plus, with a quarter of the buildings in poor or fair condition. ACE estimated the cost of repair at $112 billion.
"It's a bigger problem on the East Coast, where we have a lot of aging infrastructure, but everyone is dealing with the problem and it's a matter of how much states are funding it," says Paul Bakalis, incoming president of the National Council on School Facilities, which has tried, unsuccessfully, to get the federal government to make significant investments in upgrading the nation's school infrastructure.
Last December, Governor Gina Raimondo appointed the seventeen-member task force, led by Magaziner and state Education Commissioner Ken Wagner, to develop a plan. The group concluded that the state should jumpstart a school building program with two $250 million bond issues: one in 2018, and a second in 2022. The money would be prioritized to support projects that brought a building into a warm, dry and safe state, that created modern learning environments, and that made significant improvements.
The state already reimburses districts for a percentage of school construction costs based on a district's ability to pay. To encourage an expeditious start, the state devised a series of bonuses districts could earn by aligning their projects with the state's goals and for newer and fewer facilities — plans that encourage consolidation and replacement of buildings in a poor state. The right combination could raise a district's reimbursement rate by up to 20 percent.
"The incentives expire in four years, so the biggest risk is delay — not the pot of dollars," Commissioner Wagner says. "We can't even consider it unless it goes through at the local level. And getting to a local consensus is complicated. Consensus on designs to advance pedagogical goals of the state and local community, going through the comprehensive planning processes: All of those things take time."
The first letters of intent were due to RIDE last month and the opportunity was welcomed. East Providence, for example, is seeking the maximum bonus for a $189 million project to build a new combined high school and technical career center; $135 million would be eligible for state reimbursement. The district's current high school, built in 1952, has deteriorating mechanicals and little space.
"My high school has one science lab for 1,500 students — can you imagine? I can't even meet the national science standards," says East Providence School Superintendent Kathy Crowley. "The 20 percent initiative is just phenomenal — 74 cents on the dollar. It's so important for East Providence. It means less of a tax increase and creates more bonding capacity."
In Providence, historic neglect compelled Mayor Jorge Elorza and the City Council last summer to commit to borrowing between $200 million and $400 million for school improvements. City voters will consider a $160 million school repair bond question in November.
"We are at over-capacity, according to RIDE," says Providence School Superintendent Christopher Maher. "That's another massive challenge in a city with not a lot of room to build."
In some districts, the race to accumulate building bonus points has created controversy. Wakefield residents were roiled by South Kingstown's plan to close its beloved, center-of-town, walkable elementary school, and organized to oppose that part of the plan.
"The misinformation has pitted people against each other and they think Wakefield Elementary is a drain. It doesn't even gain us bonus points," says Jessica Geremia, of Friends of Wakefield Elementary School. "It's really harmful, because it doesn't acknowledge the value it provides, which is difficult because the people in South Kingstown care a lot about education."
In Newport, Claiborne Pell Elementary School became a district hub and, so attractive, it's already straining the available space. Meanwhile, three miles away sits the worst-rated high school building in the state.
William Rogers High School is a tangle of structures spread out like a college campus. Its architectural design looked futuristic when it was built sixty-three years ago but now looks worn and dated. The double paned-windows are foggy and the building's guts — three-and-a-half miles of heating pipes and five miles of sewer and water lines — fail regularly.
Superintendent Colleen Burns Jermain now has two expensive problems: expanding Pell and renovating Rogers.
"The bond has inspired and set [the city to be] onboard addressing these needs as quickly as we can," Burns Jermain says.
Naturally, Kendra Muenter, public school convert, is a participant.
"Now, I feel an energy in the parents who want to push to make sure Rogers is a great school," she says. "We've seen what happens when you build an amazing building."
Ellen Liberman is an award-winning journalist who has commented on politics and reported on government affairs for more than two decades.