Can Kennedy Plaza Be Saved?
The gritty heart of Providence is getting a $17 million facelift.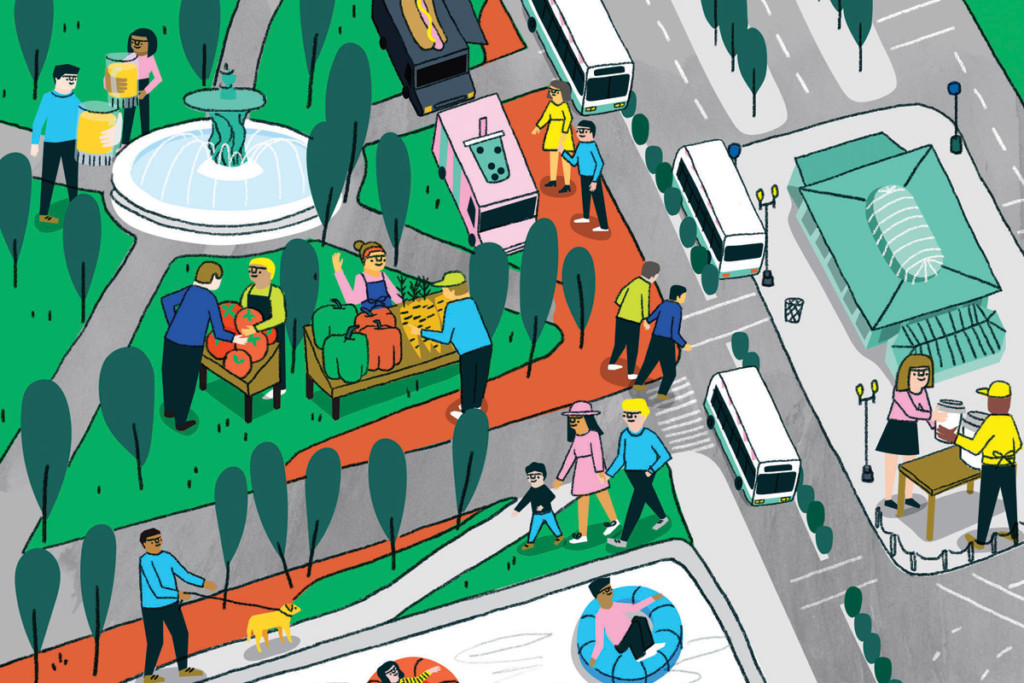 Transportation created Kennedy Plaza. Roger Williams founded Providence on the east side of the river, but two centuries of population growth and industrialization drove it over the water westward. Weybosset Neck, unsuitable for settlement in 1636 with its steep hill and spongy lowlands, proved no match for progress. The city's fathers and financiers refashioned the topography to meet the steam-powered future. The hill was leveled and the wetlands and Cove Basin filled.
In the early nineteenth century, the A and W Sprague Co. defined the space as a crossroads, with a horse-carriage line to convey passengers to its mills in Rhode Island and Connecticut. In 1848, completion of the first Union Station drove a solid stake in what would be christened Kennedy Plaza 112 years later. In the next century, the plaza would steadily acquire a rectangular brick-and-granite-faced barricade of buildings, bookended to the west by City Hall and by the Federal Building to the east.
The 775-by-250-foot center was occupied by scattered statuary and a small park, but mostly by transport. Old photographs show the succession of horse and carriages to trolleys and cars, and finally to buses. Today, the plaza is in the midst of another renaissance, in which the space will be less about going elsewhere and more about sticking around.
"Cities know how to maintain parks, but they have forgotten how to create and manage central squares," says Ethan Kent, senior vice president of the Project for Public Spaces, a nonprofit that has been assisting the city in this transformation. "It requires a different approach. You don't hire a consultant for the solution. It's an ongoing community-driven iterative process of programming and managing a space to continually build and reflect the identity of the city."
As the city and its partners envision it, Kennedy Plaza will become the terminus of a waterfront park system connected by pedestrian walkways to a new greenspace on the land once occupied by I-195. The centerpiece is a $17 million plan to circulate vehicle traffic out of, and people into, the plaza. The east approach that bisects Biltmore and Burnside parks will be closed to join the two. A center pedestrian walkway will flank the east side of the plaza with shaded seating.
Fulton Street will become a two-way street for vehicles. Washington Street will become a two-way thoroughfare just for buses. Under a $13 million United States Department of Transportation grant, the bus routes will be realigned to create the Downtown Transit Connector (DTC), a line running about every four minutes from the Providence Train Station to the Hospital District with stops anchored by small transit stations. Construction on the DTC will begin this spring at the south end, with the work expected to be completed by the fall.
"Kennedy Plaza has always been massively transit-dense," says Rhode Island Public Transit Authority spokesperson Barbara Polichetti. "And the one thing we heard from our riders is it's still a desired destination. It remains an important hub. But today, everything mobile and public transit has moved in another direction, away from ticket counters and maps to a multi-hub system with real-time information, and [this plan] allows us to focus service on those key areas of Providence."
This summer, under a five-year contract with bicycle-share company Social Bikes, travelers with a little more pep can hop on an electric-assist bicycle at one of forty stations throughout downtown, Federal Hill, Fox Point, College Hill and the West End.
"It took a long time to get here," says Providence Planning Director Bonnie Nickerson. "We have extremely passionate stakeholders, which made for spirited conversations on how to do these things. We had a lot of input and agreement of where we wanted to be, over about a year of many public meetings."
One of those discussions centered on the plaza's users. In August 2016, the Downtown Improvement District met with Mayor Jorge Elorza to discuss the impact of a city decision to stop aggressively enforcing anti-panhandling ordinances, under pressure from the Rhode Island ACLU. Business owners characterized the corresponding influx of people ­— who, they alleged, were sleeping on the street, leaving trash, openly dealing drugs and asking passersby for money — as creating "a combat zone."
For homeless and mental illness advocates, the meeting was an opportunity to make their case for beefed-up services for their clients.
Karen Santilli, executive director of Crossroads Rhode Island, took her own tour of the space and witnessed a lot of behavior "that wasn't appropriate for a positive space."
Crossroads, working with the Providence Center and Amos House, began to do more outreach to potential clients in Kennedy Plaza.
Several months later, Amos House, working with the city and funded by a $175,000 Rhode Island Foundation grant, launched A Hand Up, a program offering $50-a-day jobs collecting litter to extreme-low income individuals.
Crossroads received a $125,000 Rhode Island Foundation grant, which allowed the nonprofit to increase its number of street outreach workers from two to four. In 2017, the workers connected with 343 individuals, 78 percent of whom were engaged in the plaza; twenty-seven were linked to housing.
"By working together to address the situation and get people the help they needed, we made Kennedy Plaza a place everyone could go and feel safe," Santilli says. "What people are saying now versus what they were saying at the beginning of the process is night and day."
But place-making is not about favoring or eliminating any particular subset of park users; it's about bringing everyone into the space, says Cliff Wood, executive director of the Downtown Providence Parks Conservancy.
"Nature hates a vacuum," he says. "When you are in a dense area, people will use the space, but how? It's about multiple uses that coexist: catch a bus, listen to music, buy a coffee, play. You want to have all those things happening at once. The most attractive spaces are used well by lots of different people. The programming part is important."
To that end, the conservancy has been packing events into the space from April to December: story time, arts programs, food trucks, a farmers market, a music series and beer garden. The twenty-year-old Alex and Ani City Center added bumper cars as another family attraction. In August, Brandon's Beach opened in Burnside Park. Hasbro Chairman and CEO Brian Goldner, his wife, Barbara, and their family and friends donated $500,000 to construct the playground as a memorial to the Goldner's son, who died of an accidental heroin overdose.
These efforts are drawing others to volunteer their time and labor. For the past two summers, the Downtown Neighborhood Association has joined the Providence Department of Parks and Recreation to restore the broken and deteriorated cables and railings that line the River Walk. The painting parties worked steadily from the hurricane barrier to Waterplace Basin, saving the city more than $200,000 in labor costs.
"We are leveraging the resources we do have to create community. Now we have so many more eyes and ears on the parks," says Parks Superintendent Wendy Nilsson.
A snapshot of Kennedy Plaza on a temperate winter afternoon shows how far it has traveled from its roots as a way-station: skaters make wobbly circles on the ice; the Church without Walls holds services in the northeast corner of Burnside Park; men with their possessions clustered at their feet chat on the benches around the Bajnotti Fountain; parents watch their children climb the rigging on Brandon's Beach.
Rich Pezzillo says his backyard is fabulous. When he and his husband moved here from Washington, D.C., in 2014, they considered Providence a "Band-Aid," chosen for its proximity to Boston and Pezzillo's family. But their feelings began to change after they resurrected the Downtown Neighborhood Association and rallied a community that has been an enthusiastic participant in these changes.
"It's got such a cool, artsy vibe," he says. "Sometimes it feels a little like New Orleans. And this is an area where we want to raise a family. There is a pride of ownership — and love of a place that is more than anything I have felt."
Ellen Liberman is an award-winning journalist who has commented on politics and reported on government affairs for more than two decades.