Camelot at Trinity Rep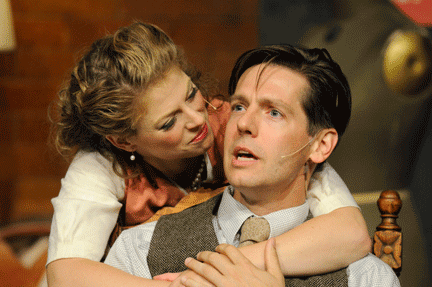 After a long, dry hot-flash of a summer, it's finally time for Trinity Rep to stage a house production. Thank god! And thank god, believe it or not, that it's Camelot.
True, I left the house speculating with my babysitter about just how cheesy a King Arthur musical was going to be. I'd loved the T. H. White books as a child, but couldn't see the sprawling, nuanced tale making the leap to song and dance. No such failure of imagination bedeviled Lerner and Loewe, they of My Fair Lady fame, when they set out to base a play on The Once And Future King.
It's a wonderful libretto, full of good-hearted humor, political depth, love and heartbreak, with a score to match. The Julie Andrews/Richard Burton Broadway hit of the early sixties, and the 1967 Vanessa Redgrave movie, evoke the idealism of that decade; but White's books were written in 1940s England, an age of bomb raids and wartime cameraderie, and that's when director Curt Columbus decided to set his revival.
And what a great decision it was. This confident production hits all the bases: wonderful singing, sparkling choreography, an unexpected but atmospheric set and, in Stephen Thorne as Arthur, the performance of a career. Other highs aside, Camelot's worth the ticket price just to see Thorne deliver a king you'll never forget: played with utter conviction, whether he's kicking stools in a jaunty pre-wedding song or curling up on the floor as his marriage collapses, Arthur is a man struggling to be good, and Thorne's triumph is that we like him so much despite his weaknesses, root so completely for him to succeed. A slight man with cleft-chinned, Hugh Grant-like good looks (that 1940s quiff really suits him), Thorne nevertheless commands the stage; and in a performance that would stand up to film, he doesn't waste a second of onstage time, communicating with gesture and expression as much as with his lines. And then there's the surprise of his singing voice; both big and tender, it's almost unerringly pitch-perfect, easily matching the non-Trinity cast members brought in for their musical skills.
Thorne's no scene-stealer, either; his chemistry with Rebecca Gibel as Guenevere helps the less experienced actress shine as a woman with a conscience who tries to resist her heart. We thrill to their romance, even as both operate within the no-nonsense, self-effacing, things-left-unsaid idiom of wartime Britain, sparing us English accents but coming off completely Brit anyway.
The scene-stealing, unfortunately, gets left to Joe Wilson Jr., whose strange take on Lancelot hits the single sour note of the production. Playing him for laughs as a French tough guy, the performance is initially fun – but the gamble doesn't pay off later, when we're asked to believe that Guenevere could really fall for this buffoon. Instead, as the chemistry between Arthur and Guenevere continues to crackle, the pivotal moment when Genny gives in to her feelings comes off as more puzzling than passionate.
The rest of the cast is uniformly excellent, with particular kudos due to Janice Duclos as a wonderfully louche Morgan Le Fay and Jamey Grisham as an energetically evil Mordred. All pull off no easy feat: singing both ably and distinctly, so that the audience can follow every word. The score is memorable, of course, and Trinity takes the liberty of adding to it by prefacing each half with a 1940s song – it works, and from the first moment Charlotte Graham's lovely voice soars as the play opens, it's clear the audience is in for a treat. Along with the Brompton Road tube stop set, the grainy World War II footage and the Winston Churchill quotes worked into the standard turn-off-cell-phones address, it's part of a rich and rewarding adaptation that, if Rhode Islanders know what's good for them, will have bums on seats right through its month-long run.
Camelot plays til October 10 in Trinity Repertory's Chace Theater. Including intermission, the performance is a long, but far from tedious, two hours and forty minutes.
Your Kid Got The Right Stuff?
On a not unrelated note, if your son is going to grow up to be Stephen Thorne, or Hugh Grant for that matter, now's your chance to give him a shot at the limelight: Trinity has put out an open casting call for this year's Tiny Tim. Not to mention his siblings and various other Dickensian urchins.
Boys and girls aged 8 to 12 are welcome to audition for children's roles in the theater's annual production of A Christmas Carol. My little cousin has done it, and it was a wonderful experience. This from Trinity:
Trinity Repertory Company will be holding an open call for child actors this Saturday, September 18, from 9:00 AM to 1:00 PM at Cardi's Furniture Superstore (Route 1A, South Attleboro, MA) for its 34th annual production of Charles Dickens' A Christmas Carol, directed by Michael Perlman. Children ages 8-12 are welcome to audition, although children who turn 13 before December 31, 2010, are not eligible. No appointment is necessary for the auditions. For directions, please visit www.cardis.com.
Before arriving at the audition, all children and parents should visit Trinity Rep's website at www.trinityrep.com to download the Audition Packet, comprised of the Audition Fact Sheet and Child Actor Audition Info, which includes information about rehearsal schedules and requirements, and the Audition Script. All who audition should be ready to sing 30 seconds of their favorite holiday song to be sung without accompaniment. Children must also be prepared to read the audition scene. Rehearsals for the child actors will begin the week of October 27th. Performances of A Christmas Carol, adapted by Adrian Hall and Richard Cumming, presented by Cardi's Furniture Superstores, run November 18 to December 31 at Trinity Rep.
AT A GLANCE
WHAT: Child Actor Auditions for Trinity Rep's A Christmas Carol
Please visit www.trinityrep.com to download the Audition Packet, including the Audition Fact Sheet and Audition Script.
WHEN: Saturday, September 18, from 9:00am to 1:00pm.
WHERE: Cardi's Furniture Superstore, Route 1A, South Attleboro, MA
CONTACT: Ben DeCastro; promotions@cardisfurniture.com; 508-379-5903
DIRECTIONS: www.cardis.com