Calling all Roller Kids!
We caught up with author Victoria Jamieson to chat about her award-winning graphic novel, Roller Girl, and this weekend's Reading Across Rhode Island celebration.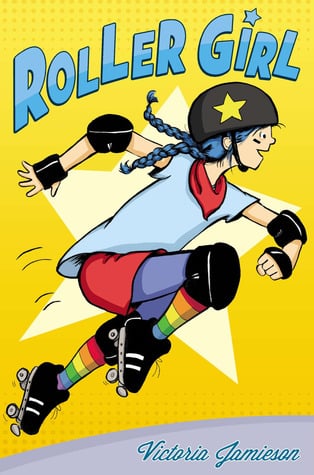 Victoria Jamieson — roller derby pseudonym: Winnie the Pow — wishes she had a book like Roller Girl when she was a kid.
"As a middle schooler, I was pretty shy," says Jamieson, who graduated from the Rhode Island School of Design in 2000.
Jamieson's graphic novel, Roller Girl, a New York Times bestseller and 2016 Newbery Honor winner, was inspired by her own experience in the rink. The plot follows a twelve-year-old named Astrid who learns the hard lessons of preadolescence and, at the same time, discovers her tribe. And blue hair dye.
Jamieson, who plays in a roller derby league in her hometown of Portland, Oregon, also teaches the sport to girls ages twelve to seventeen. "They're such strong, fierce kids," she says. "I'm a little jealous."
Roller Girl was chosen by RI Center for the Book as this year's Kids Reading Across Rhode Island selection — the first-ever graphic novel in the program. On Saturday, from 2 to 4 p.m., the public is invited to attend a free kick-off celebration at the State House. Jamieson made the trip back to the East Coast to attend the bash and connect with young readers.
"It's great to be back; I haven't been here since 2000," she says. "RI Center for the Book gave me this big thing of coffee milk, so that was nice."
The event boasts an appearance by Jamieson, live performances and exhibitors. Plus, attendees at the Kids Reading Across Rhode Island celebration will receive a free copy of Roller Girl, while supplies last.
"I tend to write my books about things I'm really passionate about," Jamieson says. "Besides wanting to dye their hair — which, I think, every kid should do — I try not to teach a lesson, but tell readers that middle school can be a tough place and they're not alone. It can be really hard and there aren't easy solutions for this."
Better than the accolades, Jamieson says, are emails she receives from her readers.
"I get emails from kids, which is the best thing about it, who say, 'You've inspired me to try roller derby or dye my hair.' I got one this morning that said, 'I'm reading your book for the fourth time,' " she says. "So I can't wait [for the event]; I'm so excited."
Check out a promo video for Kids Reading Across Rhode Island, which features some of Rhode Island's own roller derby girls:
For more information about RI Center for the Book's Kids Reading Across Rhode Island party on May 7, visit ribook.org.