Calling All Kind-Hearted Souls: Help Olneyville Library Re-Open
The library has been closed since April, but a reverse auction on Monday will raise funds to open the doors once again.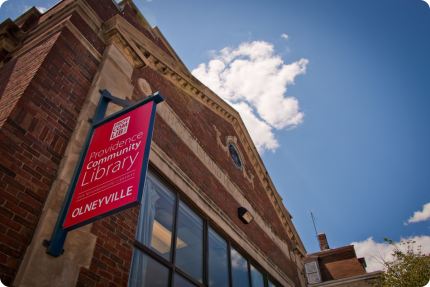 When Cyndie Wilmot joined the Friends of Olneyville Library, her first mission was a straightforward one: Sell books at the Olneyville Fall Festival to raise funds for the library.
"I got there and set up the table, and these kids — instead of getting their faces painted, they were coming over to our table," Wilmot says. "What we decided to do was tell the kids they could take home two books for free, as long as they went into the library to get a library card."
That day, Wilmot received a crash course on the particular needs of the families who use the Olneyville Library, a branch of the Providence Community Libraries that serves one of the poorest neighborhoods in the city. Some families don't have books at home, and many don't have computers. The library serves as the community's gathering place, where non-native speakers can enroll in free ESL classes, adults can use the computers and take free GED courses and kids can come after school to curl up with a book or play with toys in the children's section.
These needs make the library's recent closure all the more devastating. On April 25, a custodian entered the Olneyville Library to discover the entire first floor was flooded. Sarah Gluck, who manages the library, believes a pipe backed up, causing a sink to overflow for hours. The floor and carpets, circulation desks, chairs, bookcases, children's toys and new books in boxes on the floor were destroyed. Thankfully, many books on the bookshelves were not damaged.
"It's been really hard," Gluck says. "I've been traveling to the other libraries and I see some of our patrons, but some just can't leave Olneyville. I'm especially concerned for the kids. This is their space. This is where they go after school. This is a safe space for them. So I do worry about them."
And with summer break around the corner, Gluck says the library closure is particularly tough on kids and families.
"I'm most concerned about kids not getting summer reading books, because of the lapse of education during the summer months," she says.
Gluck says the nearby William D'Abate Elementary School at 60 Kossuth Street will host library pop-up hours, likely Tuesday through Friday between 4 and 6 p.m., so kids can pick out summer reading books. The pop-up library will also have DVDs and popular adult fiction books that community members can check out. The Manton Avenue Project, a playmaking nonprofit that serves Olneyville's youngest residents, has also offered to help with a pop-up library.
Gluck says the Providence Community Libraries organization will cover the costs to replace the floors in the library, however two circulation desks, plus chairs and educational children's toys, were ruined in the flood and must be replaced. That's why the Friends organized RePlace, ReStore, ReOpen Olneyville Library, a reverse-auction fundraiser this Monday, June 13 from 6 to 8 p.m. hosted by Cluck! Urban Farm and Garden Supply, located at 399 Broadway.
During the reverse-auction, local philanthropists can "bid" on a specific dollar amount. The Friends, in turn, will use 100 percent of all funds raised to purchase replacement items for the library.
"We'll talk first about all of the items, then we'll auction at different levels," says Wilmot, adding that the Friends will pass a hat to collect donations, as well.
The fundraiser is free to attend and features complimentary drinks and bites from Narragansett Beer, Olneyville New York System, Pizza J, Massimo, Scialo Bros. Bakery, Roma, Bagel Express and Federal Hill Wine and Spirits, with live music by Vinny Bucci.
To learn more about the fundraiser, visit the Facebook page. Donations will also be accepted by mail. Send a check to the Friends of the Olneyville Library (with "Olneyville Library Fundraiser" in the memo line) at Olneyville Library, 1 Olneyville Sq., Providence, 02909.