Cafe Nuovo
Big, bold excess — culinary and aesthetic —  is still the secret to Cafe Nuovo's success.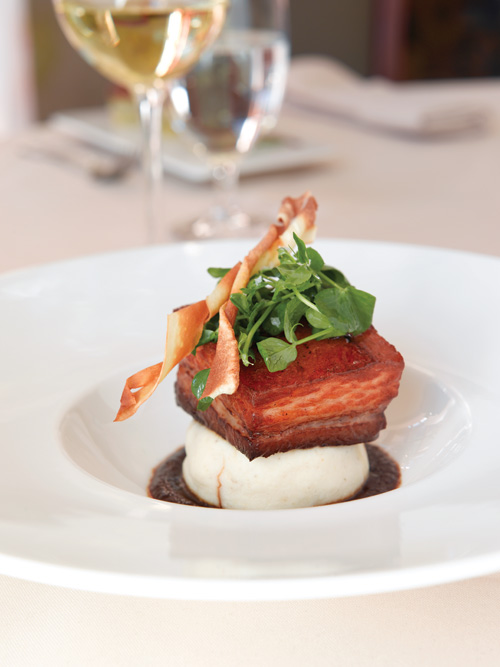 Cafe Nuovo
Cafe Nuovo One Citizens Plaza, Providence, 421-2525, cafenuovo.com. Open for lunch Mon.–Fri., dinner Mon.–Sat.
Reservations recommended. Wheelchair accessible. Valet parking. Cuisine Modern American. Capacity One hundred-plus inside and nearly 200 when the patio's open; the lobby holds 200 for private parties. Vibe A lily that was gilded back in Clinton's day and remains encased in glass, impervious to the passage of time. Prices Appetizers $9–$19; entrees $20–$40; desserts $10. Karen's picks Pork belly, crab cakes, steaks and chops, dessert. Wines are available by the glass if you ask.
Key
Fair
Good
Very Good
Excellent
Half-star
The holiday season may have been bubble-wrapped and duct-taped until next year, but Cafe Nuovo refuses to scrub the sparkle off its walls. Neutral though the palette may be, burnished gold has a pervasive presence, 
one that says every night is a party of sorts.

The supporting cast — patio ripe for Waterfire views, lobby perpetually set for private diners, wine list that advertises only bottles — backs the restaurant's philosophy that too much is never enough. Born in the nineties and reluctant to leave the last century's most decadent decade, the restaurant continues to work from a template — and a somewhat dated decor — that says bigger is better.
Chances are, the regular clientele will agree, as Nuovo is rarely a no-occasion destination. Its tables are filled with post-work attorneys, corporate schmoozing and families honoring myriad milestones. This is a crowd poised for celebration, surely one that applauds the gilding of each culinary lily. Without a doubt they'll find it here.
"Nuovo" suits the kitchen given that Chef Brian O'Donnell is the fourth man to hold its top job in less than two years. After longtime executive chef Tim Kelly left the restaurant in 2009, both Eric Flynn and Jason Hooks held the fort for barely longer than six months — a surprising trend given that the menu has evolved but made no major modifications to its gastronomic identity in a decade. The dishes remain a modernized approach to familiar foods: chops, chicken, pasta, all of which are paired with half a dozen (and counting) substantive secondary ingredients.
Whether all of the components are essential to the dish is doubtful. Even the process of remembering or identifying what's in front of you can be a challenge. The menu notes that servers will "recite the daily selections," and it's hard to discern whether that's a reward to you or a threat to them. After the verbal fanfare of several specials, adjacent diners nodded graciously until the server was out of earshot and then wondered aloud whether she had said salmon or sea bass, and the prospective benefits of asking anyone what speck, beurre monté or nage was. (Apparently the consensus was none and they remained mute.)
It's not, however, rare for the amalgam of ingredients to reach harmonious heights. Beef tartare ($15), served with seckel pear, scotch bonnet peppers and a quivering quail egg, proves just that. Each ingredient is unique in texture, subtle in flavor, and even the fiery pepper magnifies, rather than overpowers, the taste of the beef. So, too, with the trinity of miniature crab cakes ($15), Nuovo's best rendition in years. A compendium of condiments — apple miso, lingonberries and fennel marmalade — allows for an adventurous stroll down the plate, even if you've forgotten the first stop by the time you reach the next.
But, on the downside, baby lettuces ($10) are nearly drowned in a medley of toppings that includes blue cheese, enoki mushrooms, clementines, radishes and (whew!) tempura fried onions. Undercooked calamari are overwhelmed by tartar, remoulade and relish, all doled out with demitasse spoons. One never wants to reach their quotient of gluttony this early in the meal, but the danger exists. Even sweet potato soup ($9), decadent on its own, would have been well-paired with just the crunchy chunks of five-spice brittle. Instead it's poured around a subtle goat cheese flan that breaks apart like panna cotta once the warm soup hits and adds no discernible enhancement other than aesthetic spectacle.
The kitchen's comfortable with meat, though, and a la carte or composed, you'll rarely get a piece that's not well executed. The cuts come at a price, many of which are behemoth in both size and cost. Kurobuta pork chops are $30, veal is $40, steaks fall in between. It's a little easier to rein in excessive condiments with main courses given that a pound of beef tends to dominate everything around it, but there's also a fairly standard model most dishes abide by: Protein is placed center stage with starch on one side, green on the other and a liberal dose of stock reduction. (There's clearly a highly aggressive saucier at the stove as all versions are reduced to near demi-glace richness.)
Innovation is not as evident in these larger dishes, and that reflects well on the plate. Whipped potatoes, lyonnaise and mashed yams aren't necessarily noteworthy, but they almost never get complaints when paired with a rack of lamb ($34) or filet mignon ($35). And though chefs have long sought to make roast chicken ($24) an updated version of itself, it doesn't necessarily need more than an adept hand. The line here certainly has one — both the crisped breast and fried thigh meat are nicely paired with an apple cider jus and ricotta gnocchi, but the free floating peas and dried blueberries created an awkward patch-work effect.

Filet is pleasantly straightforward and, in this case, diners can choose just how sedate (bordelaise) or indulgent (ginger caramel emulsion) they want their meal. The latter is intriguing in concept, but it's an enthusiasm that lasts only until it hits your tongue. Easy enough to go a la carte and build a meal as complex or as simple as you want.
In some sense, Cafe Nuovo is limited by its own broad appeal and revolving staff. In an attempt to feed a group that's not restricted by age or interest, the restaurant has taken the somewhat safe approach of producing the best version of refined wedding food you'll find in the city. Big productions, after all, appeal to a big audience. And there may be no one who reaps the benefits of that philosophy more than pastry chef Laurie Nadeau. She has freedom to play around Ringling Brothers style and she does so enthusiastically, walking the line between the Nuovo of old and its occasionally more modern incarnation.
Dessert is an area where artistic hyperbole never grows tedious, and Nadeau saturates every sweet in well-designed whimsy. Though she still serves the ubiquitous pot o' mousse, everything else rotates regularly and presents dramatically. Her arsenal includes a free range creme brulee ($10) made in a ring mold that's miraculously able to stand as a three-inch tower topped with a caramelized roof and tuille antenna. There are gelatos and sorbets as well, but the trio of chocolate banana cheesecake squares ($10) are quintessentially Nuovo. Topped with crispy peanut-butter orbs, and accessorized with combed streaks of chocolate and dollops of caramel, it would be too much for any other restaurant — which makes it just enough here.