BYOB: 22 places for good food, booze sans the big check
The Drinks Are On You! We love going out to eat but then we get the check and — yikes — half of it is for the liquor. That's why we like places that are BYOB. We can satisfy our craving for good food without going broke.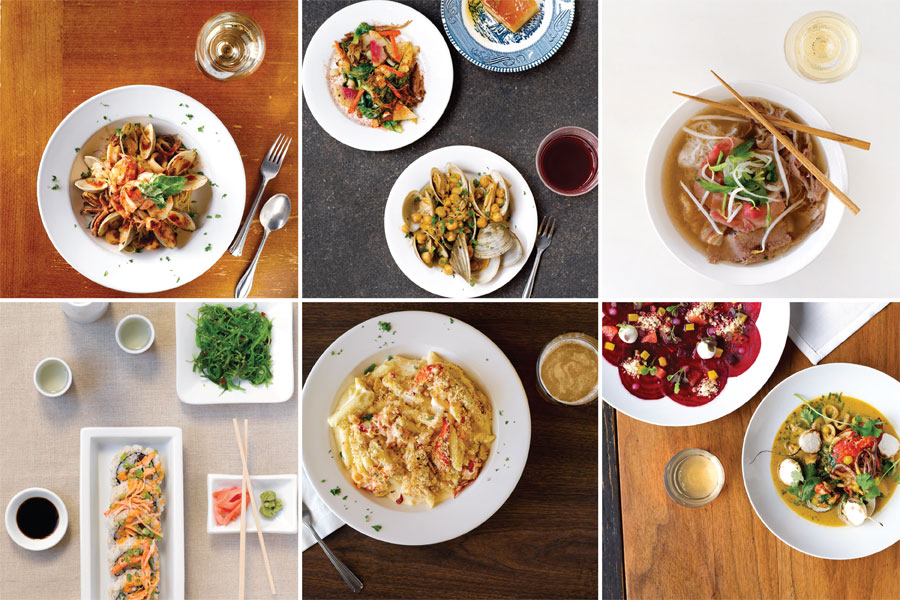 Flan y Ajo
225a Westminster St.,
Providence, 432-6656, flanyajo.com
The Menu: Tortilla Espanola and gambas al ajillo are straight out of Spain, but these tapas artistas also know what to do with local seafood. Start off with Catalan pa amb tomaquet (bread rubbed with tomato and olive oil), chorizo and some pintxos — small bites served with a sliced baguette — then share as many tapas as you can prop on your tiny table or ledge.
Vibe: Artist-types taste plates next to a clutch of aspiring chefs, and once-upon-a-time globe-trotters reminisce about past European adventures. Take a seat at a bar stool overlooking the kitchen — what looks like a dorm room food lab turns out top notch cuisine — or sit or stand along a bench with built-in wooden tabletops and neato wine bottle cubbies.
Get: Choose a few mainstays but don't skip the specials. Squid arrives fresh off the boat from Point Judith, then it's sauteed and stuffed with squid ink and rice. Rabbit, duck and quail are prepared in a multitude of methods. And don't forget the flan, custard from which this Providence gem draws its name.
Sommelier Says: Spanish reds from Rioja, albarino if you prefer whites, or go fancy with cava — Spanish-style sparkling wine. At a loss? Head next door to Eno and ask for suggestions.
Corkage Fee: $5
Closest Liquor Store: Eno Fine Wines, 225 Westminster St., Providence, 521-2000, enofinewines.com
Dinner for Two: $40 to $50
Fine Print: As the chalkboard scrawl states, "No, we don't have more seats." But if the nook proves too packed, visit their sister wine bar, Bodega Malasana, (complete with liquor license!), just around the corner at 186 Union St. – Jamie Coelho


Sunrise
823 West Main Rd.,
Middletown, 848-4545, sunriseviet.com
The Menu: February is the perfect time for pho — Vietnamese beef noodle soup that clears your sinuses and warms your soul. Served in medium or large (gigantic!) bowls, the specialty comes with a plate of fresh bean sprouts, Thai basil and lime wedges that you submerge and squeeze into the steaming broth. With dozens of combinations including chicken, beef, seafood and options of clear or yellow noodles or rice, you can customize your pho any way you like it.
Vibe: Super-sized bottles of sriracha and chopsticks-wielding patrons are surefire signs you're in a good spot. The family-friendly restaurant sports neon signs, ceramic Buddha statues and a fish tank with live fish (no, you can't order them for dinner). Sunrise sees its fair share of takeout orders, but hot potage is best served tableside for the full effect.
Get: Texture is the focus here with spongy shrimp cakes and soft rice paper rolls filled with the snap of pickled carrots and cucumbers and crisp ham. Sweet and savory mingle with sides of house made peanut dipping sauce paired with most appetizers. Go for the pho combo for a variety of meat — tendon, flank, tripe, eye-round and brisket — all in one bowl.
Sommelier Says: Vietnamese food pairs well with whites like riesling and gewürztraminer. Stay true to Rhode Island roots with a bottle from Newport Vineyards in Middletown.
Corkage Fee: None
Closest Liquor Store: Aquidneck Liquors, 15 East Main Rd., Middletown, 847-1522
Dinner for Two: $30 to $40
Fine Print: For dessert, the avocado shake is divine (and filling), but after a meal, your belly's better off with a bowl of Asian fruit. If you're brave, try the durian, the stinkiest fruit in the world. That's one dessert you'll never have to share. – Jamie Coelho

Abyssinia
333 Wickenden St.,
Providence, 454-1412, abyssinia-restaurant.com
The Menu: Forgo forks and knives and prepare to get your hands dirty. Ethiopian cuisine is served on top of injera — crepe-like, sourdough flatbread — that you rip into small pieces and use to scoop up meat and vegetable stews similar to Indian food. With just as many veggie dishes as ones containing meat, choices delight vegans and carnivores alike.
Vibe: Stray from Thayer Street's ho hum pizza and burritos and take a walk on the wild side on Wickenden. Professors break bread alongside undergrads and dating couples learn to share while everyone explores a different culture.
Get: Divvy up a meat or vegetable combination platter to sample up to nine dishes in one sitting. Meat platters contain two carnivorous selections and smaller portions of all the vegetarian dishes, including lentils, split peas, collard greens and more. For some that like it hot, choose doro wot or key wot, bone-in chicken or beef stewed in spicy berbere sauce made with hot peppers and a dozen other secret spices.
Sommelier Says: Ideally, you'd get your hands on a bottle of tej — Ethiopian honey wine. But if the rarity eludes you, then choose fruity wines with a good amount of acidity; riesling or gewürztraminer for white and cabernet sauvignon or pinot noir for red.
Corkage Fee: None
Closest Liquor Store: Campus Fine Wines, 127 Brook St., Providence, 621-9650
Dinner for Two: $30 to $40
Fine Print: The restaurant employs refugees and provides on-the-job training so that they may later enter the broader job market. – Jamie Coelho

Bee's Thai
167 Ives St.,
Providence, 273-2727
The Menu: Filled with Thai favorites, such as an array of customizable curry dishes, pad Thai and drunken noodles, the offerings are fresher and lighter than Thai food can sometimes be. The menu also features a range of creative and spicy chef's specials, such as stir-fried duck with zucchini, pineapple, cashews and onions and seafood madness, with stir-fried shrimp, scallops and peppers.
Vibe: On a weeknight, you might share the restaurant with just two college students in fleeces, but takeout business is brisk and it gets busy on weekends. The yellow walls and pictures of paddies in Thailand provide some atmospheric charm, but Christmas music felt a little out of place.
Get: Start out with the mango spring rolls, which come with a delectable peanut sauce, or the green papaya salad. Meat eaters and vegetarians alike will appreciate the ability to customize meals, and even the fried offerings, such as wontons, are light. Entrees such as pumpkin red curry and drunken noodles come in portions large enough to share.
Sommelier Says: To offset the sweet, sour and spicy elements of Thai food, try a fruity riesling, sparkling wine or dry Champagne. Or go more casual with a Thai beer such as Singha.
Corkage Fee: None
Closest Liquor Store: Madeira Liquors, 174 Ives St., Providence, 272-5911
Dinner for two: $40 to $50
Fine Print: If you come during the day, the lunch specials are a deal, featuring favorites such as pad Thai and drunken noodles, plus customizable specials such as spicy bamboo and broccoli with oyster sauce. – Jen McCaffery
Dante's Kitchen
315 Main St.,
East Greenwich, 398-7798, danteskitchenri.com
The Menu: Southern comfort food; we're talking oyster po' boys with jicama slaw, jambalaya, roasted pork loin with a pecan bourbon glaze, a hearty Creole gumbo that sates on a chilly winter evening, and Brussels sprouts as they were meant to be eaten, braised in bacon, pure heaven.
Vibe: This is downtown E.G., so many of the buildings in the nabe look suitably historic, including this one. Step inside, though, and be transported straight into the twenty-first century. The industrial-urban decor is warmed up by exposed brick walls and graphic black and white photos that line the walls of this small space. A welcoming (coffee) bar in the back naturally draws visitors.
Get: Are you kidding? It has to be the perfectly seasoned sage fried chicken and waffles, awash in maple syrup.
Sommelier Says: A local stout, like Foolproof's Raincloud or Newport Storm's Winter Porter, pairs nicely with waffles; with spicy gumbo or jambalaya, try a Trinity IPA or a 'Gansett.
Corkage Fee: $5 per bottle
Closest Liquor Store: Thorpe's Liquors, 609 Main St., East Greenwich, 885-4485
Dinner for Two: $50 to $60
Fine Print: Once upon a time, this spot was home Audra's Cafe, an unassuming breakfast joint. The only similarity between then and now? You can still get breakfast at Dante's Kitchen and lunch as well, with dishes featuring a Southern accent. Dinner, however, is only served Thursday through Saturday from 5 to 9 p.m. – Sarah Francis
El Paisa
598 Dexter St.,
Central Falls, 726-8864, elpaisa.com
The Menu: Hearty portions of South American fare heavy on the starch (potatoes count as vegetables, right?) and meat (the bigger, the better). See items like Colombian sausage, fried plantains, empanadas, steaks as big as your plate and whole fried fish with eyes gaping wide as if to say, why me? Because you're delicious, that's why.
Vibe: A dining room full of loyals; generations who've been frequent customers over El Paisa's thirty-six years. So many movable tables you can wrangle them together to seat your entire extended family Last Supper-style.
Get: The Colombian tamal is excellent, a hulking mound of masa stuffed with pork — the kind you'd enjoy at a pig roast — and steamed in a banana leaf. For a taste of it all, order the typical Colombian platter, which includes your choice of meat, fried bacon and just about every side on the menu; rice, beans, yucca, potato, maize bread and sweet fried plantains — because eating your daily allowance of carbs in one sitting is scandalous.
Sommelier Says: No need to get fancy. A couple Coronas will do, thankyouverymuch (or a case, if you brought along your lineage).
Corkage Fee: None
Closest Liquor Store: Portugalia Liquor Co., 225 Barton St., Pawtucket, 726-3360
Dinner for Two: $30 to $40
Fine Print: Cake or custard? With half a dozen options on display, the dessert tray is a sight for all sweet tooths. Also, check out the framed newspaper article on the wall featuring Hillary Clinton's 2008 campaign visit. – Jamie Coelho

El Perrito Taqueria
190 Thames St.,
Newport, 619-5502, elperritonewport.com
The Menu: The little sister to Newport's popular Perro Salado restaurant, this authentic Mexican taqueria features fresh, creative offerings — for a song. A basic like chips and salsa is elevated with a dusting of paprika, but you can also get specials like two duck tamales for $7.
Vibe: Tucked below street level on busy Thames Street, El Perrito Taqueria is rustic Mexican with a funky sensibility. Bottles of hot sauce, a large mural featuring cacti and clouds and a lunch box that's a takeoff of DaVinci's "Last Supper" decorate the small space, while long wooden benches allow for communal eating.
Get: The chimichurri that accompanies the yucca fries will have you scraping the container for more. For the main meal, options for creative variations of taco abound: cochinita pibil, with Yucatan-style pork roasted in banana leaf; tamarind-braised short rib, with mango salsa and scallions; shrimp with avocado crema; chorizo with potato and chipotle sour cream. Empanadas are made with pastry crust and filled with meat or fish. Finish the meal off with the flan of the day.
Sommelier Says: Keep it casual with any type of Mexican cerveza: Pacifico, Corona, Dos Equis. "Any beer you can put a lime in would be great."
Corkage Fee: $2 per person
Closest Liquor Store: One block over, part of JD Convenience Store at 202 Thames St.
Dinner for two: $30 to $40
Fine Print: While the burritos are more of a commitment, the tacos are small enough that you might want to try a few different kinds. – Jen McCaffery

Mermaid Cafe
19 Margin St.,
Westerly, 637-4225, mermaidcaferi.com
The Menu: As you might expect from a waterfront restaurant, the emphasis is on seafood. For dinner, choices range from traditional offerings such as clam cakes, New England and Rhode Island clam chowder and fish and chips to burgers and sandwiches. Diners interested in a heartier meal can try dinner specials such as baked haddock.
Vibe: With big windows that look out onto boats bobbing in the Pawcatuck River, the Mermaid Cafe pays homage to water. Fish nets, buoys, photos of historic ships and kids' colorings of mermaids all support the nautical theme. Casual, with a local feel in the off-season, the cafe draws a mature crowd on a Friday night that takes advantage of the BYOB option.
Get: Start with the crab cakes, which are generous portions filled with crabmeat from Maine and a great deal at $3.95. Try an order of the mermaid slaw, a yummy combination of cabbage, radishes, carrots, turnips and mayo. For dinner, try either the catch of the day or one of the specials such as scallop risotto and lobster pot pie, which are twists on traditional favorites.
Sommelier Says: A light white wine like sauvignon blanc or a pilsner won't overwhelm the seafood.
Corkage Fee: None
Closest Liquor Store: Dick's World of Wines, 137 Main St., Westerly, 596-5711
Dinner for two: $40 to $50
Fine Print: The cafe is only open for dinner on Fridays and Saturdays until spring. – Jen McCaffery

Noodles 102
102 Ives St.,
Providence, 383-5004, noodles102.com
The Menu: Noodle houses have long been popular in Asia, and it's easy to see why the concept has drawn diners for centuries at this modern version in Providence. With great options for vegetarians and meat eaters alike, the menu features almost endlessly customizable versions of Thai, Chinese and other Asian favorites, from a range of noodles soups to lo mein and claypot-baked rice. Portions are generous, and diners are encouraged to slurp.
Vibe: Tucked in a brick building on the East Side, once inside, the rich, red walls create a warm and sophisticated atmosphere. Families come early and parents take advantage of the BYOB option. As the night goes on, it gets more packed with dates and groups of college students drawn by the great flavors and reasonable prices.
Get: The pork dumplings are crispy and delectable, but you can also go healthy and get veggie dumplings that are steamed. The nime chow, fresh Cambodian spring rolls that come with a yummy peanut sauce on the side, is also a great choice. For the main meal, you can choose your broth, noodle and add-ons to create your perfect meal. The coconut curry is wonderful, with black rice noodles and chicken, as are the spicy Singapore noodles.
Sommelier Says: With lots of powerful sweet, sour and spicy options on the menu, light white wines such as a fruity pinot gris or a dry riesling or even a wheat beer provide a nice balance.
Corkage Fee: None
Closest Liquor Store: Madeira Liquors, 174 Ives St., Providence, 272-5911
Dinner for two: $30 to $40
Fine Print: Reservations are strongly suggested and it's closed on Sundays. – Jen McCaffery


Sushi-Go
215 Goddard Row,
Newport, 849-5155, sushi-go.com
The Menu: Healthy eaters, here's a Japanese place to call home. Pick from a rambling list of organic appetizers — vegan soba noodles, vegan dumplings, miso soup — plus locally sourced shellfish and fresh-as-can-be wild salmon from California.
Vibe: It feels like a takeout restaurant, which it primarily is, with sparse walls and chilly tile floors. But the sushi chef won't scowl when you pull out a bottle or six-pack; ours was happy to bring over a couple of glasses and delivered our dinner right to the table.
Get: The popular options, including a super veggie roll with avocado, carrot, cucumber and scallions, or the spicy scallop roll, with local shellfish, cucumber and scallions, are tasty and fresh. But we took a risk and tried the Broadway, a special ten-piece jumbo roll with spicy sauce, sweet potato tempura, shrimp, avocado, cucumber, crab, scallions and spicy sauce. It's pricy at $14.95, but the Broadway is big enough to share, though you probably won't want to. It offers just the right amount of spicy and cool flavors, and its size — well, let's just say we'll never return to the puny rolls of yesteryear.
Sommelier Says: If you can get your hands on some sake and Kirin Ichiban, more power to you. But our extra dry riesling paired beautifully.
Corkage Fee: None
Closest Liquor Store: Spring Street Spirits, 137 Spring St., Newport, 846-0959
Dinner for Two: $20 to $30
Fine Print: Just before closing time, the restaurant slashes its sushi prices in half so its chefs can start fresh the next day. Visit at 8 p.m. Monday through Saturday or at 6 p.m. on Sundays to get in on the deal. – Casey Nilsson

The Hungry Haven
5000 South County Trl.,
Unit D, Charlestown, 364-3609
The Menu: You'll see typical diner fare, balanced by hearty sides like potato salad and coleslaw, but the Hungry Haven shines in the seafood department like only a coastal restaurant could. Soups, shellfish and fried fishy delights all make an appearance.
Vibe: It's a diner, folks. That means paper placemats with loud ads and an open, greasy-spoon kitchen. But the service is no-fuss and friendly, and there's always a free table to spread out and dig in — because, really, that's what you came for.
Get: The lobster mac and cheese, oh the lobster mac and cheese! We could write sonnets in its honor. It's cheesy but not too heavy (that's what we're telling ourselves, anyway), and the lobster chunks are so large and plentiful that it's almost intimidating to take a bite; we quickly got over it. Other tasty options include the lobster bisque, a light and fresh lobster roll and the braised sea scallops. Don't skip the New England or Rhode Island clam chowder; like the mac and cheese, the seafood morsels rightly steal the show.
Sommelier Says: You'd probably feel at home with a sixer of Sam Adams, but a nice oaked chardonnay will do the trick, too.
Corkage Fee: $1.50 per person
Closest Liquor Store: Rippy's Liquor and Marketplace, 4158 South County Trl., Charlestown, 364-6711
Dinner for Two: $30 to $40
Fine Print: The restaurant only serves dinner Thursdays through Saturdays from
5 to 8 p.m. But if you can wait to get your seafood fix 'til the weekend, you'll score a dinner and two entrees for $33. – Casey Nilsson

Thames Street Kitchen
677 Thames St.,
Newport, 846-9100, thamesstreetkitchen.com
The Menu: Weekly changing offerings include four choices each for starters and entrees, but it's not a negative thing. Fewer options only make it easier to decide. Plates masterfully feature farm and ocean bounty with an artistic flair that tastes just as good as it looks. Beets are sliced so thin they resemble stained glass; add dollops of goat cheese, earthy pine nuts and the citrus of grapefruit and your palate sings.
Vibe: The restaurant's moniker may be tsk, but no one will tsk tsk you here. Leave the dinner jacket and heels at home; jeans and boots will do. But if you want to dress up, that's okay, too. Interior windows look into the kitchen so you can watch chefs Chad Hoffer and Tyler Burnley — brothers-in-law — at work while their twin wives, Julia and Anna Jenkins, handle front-of-house.
Get: For cozy winter nights, the duck cassoulet with confit duck, bacon, white beans and the pop of fresh cranberries is as comforting as a fuzzy blanket by the fire. Seafood choices satisfy lighter appetites, though when it comes to hearty shellfish stews, you might wipe out their supply of soft house-baked bread to sop up every last drop.
Sommelier Says: Time to break out that fancy bottle you've been saving, because this cuisine can stand up to the finest reds and whites. If you forget to pack one, there's a liquor store walking distance away.
Corkage Fee: $3 per person
Closest Liquor Store: Fifth Ward Liquor, 695 Thames St., Newport, 847-4545, fifthwardliquor.com
Dinner for Two: $80 to $100
Fine Print: Reopens February 18. If burgers, dogs and fries are more your speed, check out the owners' new outpost, Mission, in the old Billy Goode's (29 Marlborough St.), where you can also enjoy a vast selection of craft drafts. – Jamie Coelho

Tried and True: More longtime BYOB favorites that are still going strong.
Bluebird Cafe
This venerable South County institution was serving up Southern cuisine long before it was trendy. Think New Orleans style fried catfish, creole shrimp and roasted red pepper soup, and Louisiana pecan crusted breast of chicken. Dinner is served Fridays only, from 5 to 8:30 (or "until we run out of food or steam").
554 Kingstown Rd., Wakefield, 792-8940, bluebirdcaferi.com

Crazy Burger Cafe and Juice Bar
Burgers for the hardcore meat lover but plenty of vegetarian and even vegan options too. (Grilled tempeh, anyone?) The fresh-squeezed juices provide the basis for some awesome cocktails. Guy Fieri loves this place, which may, or may not, be an enticement.
114 Boon St., Narragansett, 783-1810, crazyburger.com

Edgewood Cafe
A neighborhood favorite that focuses on Italian comfort food such as lobster ravioli and Mediterranean chicken over spaghetti, but also takes a turn on this side of the Pond with barbecue ribs and pulled pork. Friday is fish and chips night.
1864 Broad St., Cranston, 383-5550, edgewoodcafe.com

Minh Hai
Tiny spot, short on atmosphere, but the big flavors make up for it. Vietnamese cooking is all about fresh ingredients, minimal cooking oil, and pungent herbs such as lemongrass, coriander and Thai basil, which are on full display. The pho soup satisfies when it's chilly outdoors and the banh hoi dishes are a good introduction for Vietnamese cuisine newbies.
1096 Park Ave., Cranston, 383-8071, minhhairestaurant.com

Not Just Snacks
Curries are heavily featured on the extensive menu, as well as biryanis, kababs and soups. The chicken masala and fried samosas are crowd pleasers and the no-frills atmosphere suggests East Siders really do come here for the food.
866 Hope St., Providence, 831-1150, letseat.at/notjustsnacks

Pho Paradise
Looks unimpressive from the outside, and not in the greatest neighborhood, but inside you'll find a huge menu with Vietnamese standards that showcase the understated flavors and controlled spiciness of this type of food, including steaming bowls of the eponymous pho.
337 Broad St., Providence, 369-7985

Pinelli's
The onetime deli counter, which used to be a dinner table conversation starter, is no more, but the good news is the pretty cafe is still here, and the menu is still classic Italian. Linger over reliable dishes such as chicken marsala, gnocchi al forno or penne in vodka sauce, while soaking up the Italian mood music.
701 Quaker Ln., West Warwick, 821-8828, pinellisdining.net

Sophia's Tuscan Grille
Outside, it's a suburban strip mall. Inside, it's a cozy trattoria, with a menu that features go-to favorites including veal saltimbocca and chicken parm, as well as drool-worthy peasant-style pesto and margherita flatbreads. We especially like the Wednesday and Thursday special: salad, apps and entrees for two for $39.95.
1729 Warwick Ave., Warwick, 732-6656, sophiastuscangrille.com

Thai Star
An oldie but still a goodie, this Thai outpost offers some of the most flavorful food around, not to mention some of the spiciest (try the hot basil entrees, if you dare!). Plenty of dishes for the less adventurous as well, and props, too, to the friendly, helpful service.
1088 Chalkstone Ave., Providence, 421-5840, thaistarrestaurant.com