Butterfield: Downtown Chic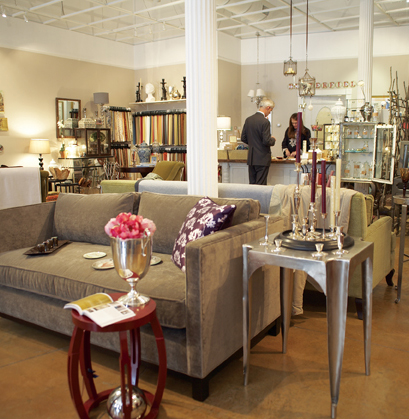 What are the most popular items you sell?
The Mitchell Gold furniture — sofas, arm chairs, love seats — those are our bread and butter. We do a lot of custom orders. The Santa Maria Novella soaps and pomegranate potpourris are also big, along with John Derian antique glass prints.

What makes your store distinctly different?
The items that we carry here are one or two of a kind. The Jonathan Adler ceramics, for example, and the Derian decoupages. They're not produced in mass quantities. We create different environments and vignettes throughout the store. I want Butterfield to have a gallery-like quality.
Why did you want to go into business for yourself?
I'm from Augusta, Georgia, originally and I've lived in New York, San Francisco and Charleston. When I came here I got a master's degree in interior architecture from RISD. The courses I took focused on urban planning and revitalization and I wanted to be a part of it, here in Downcity. I worked for local designers and architects, but raising a family — I have young children — wasn't consistent with working with an architecture firm. I always wanted a place where I could bring together a collection of the things I love and I wanted to be in business. It was important for me to use my interests professionally. I felt there was no shopping here. Providence seemed ripe for this kind of opportunity.


What's your advice for someone outfitting a home?
People hesitate to jump into a decorating project from scratch. Start with a single piece that you fall in love with. It could be a sofa, for example. Then build around it. Your surroundings affect your mood. It's healthy to be around things that you love. It doesn't need to be something expensive. It could be shells you've found at the beach, or a toothbrush in an antique jar, or soap you keep in a beautiful dish. And mix things up. Don't be matchy matchy, and I don't mean just with fabrics and style. You can have an old, peeling chest of drawers sitting next to a modern upholstered headboard in the bedroom. Furniture should make you feel comfortable and fit in with how you live.
Has the interior design business changed over the years?
I help couples with their interior design questions but people are more aware now of design and architecture and developing their own taste and style than they used to be. They're less likely to have a design professional do it for them.

One more thing: Why did you name your store Butterfield?
Butterfield 8 is a wonderful novel written in the 1930s that my husband gave me when we first met. The oversize movie poster on the wall here is from the 1960 film starring Elizabeth Taylor. The story embodies an elegant, eccentric feel that I want my store to convey.