Burger Bliss!
In a test of taste and digestive agility, we sampled the best burgers in the state — from the turkey patty to the two-pounder and all the condiments in between.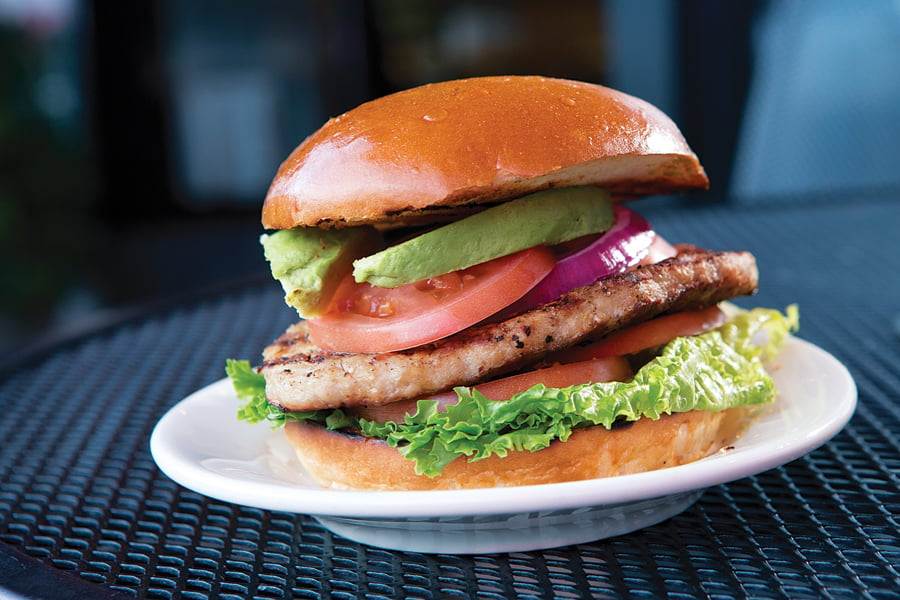 Messy, drippy, or cheese-laden, often casual, sometimes luxe, few dishes are as bodacious as the burger.
From a modest turkey patty to an indulgent two-pounder of Angus beef, we sampled 46 creative variations from all over the state .
So break out the bib, bring on the condiments and dig into Rhode Island's favorite comfort food!
The Classic
Served in an unassuming atmosphere, the classic is inexpensive, sloppy and capable of being eaten in whatever you slept in. Sleeves are sometimes confused with napkins.

---
| | |
| --- | --- |
| A family friendly bar, Red Bridge has no airs, just a delicious dripping mess of a half-pound burger. $8.99. 22 Waterman Ave., East Providence, 438-3899, theredbridgetavern.com. | |
---
| | |
| --- | --- |
| With locations popping up all over, Fat Belly's is Rhode Island's most recognizable rustic sports bar. Burgers are everything a NFL fan wants: big, messy and straightforward. $7.99. Numerous locations, fatbellyspub.com. | |
---
The Arthouse
This is all about style and creativity, both on the plate and in the air. Brioche buns, housemade condiments and any cheese but American define the dish.
---
| | |
| --- | --- |
| The American's ten-ounce patty tastes like manly char and is topped with the mother of all bacon strips: a quarter-inch thick and pure pork goodness. Add in havarti, spinach, grilled onions and a domed sourdough kaiser and you've got a burger that demands respect. $16. 555 Valley St., Providence, 865-6186, 311ironhorseway.com. | |
---
| | |
| --- | --- |
| Farmstead's La Laiterie Bistro makes a mean burger, in part because it's topped with an enviable and extensive selection of cheeses from their shop next door. In addition to a dense, grass-fed burger, don't miss the crispy planks of fried polenta. $18. 186 Wayland Ave., Providence, 274-7177, farmsteadinc.com. | |
---
The Elitist
Make a reservation, use a knife and fork, wipe the corners of your mouth. These are seriously upscale burgers that make a common dish downright gracious.
| | |
| --- | --- |
| Spiced Pear has been getting press for its burger for years and with good reason. A mixture of ground Kobe beef and pulled Kobe brisket covered in cheddar, coleslaw and red onion jam, it's the most enviable mess in the state. $29. 117 Memorial Blvd., Newport, 847-2244, thechanler.com. | |
---
Over the Top
What do Americans do to their national pride? Their culinary staple? Their foundational meal? They make it bigger, of course. Strap on the feedbag and buy some elastic-waist pants because we're reaching epic proportions.
It's Called:

Irish Mac

Where:

McBride's, 161 Wayland Ave., Providence, 751-3000,

mcbrides-pub.com

, $11

Foundation:

Angus beef.

Extras:

potato pancake, lettuce, tomato, special sauce. Bun: triple decker.

Calories:

750

Consequences:

It's not the burger that's going to do you in, it's that you're likely to down it with three pints of Guinness and forget you even ate. Order a second in the thick of your alcoholic haze and you can check in at the attached funeral home.
---
I

t's Called:

Banh Mi Burger

Where:

Julians, 318 Broadway, Providence, 861-1770,

juliansprovidence.com

, $9

Foundation:

kimchi, housemade chicken pate, cilantro mayo, jalapeno.

Extras:

bacon, fried egg.

Bun:

bulky roll.

Calories:

1,000

Consequences:

This cultural hybrid counteracts the fat with enough acid and heat to highlight the modern more than the masochistic.
---
It's Called:

Mt. Everest Burger

Where:

Mews Tavern, 456 Main St., Wakefield, 783-9370,

mewstavern.com

, $44.99

Foundation:

two pounds of black Angus beef.

Extras:

A mountain of fries, and four pickles (to aid digestion?)

Bun:

An entire loaf of Italian bread.

Calories:

4,200

Consequences:

Pleasure. Pain. More pain. This is not right on any level, in any culture. You should be praying for forgiveness and a colonic.