Building Schools from Scratch
Jeremy Chiappetta's running a new type of charter school in Rhode Island, overseen by mayors instead of school committees. The results have been impressive, but some have questioned whether mayoral academies create a two-tiered educational system.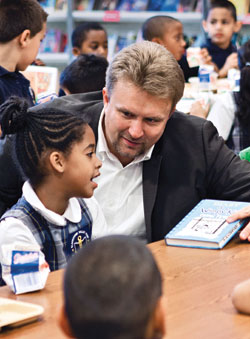 It's just after 11 on a rainy June morning in the basement of a former parochial school in Cumberland, and Jeremy Chiapetta wants to hear some results.
The school year is winding down and Chiappetta, the executive director of Blackstone Valley Prep, is meeting with two staffers and Steven Corrales, who grew up in Central Falls and recently earned a master's in education policy from Brown University. He's compiled a report on how successful Blackstone Valley Prep has been in getting the word out about its schools in the communities it serves: Central Falls, Cumberland, Lincoln and Pawtucket.
The stakes are high. Blackstone Valley Prep is Rhode Island's first mayoral academy, a network of a new type of charter school overseen not by an elected school committee or board, but by mayors who believe by starting schools from scratch while containing costs, they can help reform Rhode Island's public school system.
Chiappetta, a thirty-eight-year-old who spent part of his career as a consultant for IBM, cuts to the chase.
"You're from Central Falls. You know the community well. What percentage of families entering kindergarten know about us in Central Falls, and how do we change that to 100 percent?" Chiappetta asks Corrales.
"I would say probably 30 percent of people with kids eligible for kindergarten," Corrales replies. "…The churches are such a critical place. At least four churches get major participation."
Chiappetta starts thinking out loud. "Engaging the churches, that's definitely an underutilized strategy on our part. How we do that and how we do that well? I think that's all about personal relationships with the people leading those church communities…."
Other stories in our September Schools issue:
High School Report Card — We rank the state's high schools