Bucket List
Things Every Rhode Islander Should Eat, See and Do!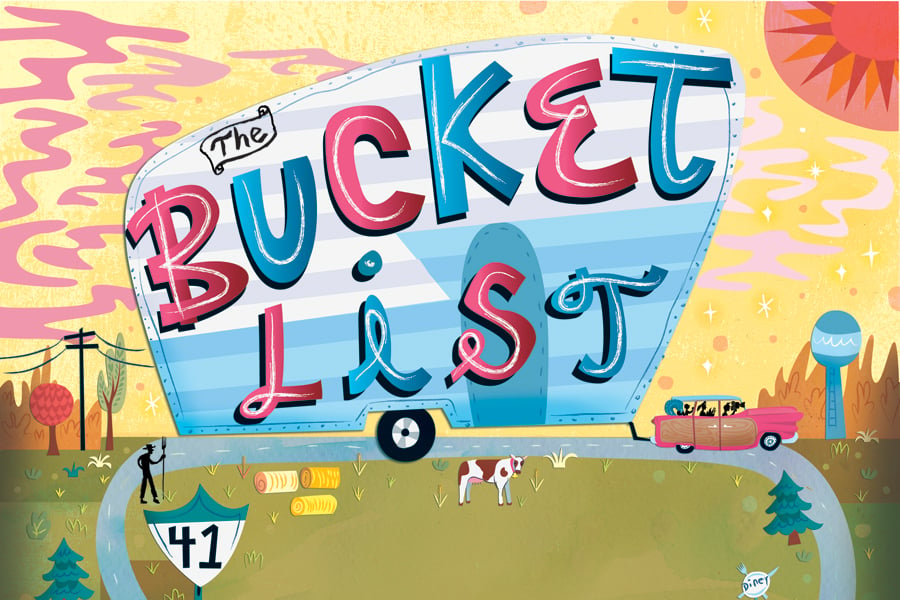 Rhode Island is the smallest state in America, but it has so much to offer that many natives live their entire lives without taking advantage of all the activities, meals, sights and sounds that make the Ocean State unique. Here is the definitive list of things that make up the quintessential Rhode Island experience — from beaches to orchards, music to reality television, and hot wieners to apple pie.
Who has the time to maintain a beach home? Instead, rent one. The first week of August is the busiest (and most expensive) time, while June and September rentals are more affordable and easier to find. Units directly on the beach aren't leased to University of Rhode Island students, so holiday rentals are great for those who can't take the heat. durkincottages.com
Why: Speeding down a hill makes everyone feel like a kid. And the conveyor belt ferrying sledders back up the slopes prevents aches and pains.
Your gear: The tube you rent there; money for an apres-ski drink.
For more: yawgoo.com
And time it. The trip from the northern end of the state to the southern corner isn't easy. Google Maps estimates it will take you sixty-four minutes to make the 57.3-mile journey. Clearly, the programmers haven't dealt with traffic at the I-95/I-295 merge.
We've all said it. "I'd love to check out that new place, but it's on the other side of the Bay." What is wrong with us? Tourists are comfortable driving over bridges to take in the entirety of the smallest state in the nation (we're talking thirty-seven miles east to west, people!) — we locals should do the same.
For such a densely populated state, Rhode Island still has gorgeous rural areas and hidden gems that some natives go their entire lives without seeing. Don't make that mistake.
Vandalism is bad, except when the community endorses it. For nearly fifty years, this rock has been painted by residents and visitors with images and messages from the mundane to the profane. Residents tend to replace the dirty stuff quickly, so keep your genius G-rated.
Northern New England may get all the postcards (and the crowds), but picturesque opportunities abound in the northern corner of our state. Scituate is best known for its eponymous reservoir, which is a great place to check out fall foliage, especially if you take rural routes to get there.
Roger Williams never sped down the hills in the park that bears his name. It's a shame, since generations of Rhode Islanders have spent chilly winter days here. The Temple to Music is a popular spot, but those who like to blaze their own trail can find knolls throughout the 435-acre park.
In the shadow of the Newport Bridge lies a cove perfect for clamming. Rhode Islanders can collect a half-bushel of legal-size clams per day. Once you've harvested your bivalves, test drive them with a Narragansett Beer Clambake recipe (the official beer of the clam, they claim).
Get announced at a Pawtucket Red Sox game
What is now the oldest tavern in America, the White Horse was constructed as a private Newport residence in 1652, becoming a tavern in 1673. Skip the fancy modern spots and pair your dark rum and ginger beer concoction with some ambience. whitehorsetavern.us
Stretch your mind with some of these favorites.
Since its grand opening in 1950, "the Vets" has been known around the world for its amazing acoustics. The Rhode Island Philharmonic calls the space home, and singers from Tony Bennett to Pavarotti have also performed in the auditorium. In the midst of a $14.8 million renovation, the historic theater will soon be a treat for the eyes as well as the ears. vmari.com
Rhode Islanders come from diverse ethnic backgrounds. Over the years, food was shared with neighbors, evolving into unique dishes that perplex those who aren't from around here. It's not all health food, but it's all delicious.
Dubbed New York System by Greek immigrants looking to give their hot dogs an air of authenticity in the 1940s, these wieners have become a quintessentially Rhode Island food. You must eat a New York System "all the way"— covered with meat sauce, chopped raw onion, mustard and celery salt — before you shuffle off your mortal coil. Which will happen sooner than later if you develop a taste for these dogs.
Being religious — or Italian — isn't a prerequisite to eat a zeppole on St. Joseph's Day. This March holiday celebrates the Virgin Mary's husband and is especially popular in Italian homes. The day is marked by eating zeppoli, and there are as many recipes for these fried-dough treats as there are bakeries selling them.
Living in the Ocean State also gives you the opportunity to expand your culinary repertoire. Farm Fresh Rhode Island (farmfreshri.org) has plenty of info on where to pick apples, peaches, blueberries, raspberries and strawberries. In the meantime, make these spicy red apple twists, courtesy of the the Rhode Island Fruit Growers Association.
2 large apples, pared and cored
1 ½ cups flour
1 teaspoon salt
¾ cup water
½ cup shortening
4–5 tablespoons water
½
1–1 ½ teaspoons cinnamon
½ cup sugar
Slice each apple into 8 wedges. Mix flour with salt into mixing bowl. Cut in shortening. Sprinkle cold water over mixture stirring with fork until dough is just moist enough to hold together. Form into ball, then flatten to about ½ inch thickness. Roll out on a floured surface to 16-by-10-inch rectangle. Cut into 16 10-by-1-inch strips. Wrap one strip around each apple wedge. Arrange in a 13-by-9-by-2-inch pan. Brush with butter; sprinkle with mixture of cinnamon and sugar. Pour ¾ cup water around pastries. Bake at 450 degrees for 25–30 minutes, or until golden brown. Serve warm or cold, plain or with whipped cream.
Find a back-roads path to the beach
On sweltering summer days, Rhode Islanders are drawn to the beach like moths to a flame. In recent years, this has created massive gridlock on Route 4 and Route 1 along the south coast. Skip the main thoroughfares and take a more scenic trip to Narragansett. (Pssst…We've heard Route 2 south to Route 1 is an uncrowded way to get to the South County beaches.)
McCoy Stadium is the home to the longest game in baseball history, and the team sold souvenir plastic cups featuring the comical thirty-three inning box score for years. They recently changed the design to one that celebrates minor leaguers who went on to superstardom, so save those longest game cups if you have them. pawsox.com
Most college football games start in the early afternoon. Take advantage of the rare night game to see our Ivy Leaguers play under the stadium lights (and perhaps enjoy snuggling with your sweetie under a blanket). brownbears.com
4 small red potatoes
½ pound chourico sausage, sliced
4 breakfast sausages
4 onions, peeled
2 ears sweet corn, shucked, broken into
smaller pieces
2 bay leaves
1 12-ounce can of Narragansett lager beer
salt, pepper and crushed red pepper
2 quarts steamers
3 tablespoons chopped green onion
3 tablespoons chopped parsley
Combine potatoes, sausages, onions, corn and bay leaves in a large pot. Cover with 3 quarts cold water, beer and season to taste with salt, pepper and crushed red pepper. Bring to a boil, reduce heat and simmer 20 minutes. Add clams, cover and cook until they open, about 15 minutes. You can serve right from the pot. Garnish with green onions and parsley. For the bold, add 2 cloves of garlic to the water and substitute linguicia for chourico. Serve with melted butter for dipping the clams into or just use the broth. Left over broth and clams are a great starter for chowder.