Brunch Brigade
Where to enjoy the halfway point between breakfast and lunch.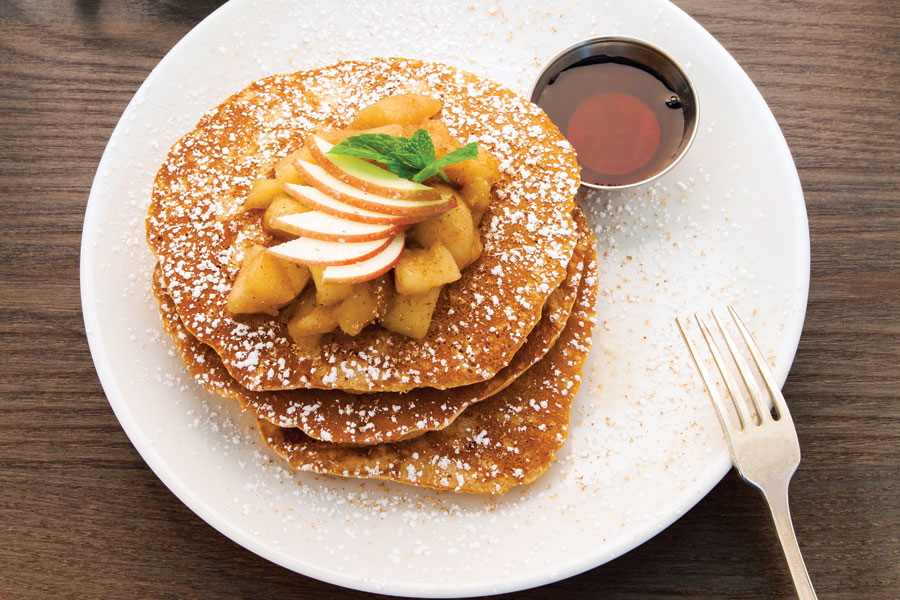 Eggnog pancake made with Arruda's Dairy eggnog at Eli's Kitchen.
Eli's Kitchen
40 Market St., Warren, 245-1809, eliskitchenwarren.com
When: Sat. 9 a.m.−4 p.m.; Sun. 9 a.m.−2 p.m.
The Scene: Making friends over breakfast is a thing at Eli's Kitchen. It's a place where hometown fixtures befriend first-timers at the chef's counter and community table (don't feel left out by the chatter, just join in).
Recommended Dish: Made-from-scratch pancakes with seasonal fruit, like native pear and apple eggnog, and even a gluten-free batch of spiced apple oatmeal pancakes topped with salted caramel creme anglaise. "This is by far my favorite time of year to cook pancake specials," says chef Eli Dunn. The fruit is often blended right into the batter then flipped to a crisp caramelized finish.
Beverage Pairing: There's booze-free eggnog from Arruda Dairy, but Eli's also has a carefully crafted wine and beer list.
---
Fifth Element
111 Broadway, Newport, 619-2552, thefifthri.com
When: Sun. noon−3 p.m.
The Scene: Soak up live local jazz, funk and soul bands in the contemporary dining room with Asian influences. Laidback locals, travelers and the post-church-going crowd show up in everything from their Sunday best to Ts and jeans.
Recommended Dish: The Croque Madame, sort of like a gourmet grilled cheese with two slices of toasty country bread layered with bechamel, black forest ham, egg and cheese. Beverage Pairing: A Turbo Mimosa is the old favorite turned up a notch with a shot of Grand Marnier.
---
Coast Guard House
40 Ocean Rd., Narragansett, 789-0700, thecoastguardhouse.com
When: Sun. 10 a.m.−2:30 p.m.
The Scene: After Hurricane Sandy seriously roughed up this historic Rhody landmark, it's been renovated to its former year-round glory, perched by the sea with views of Narragansett Bay. Recommended Dish: Since it's known for its seafood, go for the crab and the egg (crab cakes topped with poached egg and cilantro-chili relish).
Beverage Pairing: The Revolution made with Sons of Liberty local Uprising whiskey, lemon and lime juice, Angostura bitters and Regan orange bitters with a hot jalapeño garnish.
---
XO Cafe
125 North Main St., Providence, 273-9090, xocafe.com
When: Sun. 11 a.m.−2:30 p.m.
The Scene: Rolling out of bed in your pajamas for Sunday brunch will not only earn you a few funny looks, it'll also land you a free mimosa or bloody Mary at this chic cafe.
Recommended Dish: The Meeting Street includes bacon and Brussels sprouts hash, two poached eggs and creamy mornay sauce on grilled housemade bread.
Beverage Pairing: The Sunrise Mimosa is enhanced with Spanish cava, fresh grapefruit juice, St. Germain and pomegranate syrup.
---
Dante's Kitchen
315 Main St., East Greenwich, 398-7798, danteskitchenri.com
When: Tues.−Sun. 8 a.m.−2 p.m.
The Scene: Feel like you've taken a trip down South at this comfort-food haven on little old Main Street.
Recommended Dish: Fried chicken and waffles topped with toasted cashews and drizzled with bourbon-infused Vermont maple syrup.
Beverage Pairing: The Dante's Inferno Bloody Mary mixes up Tito's handmade vodka, Absolut Cilantro, V8 and Sriracha horseradish, garnished with a salted rim, smoked pecan bacon and shrimp cocktail.
---
Waterman Grille
4 Richmond Sq., Providence, 521-9229, watermangrille.com
When: Sat. and Sun. 10:30 a.m.−3 p.m. The Scene: An upscale morning experience with views of the Seekonk River.
Recommended Dish: For a hearty play on a winter favorite, opt for the cassoulet with duck confit, Maine yellow-eyed beans and poached eggs with truffle emulsion and toast.
Beverage Pairing: We can't choose between the $5 blood orange mimosas, peach bellinis and bloody Marys.
---
Stoneacre Pantry
515 Thames St., Newport, 619-7810, stoneacrepantry.com
When: Sat. 11:30 a.m.−3:30 p.m.; Sun. 10 a.m.–3:30 p.m.
The Scene: Chefs and bartenders who have the day off go here for brunch.
Recommended Dish: Buttermilk biscuits three ways: topped with sausage gravy, warm cheddar cheese or butter and jam. Orders of two allow you to mix and match.
Beverage Pairing: The bloody Mary mix is made with celery, onions, jalapeños, carrots and leeks that have been roasted and soaked in Worcestershire sauce, then pureed and served with shaved horseradish. Oh, and vodka!
---
Salted Slate
186 Wayland Ave., Providence, 270-3737, saltedslate.com
When: Sat. and Sun. 9 a.m.−3 p.m.
The Scene: Salted Slate picks up right where Farmstead left off in a newly redesigned space where the bar and dining room have more breathing room.
Recommended Dish: Start out with warm doughnuts ($1 each), then dig into the chicken and waffles: half a Belgian waffle topped with boneless and stuffed chicken galantine that's been smothered with gravy and served with a succotash of corn, cherry tomatoes and garbanzo beans.
Beverage Pairing: A dainty Pear Drop mixed with pear-steeped Tito's vodka, Aperol, lemon and chamomile syrup.
---
Eleven Forty Nine Restaurant
1149 Division St., East Greenwich, 884-1149, restaurant.elevenfortynine.com
When: Sun. 10 a.m.−2 p.m.
The Scene: Families and friends gather to celebrate special occasions — or just a love of good food and live jazz — over an elaborate buffet filled with breakfast and lunch items.
Recommended Dish: There's only one option, and that's the buffet. Pile up your plate with French toast, Belgian waffles, hash, sausage, bacon and made-to-order omelets and eggs Benedict, plus lunch standouts like filet of sole, chicken marsala and more. $26.95 for adults; $13.95 for children.
Beverage Pairing: Blood orange margarita with tequila, triple sec, sour mix and blood orange puree. Hey it has orange juice in it, right?
---
Ocean House
1 Bluff Ave., Watch Hill, 584-7000, oceanhouseri.com
When: Sun. 8 a.m.−2:30 p.m. Live jazz music from 11:30 a.m.−2:30 p.m.
The Scene: Get all gussied up for a late-morning buffet stocked with the finest dishes from land and sea, glasses of bottomless sparkling wine and live jazz over ocean views.
Recommended Dish: Opt for the all-out extravaganza ($54 per person) with a raw bar, artisan cheeses and charcuterie, a crepe station and pastry and dessert display, or you can order off the $25 a la carte menu that comes with a pastry basket. There's also a special children's menu, and children younger than five are free.
Beverage Pairing: The buffet includes unlimited sparkling wine, but it's not brunch without a bloody Mary. The build-your-own bar includes a range of spirits, juices, sauces and garnishes (bacon, anyone?).