Brown University's A Cappella Groups
Brown University has the most a cappella groups per capita in the United States.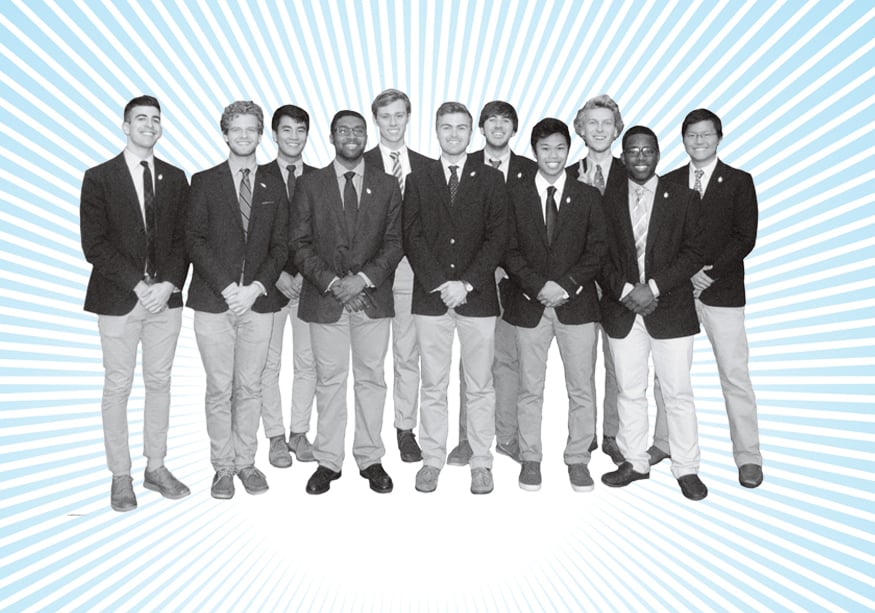 From dress codes to song choices, each of the fifteen Brown University a cappella groups has its own distinct style. You might be lucky enough to come across an impromptu Arch Sing concert (held under the university's famous arches), but first, familiarize yourself with these five IGCAC (Intergalactic Community of A Cappella) members.
The Jabberwocks

Members: All-male.
Founded: 1949.
Wardrobe Essentials: Khaki pants; navy blazers.
Music Genres: All styles.
Favorite Moment: Performing with Steven Tyler of Aerosmith at the House of Blues in Boston.
Fun Fact: We have an annual performance on the eve of Spring Weekend, called Drag Arch, in which we shed our traditional outfits and inhibitions for more…festive attire.
The Alef Beats

Members: Coed collaboration group including Brown and RISD students.
Founded: 2005.
Wardrobe Essentials: Blue dress shirt and black pants (men); black/blue dress or blue blouse and black slacks (women).
Music Genres: Israeli and American Pop/traditional Hebrew.
Favorite Moment: Performing at the Jewish Convention Center in New York City.
Fun Fact: Two alums, Korama Danquah and Emmet Golden-Marx, attained in-person meetings and conversations with Harry Potter actors Daniel Radcliffe and Emma Watson.
Ursa Minors

Members: All-female.
Founded: 1981.
Wardrobe Essentials: Little black dresses.
Music Genres: Pop, jazz, rock, folk, and R-and-B. Favorite Moment: Singing the National Anthem at the Brown University homecoming football game.
Fun Fact: Each year, we perform singing valentines on February 14. We interrupt classes and meals and even call loved ones outside of campus to spread love on Valentine's Day.
The Higher Keys

Members: Coed.
Founded: 1983.
Wardrobe Essentials: Burgundy. Guys wear black suits with burgundy shirts; girls wear all black with a burgundy accent. For less formal occasions, we wear jeans. For even less formal occasions (think Arch Sings), we wear adult footed pajamas.
Music Genres: Jazz, pop, rock, R-and-B — the works!
Favorite Moment: Everyone in the group has his or her own favorite memories. We'll look back on college and know that we made incredible music with lifelong friends.
Fun Fact: In 2011, while on a tour in Los Angeles, we went to "The Ellen DeGeneres Show" taping and were part of the audience that received free onesies from Ryan Gosling. And thus was born the Onesie Arch Sing.
Bear Necessities

Members: All-male.
Founded: 1992. Wardrobe Essentials: Suspenders and bow ties.
Music Genres: Everything from pop to R-and-B to rock.
Favorite Moment: Speaking with high school students at Sci Academy in New Orleans, a college prep charter school whose students are almost all first-generation college applicants.
Fun Fact: Masi Oka, known as Hiro from NBC's "Heroes," was a member.