Brown University Student Rapper Earns Recording Opportunity
Classically trained musician DAP – Dolapo Akinkugbe – recently worked with Mark Ronson and Ken Scott at Abbey Road Studios as part of Converse Rubber Tracks.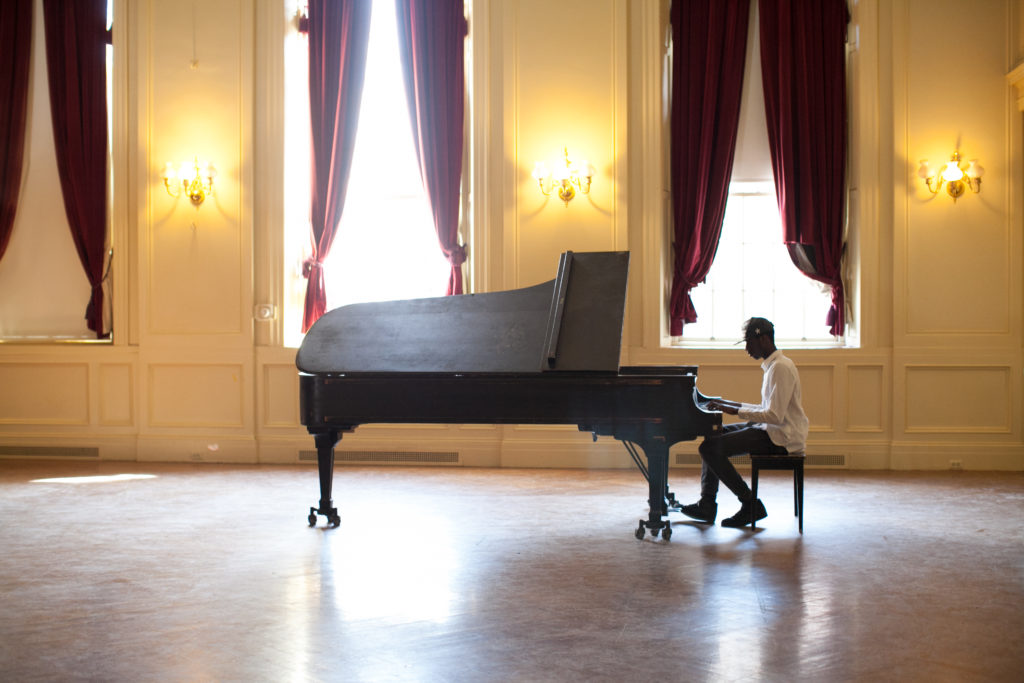 Go on Vice's music website, Noisey, and search "DAP." A video called "The Undergraduate" pops up. Click play and you will read, "In September 2015, US based classically trained musician DAP was given the opportunity to travel to London, England, and record at the iconic Abbey Road Studios as part of Converse Rubber Tracks. This is his story."
Then there's a tinkling noise like wind chimes, and a soft musky voice putt-putting, "check, check, check," then a low drop flowing into a full rap.
This is the introduction to Dolapo Akinkugbe, a.k.a DAP the Contract, (DAP means Dolapo Akinkugbe Production), as told by a Converse Rubber Tracks mini-documentary. We are told the pinnacle of the twenty-two-year-old musician's success is getting invited to Abbey Road Studios to work with Mark Ronson and Ken Scott. But this is just a snapshot of the producer/rapper's life, which has two halves, two currents, two destinies, all blended together by music.
This is his story.
Akinkugbe looks like your average Brown University student. He's tall and lanky and cuts a trendy figure, walking into the Brown bookstore wearing a black crewneck sweater, motorcycle jeans with tastefully placed rips, a baseball cap and earbuds sprouting from beneath his shirt.
But there is a complexity behind this smooth veneer. His life is one filled with dichotomies that are separated like backslashes.
He's a producer/rapper/musician.
He's the Nigerian kid/the English kid.
He has to choose between music/law school.
"I'm a Gemini so I'm kind of crazy. Sometimes I'm the loudest person in the room; sometimes I'm the quietest," he says in a deep voice tinged with a hint of a British accent and a Nigerian lilt.
He's loud/quiet.
These dichotomies manifest themselves in conversation and more importantly, in his music.
"The first thing Mark Ronson told me when I met him was 'the pool of rappers is overpopulated,' " he says. "What separates you is the different things you bring to the table… The most important thing is that I always tell my story,' " he says.
His story begins seated at a piano in Lagos, Nigeria.
For many kids, piano lessons are the bane of their existence, a form of torture after a long day of school. Not to Akinkugbe.
"Something about it, I took to. I think it was because I was driven enough, I would practice harder and see the results quicker," he says. "I found it fun…that motivated me to keep going."
"Everyone realized this is my thing. People do karate growing up, people do chess club, people do athletics, whatever. I'm the music kid."
At age eleven, the music kid's journey took him from Lagos to London, to boarding school at Locker's Park and then the Harrow School.
It was at Harrow – within a posh environ of top hats, canes and uniforms – that he fell in love with hip hop.
"All my friends started rapping at fourteen. We used to call ourselves Stay Fly, we thought we were really cool and we made music out of the basement of one of the dormitories," he says with a laugh. "I'd always been the music kid, so when they wanted to rap, I was like, well perfect, I'll make the beats."
"That's when it really became an addiction," he says.
That was also when the two halves of his life started to become more defined. He was the Nigerian kid in England, and the English kid in Nigeria. He was the pianist and the hip hop producer. First two backslashes accounted for.
After graduating from Harrow and spending four months in Nigeria, DAP jet-set to the Berklee College of Music in Boston for a gap year of studying music.
After eight months at Berklee, "I asked my dad if I could stay and he said in typical dad fashion, 'I don't think it's a good idea, I think you have enough musicality to do it yourself. You should go to Brown and get a degree in classics first.' "
This inspired his first tape, Goodbye for Now, a farewell to music as a central part of his career path. Or so he thought.
When he came to Brown in the fall of 2012, he was set to study classics and prepare for the LSAT, his family's chosen path for his future.
"My parents understand how good I am at music and how much I care about it, that it's worth pursuing. But they maintain, 'You're not going to be a musician forever. When you're fifty years old, how are you gonna make your money? How are you going to look after your family, send your kids to these schools?' " This is the last backslash, and a prominent one at that.
But instead studying Greek and Latin for hours in the library, he found himself in his bedroom, at the keyboard, creating beats and raps. He found himself making music.
"In March of 2013, I had my first show and it was really after that first show that things began to change," he says.
That's when DAP was born.
For three years, Akinkugbe marketed himself, booking shows, printing flyers and meeting other musicians on campus and "jamming with them."
"Blue" is the song he credits to the burgeoning stardom. It has a soft sound and lyrics that speak of family, loss and searching with vocals contributed by Stella Mensah, whose older brother is Vic Mensa, the hip hop artist.
"She played the song to her dad who played it to Vic's manager, who's now my manager."
His manager suggested applying to the Converse Rubber Tracks contest in the summer of 2015. DAP sent in the application and some tracks, and before he knew it, he was flying to London.
Walking into Abbey Road wasn't a big deal. At least, that's what Akinkugbe told himself.
"It hit me, there was shock, but then I was like put that away, get to work," he says.
Akinkugbe worked with Ronson and Scott on three songs, all begun from scratch.
"Ronson listened to my music and said, 'this sounds like hip hop DAP, like jazzy piano DAP, like soul funk DAP, this is Nigerian DAP. Blend all those colors and make your own color.' "
As Akinkugbe worked with Ronson, he took his dichotomies and accepted them for what they were.
"Mark said, 'We're gonna try and blend a piano-playing, hip hop-producing rapper from Nigeria who went to school in London into one song.' "
In that moment, the pressure of the past (producer/rapper, Nigerian/English), and the future (music/law) were no longer dichotomies; they were blended together to fuel his rapping flow.
For one magical moment, nothing else mattered.
But once it was over, it was back to Brown, back to taking the LSAT, back to reality.
At the end of the day, Akinkugbe is still a kid in his bedroom making music and a student studying to go to law school. While these backslashes mark his past and his future, he has, as Ronson said, "a blend of colors," and is hoping to mix his strengths to make a new sound. To make new music.
""When all is said and done, with Abbey Road and these interviews, without all of this, I don't care about anything but the music. Listen to the music."