Broadway Bistro
Chef Patrick Lowney takes a modern approach to comfort food at his Broadway Bistro. And in the process breaks out of the tired meatloaf-and-mash mold.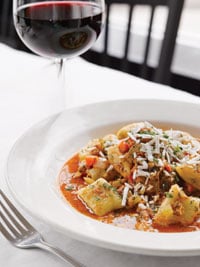 Broadway Bistro
205 Broadway, Providence, 331-2450, broadwaybistrori.com. Open for dinner every night from 5 p.m. Reservations accepted for parties of six or more. Wheelchair accessible. Street parking. Cuisine Above casual, below formal and multi-national. Capacity Thirty-five plus a handful at the bar. Vibe Young bohemian woman marries slightly older man with a desk job. Price Appetizers $4–$10; entrees $13–$20. Karen's picks Salads, scallops with maple-butternut squash puree, gnocchi with pork Bolognese, steak. Key
Fair
Good
Very Good
Excellent
Half-star
Homestyle cooking: culinary layup or deceptively difficult? It depends on your approach. At Broadway Bistro, Patrick Lowney runs a laidback kitchen that plates plus-size portions in an equally laissez-faire environment. A comfortable anything-goes (coat and tie or cargos) vibe pervades the dinner-only West Side hangout. The menu's not based on American nostalgia; Lowney defined his style of eclectic cooking at Newport's Salvation Cafe and continues to pull from a wide arsenal of influences. The concept, however, is familiar and unassuming, which often makes for culinary and financial feats and, occasionally, some overly ambitious missteps.
Dainty portions of protein and miniscule appetizers in vogue with the gastronomic elite are banished; Lowney prefers abundance. Servings spill off the plate and if there's an extra herb or garnish that might add color, it will surely find its way into the mix. The jury's still out on this tactic. Generosity is always welcome in a gasping economy, but you have to know when to say when if you want control of a dish. (Better to leave people wanting more than thinking they've had one bite too many.)
Appetizers are geographically expansive: Shellfish, soups, seasonal salads and grits are comfort food to someone, somewhere. Even beef cheeks in port wine remind some lonely European of mom. First courses are also huge. Egg-sized sea scallops are heavily seasoned, seared and served on top of maple-sweetened squash puree. For contrast, they're drizzled with a tart vinaigrette and chopped pistachios. At $10, it's a lot of food and a few too many components. Same goes for the skewered shrimp ($8), fried in thick tempura batter and accompanied by wasabi jus, a generous slick of sweetened soy and four small mountains of crunchy peanut sauce. Even a heaping Bibb salad with warm goat cheese and crispy pancetta is bordered by a handful of hedonistic deep-fried artichoke hearts that push a hearty salad just past its breaking point.
When Lowney does show restraint the results are still mixed. The unlikely ribs and grits combo ($8) is controlled and successful; a single beef rib in orange soy marinade works well with smooth corn puree and is flavorful but not overwhelming. Conversely, tomato soup ($4) was so subtle that one might mistake it for consomme if it were not for a garnish of basil oil and the very aggressive twist of a pepper mill.
Logic dictates that entrees can take on more components and the evidence generally holds true here. The best example is a homemade gnocchi ($15), cut into wide nuggets and served under a stew of "pork Bolognese" that bears more resemblance to osso bucco. The meat is braised, yes, but shredded rather than ground and bright in its amalgam of tomato-rich stock and wine. Vegetables aren't perfectly cut—more of a quick mirepoix than a pristine macedoine—but they're just firm enough to highlight the tender dough. Flat iron steak ($20) is also a successful rendition of meat, potatoes and the proverbial kitchen sink. The perennially popular, inexpensive cut is served with Swiss chard and a plateful (you could use a spoon) of rich roasted shallot demiglace. On the side? Roasted baby potatoes filled with a bubbling bacon and cheddar filling that merges happy-hour potato skins with a more prime-time approach.
Dishes do lighten up as the weather warms, though Lowney's more-is-better mantra lives on. Steak and stews can take heavy sauces and strong herbs, but the waters are murkier with seafood, which often fares better with less. Sauteed cod with roasted red pepper vinaigrette (on top) and a heavy chorizo hash (underneath) does taste good. But there's a one-pot quality that overwhelms the technique and masks the nuances of the individual ingredients. Same goes for a trio of chicken meatballs ($13) that lack the necessities—eggs, bread, milk—to lighten a lean meat and suffer from an exceedingly heavy hand. A fork wouldn't cut them and even a knife took some effort.
Aesthetically, the marriage between bold (deep orange walls) and conservative (black accents) is evident. Flea market ambience meets bordello, thanks to myriad framed prints, posters and sketches on the wall. But the visuals manage to achieve the balance that occasionally eludes the food. A nine-seater bar that runs the back wall doesn't draw a tremendous crowd because there's no hard liquor, but the restaurant does offer a more-than-respectable number of inexpensive wines.
The only aspect of Broadway Bistro that remains enigmatic is the dessert menu. There is none. When the restaurant opened last year, most people assumed that the staff was simply settling in and that the sweets would show up in good time. True, it's a small kitchen and perhaps there aren't enough hours in the day for a chef-owner to do it all. But acquiescing to someone else's skill—there are more than a handful of local bakeries in the area—is better than depriving customers. (Particularly when the goal is to make them feel at home.) Lowney does consent to common desire and offers a complimentary bite of chocolate mousse or flourless chocolate cake. But more needs to be done, particularly as summer approaches and people tend to linger until sundown. Broadway Bistro's willing to give almost anything—and often everything—to its diners. A little sugar can't hurt.