Bring it On: The Musical Soars at PPAC
Bring It On: The Musical is like "Glee," High School Musical and "So You Think You Can Dance" all packed into one at the PPAC.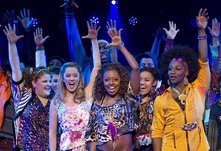 Bring It On: The Musical is like "Glee," High School Musical and "So You Think You Can Dance" all packed into one at the PPAC. The cast and creative minds behind the musical comedy, playing at the Providence Performing Arts Center today through Sunday, April 29, have expert backgrounds that deserve and earn respect for the film turned muscial.
Director Andy Blankenbuehler has been featured as a guest performer on FOX's "So You Think You Can Dance," and it's clear that he put his talents to good use for this show. As for the musical numbers, even co-lyricist Amanda Green comes from an accomplished background, having written the lyrics for the musical adaptation of High Fidelity. Blankenbuehler and co-lyricist Lin-Manuel Miranda also worked together on the Tony Award-winning musical In the Heights.
The storyline of Bring It On follows Campbell (Taylor Louderman), captain of the cheering squad at exclusive Truman High, as she is suddenly and suspiciously redistricted to Jackson High, an inner city school that doesn't even have a cheerleading team. Campbell is like a little lost lamb thrown to the wolves in the hallways of her new school, until she is introduced to Danielle (Adrienne Warren), the leader of the hip-hop crew. After a bit of trial and error, an unexpected friendship forms, and Campbell and Danielle work together to morph the dance crew into a cheerleading squad in time to earn a spot in the national competition. They'll be competing against Campbell's former squad, which is now captained by Eva (Elle McLemore), a young sophomore whom Campbell had previously taken under her wing when at Truman, but who she now suspects is to blame for her transfer. The competition is on, but there are lessons to be learned along the way.
The cheering routines and songs kept the audience enthralled with high-flying flips and tumbles through the air. At times, the show was like watching a real national cheerleading championship competition on ESPN. The cheerleaders soared across the PPAC stage, and at times, I wondered if one of the performers might hit the rafters. But cast members are used to it. The ensemble includes eleven real-life competitive cheerleaders that have earned twenty-five national and fifty team titles in gymnastics and choreography. So that's why they are so good.
But the anti-bullying messages make Bring It On about more than just cheerleading. One of my favorite characters (and an obvious audience favorite) is Bridget (Ryann Redmond). At Truman, she's the laughingstock of the school, a pudgy young lady who wants to be on the cheering squad but is always chosen to play the school's mascot, Bucky the Parrot. She is also transferred to Jackson, where she learns to embrace her junk in the trunk (which is in turn appreciated by an unexpected suitor). We watch her evolve from Truman high's school mascot to a star of Jackson high's hip-hop team. There's even a drag queen in the Jackson dance crew, who probably would have been voted homecoming queen at Jackson, as she was so worshiped by her peers (and the audience). If only life was like that for real kids at real high schools…
Just like cheerleading is now well-respected as a real sport, Bring it On: The Musical should be taken seriously as a musical. The songs may be a little cheesy, but the dance routines are flawless and exciting, and the messages are positive for all.
Go to ppacri.org for showtimes and to purchase tickets.