Bridge
Bridge's span is broad: killer views, a deep drink list and a menu with everyman appeal. The weather's finally warm. Will the crowds trek to Westerly?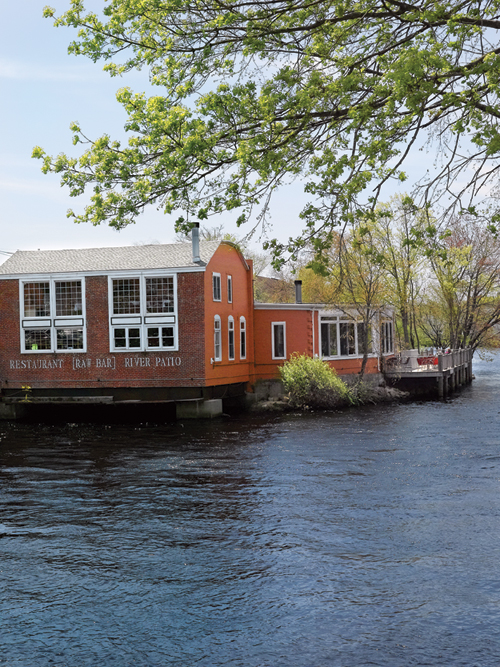 Bridge
37 Main St., Westerly, 348-9700, bridgeri.com. Open for lunch and dinner daily. Downstairs dining is fine for wheelchairs. Parking lot. Cuisine Pub food meets raw bar. Capacity A couple hundred filtered into several rooms. Vibe Somewhere between frat house and summer home, depending on where you're perched. Prices Appetizers $5–$11, entrees $8–$20, desserts $5–$7. Karen's picks Raw bar, nachos, burgers, steak frites, apple fritters.
Key
Fair
Good
Very Good
Excellent
Half-star
Urban restaurants always look to lure diners with an explosion of trend-setting food and stylized spaces. Away from the city? Not so much. Downtown Westerly seems to have missed the age of modernity, the advent of public transportation and the onslaught of the high-rise.

But it was hit by the floods of 2010, and under siege by the rising tides, Up River Cafe owners Dan and Jennifer King closed their surprisingly ambitious restaurant. The loss, however, was not simply economic.
The couple has deep roots in the area — they operate Senor Flacos down the street, and Jennifer's father, Charles Royce, owns the waterfront building and Watch Hill's gargantuan Ocean House. They eventually handed over the keys to David Parr, who served as managing partner and chef at Jasper White's Summer Shack at Mohegan Sun and who seems just as dedicated to preserving the timeless identity of this small town. Though he aims to do it with a sense of humor and a pretty good buzz.
Bridge got a new paint job — subtle hues of green pair up with the dark wooden bars, beams and banisters — as well as a less tangible face lift. There's a younger vibe in the restaurant, a product of both the menu and the staff. The hostess, in a diaper-length bubble dress and nose stud, took time out to talk shoe shopping with one woman before delivering the party to a designated niche. Guests have also hit the fountain of youth. Up River's Connecticut crowd in madras is now outfitted in T-shirts, shorter-than-short skirts and the occasional Bieber wind-swept bang of yesteryear.
The layout of the restaurant hasn't changed, though, and with a raucous bar, a handful of separate dining rooms and a packed patio, you're never quite sure what group you'll end up with. Not that it matters since the real guest of honor is the view. 
In the evening hours it seeps in through the windows, making the elevated Bridge the apex of an expansive vista; once the sun sets, the building takes on an enclosed intimacy, a tree house over water. Chatter remains casual, thanks to a trio of $4 cocktails and a bevy of concoctions that dare you to drink. Pumpkin soda and vodka? Root beer and vodka? Mint chocolate chip martini? If there were body shots in the bar along with the live music, it's possible no one would raise an eyebrow. This 
is, after all, a neighborhood joint, and the goal is a good time.
The various dining rooms, so heavily cloaked in turn-of-the-century design, are a generation older and more sensitive to a mature and socially conscious crowd. There's a strong vegetarian presence on the menu, though meat is pervasive as well. "Nachos" are a platter of still-smoking house-fried potato chips covered in cheddar, blue cheese and bacon ($9) — not what you'd expect from a waterfront restaurant but nearly impossible to put down. The raw bar is solid, but surprisingly — given Parr's history with Summer Shack and Legal Seafood — not all the local seafood succeeds. Rock crab cakes ($11) are bready and soft, while the shrimp (other than the cocktail variety) can be lifeless as well.
What Bridge does do well are the slightly schizophrenic dishes, those that can't decide what they want to be other than untraditional. A cold asparagus and arugula salad ($8) dares to sit on a wedge of fried polenta and under what could only be considered culinary lunacy: a poached egg dredged in panko and deep fried. Unexpectedly, it's as good as it is bizarre. Executive Chef Dave Vacca often reaches for some circus feat to round out a dish, and more often than not, he makes it work. Buffalo-style frog's legs taste just like their progenitor, but diners seem much more enthused to tackle the bolder version. Even portion control goes out the window as towering plates of meatloaf threaten to topple the servers who don't look old enough to drink the beer they're serving.
It's also puzzling that Parr comes from Summer Shack given the overt simplicity of that restaurant's approach: basically a picnic on a plate. But Bridge makes a concerted effort to counter that attitude despite a location that asks for little more than good weather and a lobster roll.

Consequently, the restaurant does two things well: the fundamentally straightforward and the inherently whimsical. Marinated skirt steak is a well-done, single ingredient meal; fish and chips, with an enormous filet of haddock, is the epitome of summer. Even shepherd's pie, made with lamb instead of beef, is a homey rendition that hits every mark nostalgia demands.
It's the dishes that fall between basic and Byzantine that disappoint. An overwhelming bowl of overcooked sautéed shrimp is buried in a pound of cavatelli, white beans, broccoli rabe and tomatoes, leaving the whole far less than its parts. 
A massive platter of barbecued braised pork is sweet and tender, but the tangle of chiffonade collard greens tastes like no one bothered to cook them. Bridge's generous handful of vegetarian entrees follows suit: A hearty black bean burger with cool guacamole is appealing, but a bowl of tomatoes and zucchini masquerading as bland pasta is awkward.
There's a loyal crowd at Bridge, however, one that clearly puts atmosphere ahead of dinner and who keeps the door-man-cum-bouncer hard at work. And you can't really blame them. The restaurant manifests everything residents love about the town itself: It's a privileged waterfront property without any of the attitude that bumps the prices up in Watch Hill or even Newport. It just needs some redefinition.
The menu, at its core, is a bit like an essay in need of editing: The good stuff is all there, but it's occasionally bogged down with extraneous offerings that should be cut. Dessert proves the point. Key lime pie, with its brittle and slightly dry shell, doesn't serve much purpose. But the boulder-sized apple fritters with caramel sauce are over-the-top and addictive. Even the most cordial diners turn animalistic to get their fair share, and many tables end up tacking on an extra order. Like the best of Bridge, as one enthusiastic server offered, they're "slammin'  " — which is just what you want summer to be.