Breaking Point
For centuries, the commercial fishermen of Point Judith have worked in one of the most dangerous fishing grounds in the world. 
But now a downward spiral of crushing regulations and bitter feuds over how to protect fish stocks (and livelihoods) has fishermen in the fight of their lives on land.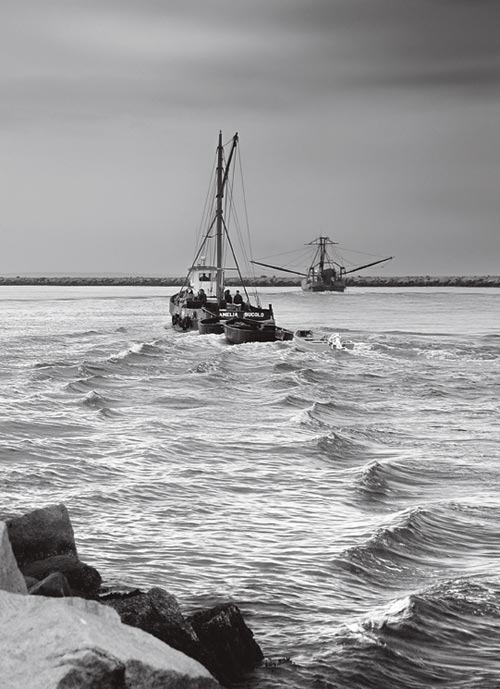 IN LATE SUMMER ON POINT JUDITH, the port of Galilee is at its most festive, from ferry parking attendants waving flags to Block Island day-trippers lined up for fried seafood. Down by the docks, the scene is less picturesque. Worn-out draggers are in need of paint, barrels of bait stink and draw flies, but the working waterfront stirs a sense of pride for the historic port. Yet in the wake of crippling regulations, commercial fishermen have reached their breaking point — solely blamed for depleted fish stocks, torn apart by feuds and barely breaking even in one of the world's deadliest jobs. Still, the fishermen are driven by an indomitable passion for their work. They are among the few who will ever know the ocean as intimately as their own homes.
"It's too hard a job to just break even." Tony Faciano is the forty-seven-year-old captain of the Shelby Ann, a 
seventy-foot trawler that fishes south of New England and part of the year on notoriously dangerous Georges Bank. We're at port, standing in the wheelhouse, where his 
view includes two loves: the ocean and photos of his three children. He has been fishing in Rhode Island since he was seventeen years old.
"It's just endless, endless regulations," he says. He shuffles a folder of paperwork, where he keeps track of the changing quotas, days-at-sea rules, trip limits, gear restrictions and area closures that the National Marine Fisheries Service (NMFS, pronounced "nymphs") uses to control fishing effort. Each species is managed separately, which means 
different rules for different fish, rules that can also vary depending on where you are in the ocean.
It's not so much the regulations as the insanity of them. Everyone—environmentalists, scientists, the government and fishermen—agrees on the need to protect fish stocks as well as fishing communities. (Surprisingly, there is no reliable data to show the industry's economic value to the state, but squid, lobster and groundfish are among its key fisheries.) But in the name of conservation, current regulations instead have done more to create wastefulness at every turn: in fuel, time, money and most shockingly, fish. Though fishermen strive to avoid catching more of a species than they're permitted, fishing is only so precise. Anything over an 
allowed quota must be thrown back, even dead or dying. The trails of dead "bycatch" can go on for miles. (Fishermen's pleas to donate their bycatch to charity have been refused.) The huge waste of dead fish has triggered a cycle of tighter regulations that only produce more dead discards, infuriating fishermen as much as environmentalists. "People have a view of a fisherman as this crusty guy who goes out with no regard," says Faciano. "It's not productive to our future to kill all that fish, and it's not ethical."
The increased pressure to earn a living also means that fishermen take more risks, fishing farther offshore or working in stormy conditions instead of riding them out below deck. "Some guys feel that they have to fish, since they're burning up a day at sea," Faciano says. That days-at-sea clock starts when you leave port and never stops; even hours of travel are counted as fishing time. (This surprises me: Fishermen working in Georges Bank must declare a "section" they'll fish before leaving port. If they arrive to find their pre-selected spot already crowded with other boats or too high in bycatch, they can't move over to another section unless they first steam the fifteen hours back home and begin a new trip.) Trip limit rules are another nightmare: If a vessel is allowed 1,000 pounds of cod per day and hauls up 4,000 pounds on day one, the crew must dump the catch or wait three more days at sea ("cod jail") before returning to port.
Fishermen who want to get out, can't. With no one new coming into the industry, they have no one to sell their boats to. "You're working yourself to the bone and can't turn a profit," says Faciano. "We don't want handouts. We just want to work."
A quick tour of the Shelby Ann reveals a home away from home: whistle-clean galley kitchen, sleeping bunks, separate quarters for the captain. When Faciano opens the door to the engine room, the rush of heat and noise makes me suddenly aware of all that can go wrong on a boat a hundred miles offshore: engine, hydraulics, plumbing, electrical systems. Whatever breaks down, the crew must know how to fix it.
"There's so much stuff to worry about once you get out there, but nothing else would make us happy," says Faciano. "We all love working on the water. There's a peacefulness, when you throw off the lines and the cell phones get shut off and you're offshore. It's an honest living."
IT'S LIKE THIS: YOU NEED MILK, you need bread, you need eggs." Eric Reid, owner of Deep Sea Fish, a wholesale fish supplier and exporter on the waterfront, is explaining how the current system of quota management crushes fishermen's ability to manage their small businesses. "Well, imagine you can only buy milk on Mondays, and you can only buy eggs on Wednesdays. Friday, you've got to get whatever's left over. So you've tripled your time and expense to get what you need." He doesn't extend the metaphor to trip limits, which might go like this: You can only keep one egg per trip, so when you purchase a carton, you have to throw eleven away. It will take twelve trips and 132 wasted eggs to bring home a dozen. "This is where the anger comes in," says Reid. "It's totally frustrating and tremendously wasteful."
In the Deep Sea warehouse, we're watching three workers carve into a 500-pound tuna laid out on the wet floor. (One gives me a lesson in tuna color: "Think of cranberry juice. That's your sushi-grade tuna. Tomato juice, that's your mid-grade tuna." When he gets to the color of grill-grade tuna, he laughs and says, "Now pick any juice.") Nearby, an office is crowded with paperwork. "I've got two people who do nothing but government reporting," says Reid.
The businesses that support the fishing industry feel the pressure. "I'm running into a situation where we can get fish shipped to L.A. live from Korea cheaper than we can get dead fish shipped from here," Reid says. "It's a struggle when these guys can't get the access to the resource that they need. But that's a very contentious issue: How do you measure how much we can catch so that we can keep catching for generations? It's not like growing corn. You can't just look out and see what you have."
Part of the industry's troubles stem from an eroded faith in whether scientists' numbers reflect what's really in the ocean. Few examples incite disgust like the mention of dogfish, as I discover in the office of Fred Mattera, a semi-retired commercial fisherman who serves as president of the fleet's marine insurance group and conducts safety drills and training. "They're like rats in a city!" he exclaims in his gravelly voice, throwing up his hands. "We can't catch dogfish? We can't get away from dogfish! They eat everything. They're voracious. They're like Hoover vacuums." Like many species, dogfish are heavily protected (data shows there are not enough females), while fishermen claim to be knee-deep in the wild-eyed little sharks, which destroy everything in their paths. I hear many analogies for them: gypsy moths, locusts, Biblical plagues.
Tom and Aaron Williams are two of the youngest dragger captains in the fleet. Thirty-eight-year-old Tom owns the Heritage; Aaron, twenty-nine, owns the Tradition. They, like others, question why they're seeing record amounts of certain fish alongside stubbornly low stock assessments. "Sometimes you spend more time on a trip trying to avoid fish," says Aaron. "It's frustrating when you're seeing all this stuff that's supposedly 'not there.' " Science offers possible answers — the view from the wheelhouse doesn't give a complete picture, and species cluster together on the verge of extinction —
but many fishermen wonder why their "anecdotal" input seems to go ignored. They also raise questions about the methods scientists use to sample the fishery; almost every fisherman I meet cites examples of research vessels using outdated nets, sometimes improperly rigged, to take samples in areas that don't seem to make any sense. Scientists' failure to explain their methods has only fueled the breakdown in communication.
The brothers are third-generation fishermen who started fishing when they were kids. Tom has a degree in international finance, while Aaron has never wanted to do anything else. "Since I was five years old, I wanted to grow up and do what my dad did," he says. "I'm twenty-nine years old and 
I want to have a future. I don't want to catch every last fish. I want to be able to maintain a living." (CONTINUED)

DAVE PREBLE IS DOING "NAPKIN MATH" over coffee, writing out for me an equation that shows how much fishing the ocean can support, but mostly talking about how the industry got into this mess. Preble is a retired commercial fisherman who serves on the New England Fisheries Management Council (which 
reports to NMFS) and is the U.S. commissioner for the international Northwest 
Atlantic Fisheries Organization. "There are no angels or demons in this story," he says.
History in a nutshell: In 1976, the Magnuson-Stevens Act over-capitalized the commercial fishing industry with too many boats and too many fishermen. The Sustainable Fisheries Act twenty years later was created to curb its effects. But new restrictions that were subsequently imposed by NMFS only galvanized fleets of remarkably adaptable fishermen to develop better technology to catch more fish in less time. In 2000, environmental groups sued NMFS and the National Oceanic and Atmospheric Administration for violating the Sustainable Fisheries Act, and won. In the end, NMFS was ordered to completely rebuild all fish stocks by 2014, a deadline that has required drastic measures.
"There's an enormous amount of finger-pointing from the industry — the NGOs are out to destroy us, the science is no good, NMFS is an evil empire," says Preble. "But our problems were caused by everyone 
doing what they thought was right."
While a too-large fleet with too-effective gear helped create the current crisis, flaws in fisheries management have compounded it. Decisions have been made reactively, and when it comes to micro-managing a marine habitat, most strategies are obsolete by the time they take effect. "We can't continue managing a single species at a time," says Preble.
The complexity of fisheries management is frustrating for everyone. Bob Ballou is acting chief of the Division of Fish and Wildlife for the Department of Environmental Management, which primarily governs the inshore shellfishery. "I think fishermen feel we come in every day to figure out how we can hurt them," he says. "I could never live with myself if I felt we weren't trying to support the industry."
THE TRAWL IS STRANGELY BEAUTIFUL, 
a two-hundred-foot web laid out along the Superior Trawl loft like a spun green river. The net makers are seaming the mesh together — the work is highly technical and physically demanding. This trawl is a prototype, developed by Superior Trawl owner Jon Knight, local fishermen Christopher Brown and Steve Arnold, and URI/Rhode Island Sea Grant scientists Laura Skrobe and Dave Beutel to reduce bycatch of scup and butterfish in the squid fishery.
These kinds of collaboration are increasingly common. A few years ago, an award-winning design for the Eliminator trawl, which reduces cod bycatch in the haddock fishery, helped to get the Commercial Fisheries Research Foundation (CFRF) on its feet. The nonprofit, fishermen-founded organization is growing rapidly, this year receiving $6 million in grants toward collaborative research (plus another $2 million for administrative costs), which will fund projects from selective gear 
design to industry-based data collection, executed by teams of local fishermen 
and scientists.
"It's a learning process and kind of fun to watch it evolve," says CFRF executive director Peg Parker. "Scientists have a lot to learn from fishermen. They're out on the water and they know these regions like their own yards. On the other hand, fishermen have a lot to learn from scientists. They need to get past the idea that scientists are to blame for all the regulations and gain a better understanding and respect for their methods."
When I meet Christopher Brown, he is at work on the Proud Mary. The vessel will replace the Grandville Davis, the boat he built at age twenty-one and has fished on for three decades. The Proud Mary is a beautiful, vintage blue and named for his wife, but the change takes getting used to. "The first time I took her out, I felt like I was cheating."
Brown has been one of the industry's advocates for catch shares, a management program that will go into effect next year for New England groundfishermen. The program allocates a percentage of the 
Total Allowable Catch to a sector of boats, which then split the quota according to history, or what their boat has caught in the past. Boats can also buy, lease or sell more quota as needed. (Not all catch share programs require boats to form sectors or allocate solely by history.) On the plus side, boats can fish for their quota whenever they want. The system may also create more incentive to protect the resource, since being allocated a percentage means that as fish stocks recover, quotas rise 
as well. On the downside, fishermen just starting out, or on smaller boats with little history, find themselves with almost no quota, and no capital to buy more. Fears that permits will end up in the hands of corporations or private investors have also created resistance.
Though the system has shown signs of working well in other regions, the change has not come easily to New England. "We're a terribly divided community, and it's very understandable," says Brown. "It's a radical change from where we are, and it's an awful lot to accept at once." The new system isn't perfect. "The allocation formula they used was far too simplistic," says Brown, who believes vessel capacity and need should be a future factor. "It seems that if you are going to expect a different outcome, you might have to allocate a little bit differently to achieve it."
Still, Brown is optimistic. He has had experience with catch shares as part of a fluke sector that wraps up a year-long pilot program this month. "You get to run your business like a business," says Brown. "You're not subject to days-at-sea. You have the flexibility to produce a little more on a given day, or stay home to maintain your vessel. You can pick the weather. In many ways, it's a return to more normal times."
Despite the bitter infighting that has erupted over clashing views on how to move forward, Brown sees a good future ahead. "I am very confident that we can make more money with less fish. We can lower mortality rates and get back to 
recovery quicker and feed science better information. We just need to heal as a community and go back to looking out for one another and working toward a common goal." Even among dissenters, he is inspired by the fishing community's growing sense of responsibility. "I am awe-inspired by the results of conservation. I think one person doing the right thing makes a difference — you get a whole port to do it and it can impact things dramatically. I have more faith in the fishermen down here than they have in themselves."
IN EARLY OCTOBER, I AM TAGGING ALONG with Alan Glidden and the crew of the Amelia Bucolo as they fish at Glidden's weir trap off Scarborough Beach. Weir fishing is ancient fishing, a method that in 
New England dates back to the Native Americans, and not too common in Point Judith. I watch the men haul the twine 
bit by bit, and the fish whip up a storm in the water as the bull net dips into the catch. When it is full, the dripping net retreats to the boat, releasing a silvery load of fish that pound the deck, beating their tails. The drumming builds while the men sort through the catch, kicking scup and butterfish back to the sea, tossing bonitos and "boo hoos" into totes to bring home. As we head back for port, the fish have quieted, twitching occasionally in their totes with little clicks and a shuffling of ice chips.
It is a clear, beautiful morning, and as we pass the lighthouse, the sight of the fleet tied up at port is bittersweet. Now facing an uncertain future, fishermen have always known a life of frustration, freedom, awe and heartbreak. Back in my truck, I turn onto the long Galilee Escape Road that links the port to the rest of the world, and I wonder if "escape" refers to the way into Galilee or the way out.
To see more photographs from Markham Starr's exhibit, Endangered Species: The Commercial Fishermen of Point Judith, 
visit markhamstarrphotography.com.