Bowling Break
5 Fun Facts About BreakTime Bowl and Bar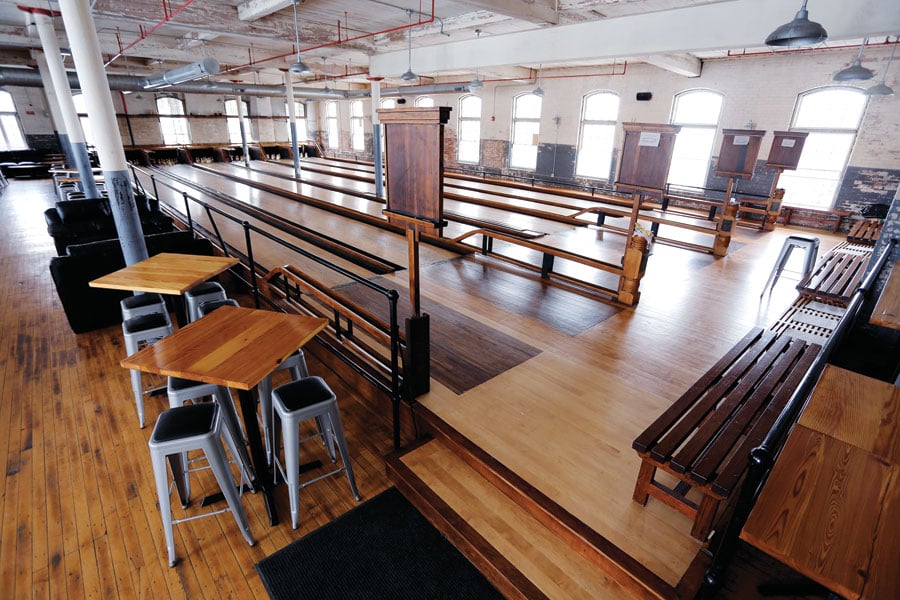 An original 1920s duckpin bowling alley has been revived inside Pawtucket's Hope Artiste Village, maintaining much of the historic look and feel including hand-set pins. BreakTime Bowl and Bar is attracting a new audience in the space that was built during the labor movement for workers at the Hope Webbing Mill.
Here are five fun facts:
1. It's called BreakTime because it was used by mill workers on their break time or days off. Most workers lived in the surrounding neighborhood and they'd come here for bowling leagues and community nights.
2. There are six lanes, and three pinsetters are in charge of two lanes at a time, which includes manually resetting pins and sending back balls.
3. BreakTime hired teens from Tolman High School in Pawtucket to do the job. Back in the old days, pinsetters made five to ten cents per game; now they make a lot more.
4. Historic elements were included throughout the construction. Tables are made from harvested and repurposed wood from Hope Artiste Village. Existing paint was preserved and color-matched for the shade on the new walls.
5. Since they've opened, "We've heard a lot of stories from people whose grandparents or great-grandparents actually worked in this mill and bowled in here," says Charlotte Lewis, BreakTime general manager and property manager at Hope Artiste Village.