Border Beer Run
Just over the state line in bucolic Westport, Massachusetts, you'll find a thirst-quenching brew crafted with a conscience.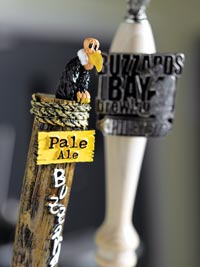 For twenty years, Bill Russell has made award-winning, crisp, refreshing bubblies and chards at Westport Rivers Winery in Westport, Massachusetts, a vineyard that Wine Enthusiast enthusiastically calls "one of the great producers of American sparkling wine." You might think that would be enough for this wiry, energetic, erudite man.
But as Russell fine-tuned his winemaking at the family vineyard, he found himself preoccupied with another liquid at home: beer. He made it, bottled it, even designed goofy labels for it adorned with a cartoon buzzard to evoke the nearby coastline of Buzzards Bay. He served it to guests at his wedding and gave six-packs away as Christmas gifts. He soon outgrew his kitchen home-brewing kit.
So in 1990, Russell began to play hooky from the winery to moonlight a couple of days a month at Union Station Brewery in Providence. There was no denying it; he was hooked.
"I realized after making beer on a larger scale that I didn't want to go back to the kitchen," he says. "It was too much fun." He drew up a business plan and enlisted the help of his parents, Bob and Carol Russell, who had founded the winery in 1982. The family bought a 150-acre farm just down the road from the grape vines, and in 1998, Buzzards Bay Brewing started production.
In the huge silo specially built to house the brewery, Russell uses his golden touch to make a crisp, refreshing lager that wins awards. The pilsner, black lager, pale ale and seasonal brews also regularly earn local and national nods. Whatever this guy is drinking, we could all use some.
The only way to raise a glass of Russell's beer is to take a drive down Interstate 195. (After encountering distribution problems, the beer is no longer available in Rhode Island, though expansion plans are in the works.) In the quiet coastal area of Massachusetts that's just east of Tiverton and Little Compton, you can take a tour of the brewery and fill up a growler, a half-gallon glass jar, for $8 or $6 for a refill. Unopened, your beer will stay fresh for a week or two.
The fizz about town is that the local beer is as good as it gets. "We like to support the local businesses," says Sal Liotta, one of the owners of the Back Eddy Restaurant in Westport, where during summer months most of the seafood and produce comes from a ten-mile radius. "But we couldn't sell it if it were a bad product. They make it easy for us because their product is really good."
Two or three Buzzards Bay beers are on tap at the Back Eddy: the pilsner, and often the black lager and a seasonal brew. Last summer, after Liotta mentioned to Russell that he would like to carry a Belgian-style wheat beer, Russell brewed up a batch especially for him. "You're not going to call up Budweiser and ask if they could design a beer for you," Liotta says. "It's a huge thing to have a local brewery, and these guys have never been as focused as they are now."
Buzzards Bay is increasingly fo-cusing on lagers and pilsners, the demanding thoroughbreds of the brewing world. These European-style beers take at least three times as long to make as ales and generally have a cleaner taste. Liotta says that emphasis is an advantage for his restaurant because lagers pair so well with food. "You want something that's going to be crisp and clean and have its own freshness to it," he says.
Imported pilsners that sit in containers and warehouses before they reach a consumer can't compare to the local stuff. "This is a beer that twenty-one days ago was water and grain. It makes a huge difference."
Freshness is a bit of a buzz word at Buzzards Bay. It's a primary reason the brewery, whose large, fifty-barrel capacity used to brew enough beer to ship to Rhode Island, Connecticut, New Hampshire, Maine and New York, slashed its production two years ago.
"The further away the beer gets from you, the more you lose control," explains Harry Smith, a member of the brewery's production team for the past eight years. Like Russell, he was brewing beer at home before Buzzards Bay gave him reason to morph a hobby into a job. Now he's in charge of the huge stainless steel tanks that turn malted barley, local spring water, hops and yeast into beer. He also runs the bottling machine, which can put the contents of the 3,000-gallon "bright beer" tank—the last stop in the production process—into 30,000 bottles in five-and-a-half noisy hours.
Smith might keep a specialty beer, like the smoked lager he brewed last winter, in the tanks for almost six months to perfect the flavor. But once the beer is made, it shouldn't sit. "We don't want it to get old," he says. That's because it only has a "stable flavor profile" for about six months. After that, it simply won't taste as good.
Keeping product fresh at the point of sale is a problem for small breweries, says Russell. As soon as you start to ship out of state, federal law requires that you use a liquor distributor. But tiny operations can get lost in the shuffle with large distributors.
"It's really hard to keep the freshest product out there and rotate stock when you're small and you can't do it yourself," Russell says. "All our effort was going to peripheral places, not home." So Buzzards Bay cut its production to a quarter of what it was making in the first half of the decade, when the plant was running flat out. The brewery has held steady at about 1,500 barrels for the past two years.
"We'd lost our vision of what we'd set out to be, which was the best damn brewery the south coast could ever want," says Russell. "And besides, we were going insane."
Russell, who likes to look out at the rolling farmland from his first-floor office, says he's happy with the balance he's found by scaling back the business. Through the brewery and the winery, he has been able to pursue the concept of stewardship that his parents instilled in him. "They grew up in New Jersey watching all the farmland disappear," he says. "The problem is you can't preserve the farmland if you don't preserve the farmers."
Between the winery and the brewery, the family now owns more than 300 acres of south-coast farmland, much of it actively farmed or preserved with conservation easements. Keeping the market for the beer local fits with that ethos, Russell says, because it cuts down on fossil fuel used in shipping and keeps money in the local economy. It also helps build a sense of community—something that can easily be lost in towns like Westport, where old ways of life like fishing and farming are giving way to the pressures of tourism and development. We'll raise a pint of pilsner to that nostalgic effort.
Buzzards Bay Brewing, 98 Horseneck Road, Westport, Massachusetts, 508-636-2288, buzzardsbrew.com; call ahead for a tour.
What's on Tap
Bill Russell and his Buzzards Bay brew crew craft these four beers year-round. They're all available on draft and in twelve-ounce bottles. (Seasonal, limited release beers include the Octoberfest, Cranberry Lambic, Porter, Farmhouse Ale and Rauchbier, made with smoked barley.)
Lager (Dortmunder) This moderately hopped brew, named for a steel-making town in Germany, won gold at the Denver Beer Festival in 2000. More recently, it took third place at the Great International Beer Festival in Providence last November. Expect a hearty but easy-drinking beer.
Pilsner A crisp, generously hopped beer, this Czech-style pilsner is super refreshing in the summertime. It pairs equally well with seafood and
backyard burgers and dogs.
Black Lager Brewed in the German easy-drinking tradition, this black lager may look dark like a stout, but it tastes surprisingly clean, crisp and smooth.

Pale Ale This traditional, English-style pale ale made with four malts picked up

Buzzards Bay Brewing, 98 Horseneck Road, Westport, Massachusetts, 508-636-2288, buzzardsbrew.com; call ahead for a tour.