Bocado
This tapas bar heats up the West Side with an expansive menu of spicy fan favorites.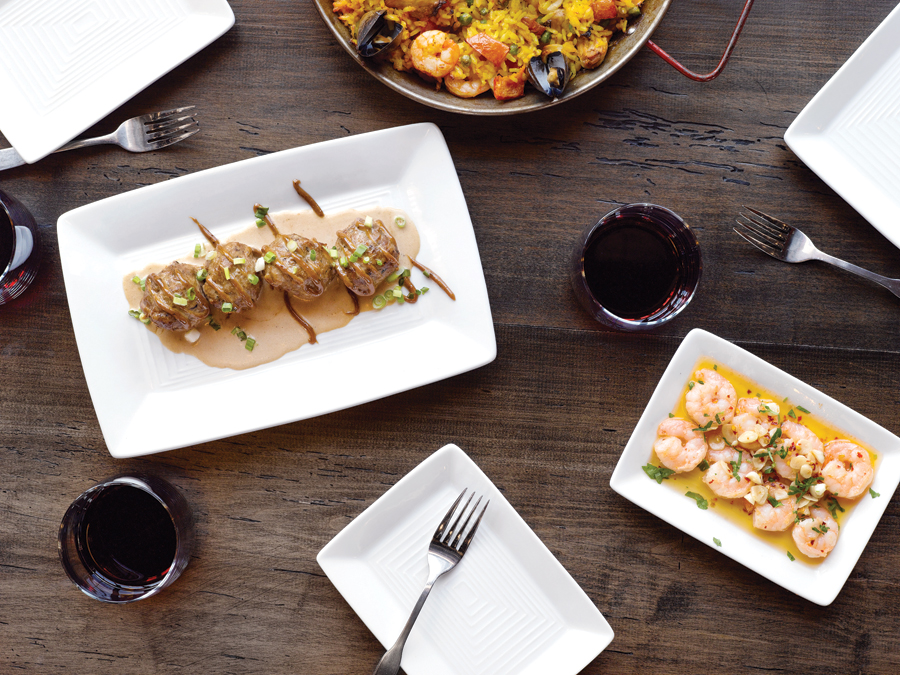 60 Valley St., Providence, 270-6080, bocadotapasbar.com. Open for lunch and dinner seven days a week. Reservations accepted. Wheelchair accessible. Valet parking. Cuisine Tapas that read 90 percent Spanish and 10 percent American. Capacity Roughly 100 with bar seating. Vibe Industrial Alhambra. Prices Tapas $3–$14; entrees $28–$34; dessert $5–$8. Karen's picks Charcuterie y queso, sollomillo de carne roja (steak with Manchego) and calientes tapas.
Key
Fair
Good
Very Good
Excellent
Half-star
Bocado is a tale of two tapas. Or rather, it's a forked road that diverges onto two plated paths. Replacing what was once Cuban Revolution, Bocado fills a large industrial space with small food — and that inverse proportion renders surprisingly good results.
Lithographs of Che Guevara have been replaced with framed flamenco dancers though the black-clad servers assert an urbane affect. But some things remain the same. The architecture continues to dominate the experience as eighty-odd seats all fall against a backdrop of brick, canopied by industrial vents and piping. It's a massive space, if not in square footage then in vertical reach. Patrons sit in squat leather chairs that vaguely resemble cartoon cattle, while the twenty-top bar hosts those willing to drink their way through nearly eighty Spanish wines.
Such an expansive offering speaks to Bocado's craving for authenticity. It seems peculiar that the wait staff looks anything but Latin; when the Providence location opened, several of them came by way of the Bocado mother ship in Worcester. To be fair, most can talk their way through both the wine and food list with a more than respectable accent, as well as speak adeptly about each dish on a menu that includes almost six dozen options.
Most diners come in groups, prepared to eat their way through Spanish America by piling up a dozen plates at a time. It's rare to see a couple on their own though the anomalies pop up now and again, snapping artful photos of their dinner for a virtual crowd. ("Stand up," insisted one twenty-something to her companion. "We need an aerial shot of the albondigas.") But even in a culture overwhelmed by Instagram, there's a certain level of cataloguing that makes sense here. People may come back for a few old favorites (swirls of salty serrano and wedges of buttery Manchego) but the allure of tapas is to forge ahead into unknown terrain, eschewing what doesn't work and in avid pursuit of the next great plate. And there are quite a few at Bocado, where the smallest and most intimate dishes assert themselves most effectively, while the larger plates occasionally overshoot and falter.

Ensalada de remolacha y esparragos, a salad of asparagus, golden beets, greens, marcona almonds, grilled onion and creamy orange horseradish dressing, with a porrón of sidra, Spanish hard cider.
While the charcuteria y queso (meat and cheese) are sourcing triumphs rather than culinary coups, tapas — particularly those that require cooking — are well crafted. Frias, or cold, tapas are a mixture of ingredients that often don't seem entirely Spanish: Greek salad ($8), tuna tartare with lemon basil crema ($12), Caesar salad with an aioli ($9) that doesn't do quite enough to gain indigenous credit. The calientes tapas, however, are accomplished in both taste and their translation of Spanish culture.
The inventory list in the Bocado kitchen must be staggering but so is the range of technical skill. There's a lot of braising, which is good for the prep staff; rabbit with white wine ($11) and chicken thighs with rosemary and olives ($6.50) capture the rustic cuisine of the mountains. But quite a few dishes are cooked a la minute, showcasing a cache of quintessential Spanish ingredients such as paprika, garlic, tomato and Rioja wine. The results have an earthy appeal that draw upon taste and texture. Chicken croquetas with honey sauce are deep fried winners ($6.50); rice balls with mozzarella only deliver on mouth feel ($6).
Almost every small dish is less than $10 and herein lies the real charm: you don't like something, you move on. It's speed dating for the stomach. The fact is, after several visits, it's clear that consensus is nearly impossible. What one person scarfs, another eschews; what one table reorders, another avoids. For those who love tapas, the only thing that matters is that dinner is always different and that each bite serves the evolutionary chain. Where garlic shrimp is pungent, peasant sausage is uniformly subtle; where asparagus and beets are bright, piquillo peppers with veal, Mahon and crema are undeniably rustic.
The handful of large dishes, however, don't allow for indifference. Running between $28 and $34, they require a level of commitment that $6 dishes rarely do. And where small dishes with seven or eight ingredients might burst with flavor, an entire platter seems overwrought. The worst offense belongs to pan roasted sea bass cheeks, which, unlike beef cheeks, are meatier than the body and have a more pronounced flavor. But it's the succotash beneath — a cacophony of potato, corn, lima beans, sweet potato and lobster — that makes the dish nothing more than muddy. Even the four varieties of paella (vegetable, meat, seafood or mixed) are more a salty stew of ingredients than a harmonious homage to Roman-Arab culture. The most expensive option on the menu, a $34, twenty-ounce sirloin, turns out to be the wisest investment. Rubbed with smoked paprika and sitting under a thin cover of melted Manchego, the result is entirely simple and better for it. It's an aggressive dish that summons images of the Plaza de Toros and a general sense of Spanish machismo. (Want to make a steak manlier? Shield it in cheese.)

Seafood paella.
Even if you get the tapas pacing right, the tendency is to eat just one more bite; with a steady stream of small plates and the unobstructed flow of sangria, tables have a tough time calling it quits. Dessert, however, can't help but punctuate an evening that might yet feel young. There are very few light options and again, the experience meanders into American terrain given the presence of cheesecake, bread pudding and brownies. It's best to go the traditional route — flan or churros — to avoid derailing the Spanish fantasy. The flan can be oddly chewy depending on the night but fried dough knows no bounds and no one will be disappointed to end the meal with one sweet bite.
Like the best things at Bocado, everything tastes better in moderation or minimalism. Wine flights, small bowls of Marcona almonds, even meatballs with a sprinkling of fig amuse. That's the whole point of tapas: if it doesn't work, leave it and move on. Sometimes the sum of the parts isn't nearly as good as a single bite.

Churros and chocolate.