Blueberry Picking at Rocky Point Farm
Why rummage through those plastic grocery store containers when you can go out and pick your own?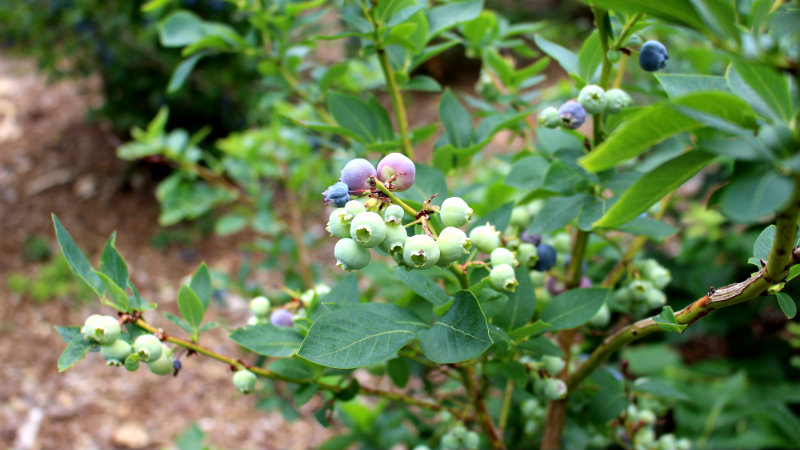 Hidden amid Warwick's winding roads and traffic lights, you may find yourself taking an unexpected turn on Rocky Point Avenue, home of the picturesque family-owned blueberry farm, Rocky Point Farm. Like something out of a storybook, a charming stone wall surrounds a field of rustic decor, bumblebees taking sniffs at the hydrangeas and tall bushes of bright, juicy blueberries, ready to fall off the branch and into your bucket.
At Rocky Point Farm, berries as far as the eye can see await your arrival. With 2,400 high bush blueberry bushes on two-and-a-half acres of land, the farm is open now through August for anyone to come out and gather. Owners Joe Gouveia and Ronda Shumaker allow people to pick as many berries as their hearts desire.
"This will be our fourth summer owning the farm," Shumaker says. "We purchased it from Mark and Betty Garrison who retired at the age of eight-one, so we now manage the blueberry picking business."
The starting price of the blueberries at Rocky Point is $2.50 a pound, and with a Frequent Picker Program customers get a discount as their total-berries-picked weight increases over the season. When you make your first trip to Rocky Point, ask for a Frequent Picker card. Every time you make a trip to the farm, the new weight of your quantity will be recorded.
When you reach ten pounds of berries, your price will be deducted to $2.40 a pound. At fifty pounds of berries, your price will be $2.30 a pound. If you're hungry enough to reach 100 pounds of berries, your price goes down to $2.20 a pound. The Frequent Picker Program card is valid upon your first trip to Rocky Point and the card can even be used for a whole group of family, friends or neighbors. Everyone gets a bargain.
"Last year we sold thirteen tons of blueberries," Shumaker says. "We had many people in the over-100-pound club and our winning client picked 356 pounds. We encourage people to pick as little or as much as they want, but most will come back for more after their first trip here."
While fighting the urge to eat right there on the spot, you'll see that each row of bushes on the farm is marked with a different breed of berries. Rocky Point offers six varieties of blueberries, including several more that are currently being tested, differing in sweetness and tartness.
If you don't have time to explore the farm and pick your own, Rocky Point also offers pre-picked berries to grab on the go.
Rocky Point Farm is open seven days a week from 7 a.m. until noon, and Thursdays from 4 p.m. to dusk for evening picking. Visit rockypointblueberries.com or call 401-732-6206 for more information.
Other places to pick:
Sweet Berry Farm, Middletown, 401-847-3912
Macomber's Blueberry Farm, Coventry, 401-397-5079
Harmony Farms, North Scituate, 401-934-0741
Dame Farm and Orchard, Johnston, 401-949-3657