Blackstone Culinaria A&W Experience
Secret Ingredient Dining Experiences feature different Blackstone Valley restaurants each month, and they always include a cooking demo and a meal.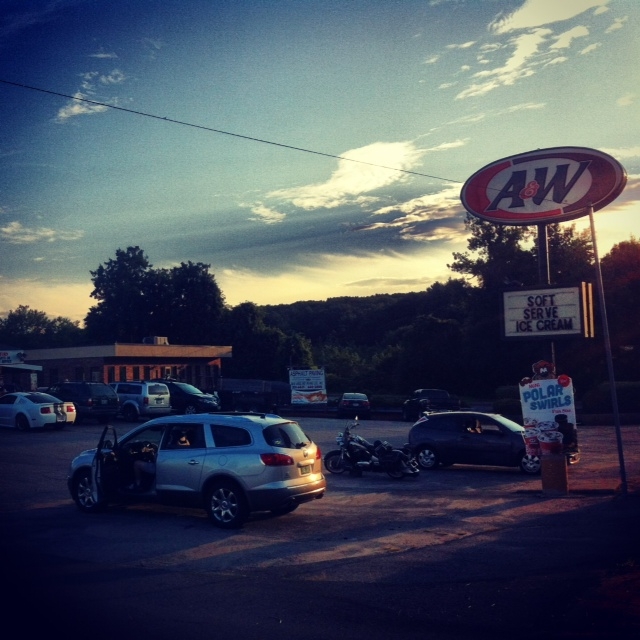 On a hot July day, cars pull up in front of the Smithfield A&W and turn their lights on for service. While customers wait in the cool confines of air-conditioned automobiles, servers take orders from drivers' side windows and deliver burgers, fries and root beers on trays. The A&W is the last surviving car hop in Rhode Island and it has operated on Route 44 since 1960. Families have flocked here for generations, and not much has changed since mom and dad first came here for dates.
To the right of the pickup window, a group of fourteen adults and children sit on picnic benches, waiting for Blackstone Culinaria's Secret Ingredient Dining Experience to begin. Donna Houle, special projects manager for the Blackstone Valley Tourism Council, started these tours four-and-a-half years ago as a way to help small businesses during the recession. She features different Blackstone Valley restaurants each month, including places like Bob and Timmy's Grilled Pizza, Pho Horn's, Vintage and Bayal Buffet. The visits always include a history on the place or a lesson in cuisine, a cooking demo and a meal. In this case, we're learning how A&W makes its famous root beer.
But first, we eat. Everyone bites into a burger and fries or onion rings, and freshly made root beer is poured all around. Meanwhile, A&W owner of nineteen years, Stephanie Mosca, stands to the side of a giant metal vat that holds 144 gallons of root beer. A&W mixes batches of the drink every day, usually one-third of a vat on weekdays and a full one on weekends. The process is not for the faint of heart. To make one-third of the recipe, Mosca pours a gallon of A&W's proprietary syrup into the vat. "The secret is in the syrup," she says. "I don't even know what's in it." Next, she dumps in forty pounds of sugar (120 pounds of sugar go into a full vat). The granules dissolve into the thick syrup. Mosca stirs with a giant spoon, then invites all the kids to step onto a box and take a turn at churning. After that, a beer tap will pour carbonated water into the mixture and it'll be ready to drink. We all go home with a half gallon of root beer.
The hands-on activity demonstrates what A&W does every day of the week. And they have daily specials to attract tourists and locals alike. Monday features 99-cent hamburgers, Tuesday is Cruise Night with 99-cent coney dogs, Wednesday features $2 root beer floats, Thursday you can get two cheeseburgers for $3, Friday means clamcakes and chowder and Saturdays and Sundays you can get three wieners for $3.50 with the purchase of a medium root beer. The next Blackstone Culinaria A&W tour takes place Aug. 21 at 6 p.m. Buy tickets at blackstoneculinaria.com; A&W, 460 Putnam Pike, Greenville, 949-9892, smithfieldaw.com.