Review: Blackie's Bulldog Tavern
The comfort food at this Smithfield emporium is decadent, delicious, over the top and worth every calorie.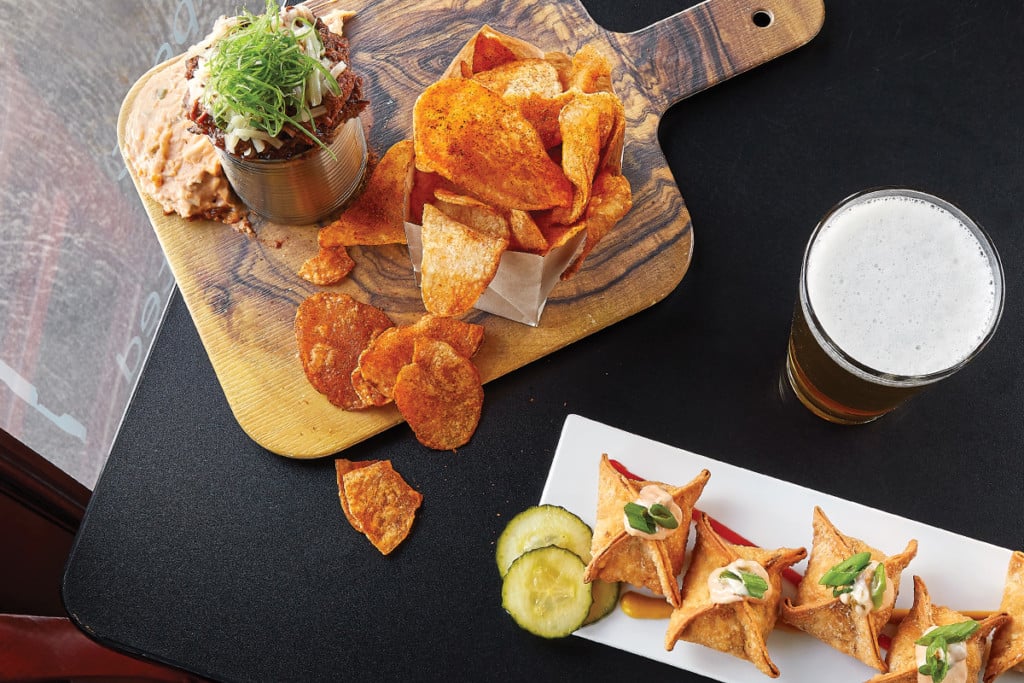 You could argue that Blackie's makes no sense. Visually, it's unimpressive: a tavern in the middle of Smithfield designed in almost total aesthetic discord. The color scheme is lime green with accents of eggplant and brown. Artistic flourishes include red glass partitions, tortoise pendant lamps over a stone bar and a large print of pimento-stuffed olives on the wall. To the uninitiated, the space looks confused.
But this benign space off the highway is packed at all hours, not in spite of the awkward decor but because of it. The kitchen doesn't care much about wall color or worn ottomans in the vestibule. They're running a technicolor funhouse in the back, complete with warped mirrors that exaggerate everything and entertain everyone through indulgent distortion. Owners Jeanine Iannucci and Angie Armenise (also the executive chef) are propelled equally by audacity and humor. They've taken the caricature of American cuisine — titanic portions, acres of meat, troughs of cheese — and fed it through a shape-shifter that produces something conceptually outlandish but technically remarkable. It's the Texas State Fair year-round, perpetually capable of shocking its audience with both depravity and restraint.
It's worth noting a few secrets: Blackie's pulls its own mozzarella cheese, makes English muffins from scratch, fries its own chips, melds a meatloaf out of bison, brisket and beef tenderloin, turns fresh brioche dough into hubcap-sized sticky buns and churns out a variety of sauces daily, including smoked salsa verde, black garlic rabe butter, jalapeno jam, brown sugar maple mayo and sticky root beer hoisin. Why the long list? Gastronomic elitists can turn their nose up at a menu that needs reams of napkins and an angioplasty, but Armenise is in control of every cheeky dish she offers, from the cheese curds to the chicken salt. The menu is nothing short of outrageous, including the gluten-free and paleo, but the preparation is unexpectedly mindful.
That said, the menu does read like a late night bender. What appears to be an understated fried wonton opens into a deconstructed cheeseburger, complete with ground beef, chopped fries, dill pickle cheddar cheese and special sauce. A toasted boule is just as good at disguising itself as refined. Served with a jar of housemade tomato sauce and a quenelle of pureed pepperoni, it reveals an interior pool of melted cheese and caramelized garlic butter. Even chili is a meaty amalgam of fourteen-hour smoked brisket with espresso and roasted chiles, accompanied by freshly fried chips and a side of smoked jalapeno pimento cheese. (Count on this: If an empty corner exists on a plate, the kitchen will find some form of cheese to take squatter's rights.)
One can argue whether any of this is morally appropriate. Should you put three types of meat onto a single plate? Is it perverse to name a cheesesteak "the Chi-town special" just so you can add a hotdog and heaps of celery salt into an already exploding sandwich? Can you even fit a Texas toast "Southern Standard" into your mouth once the beef, bacon and ham are topped with lardo mashed potatoes and red-eye gravy? Hell yeah, you can. Everything at Blackie's is a culinary dare. Dare to eat it, dare to not like it, dare to look down on American food when it embraces its own kitsch with such confidence.
That's not to say formality is missing entirely. Pasta is made by hand and, in a rare moment of restraint, tossed with little more than salt, pepper and pecorino. Larger dishes are capable of taking the crazy road — steak tips are covered in brown beer gravy and served with bacon fat mashed potatoes as well as a "Mad Men"-era mound of broccoli covered in cave aged cheddar — but there's at least one small corner for the dud in your dining group who insists on decorum.
Naturally, it can be easy to lose sight of the fact that Blackie's is technically a tavern. Debauchery so often resides at the bottom of a glass but it's hard — even for liquor — to keep up with what's happening on plates. The most staid sandwiches still feel like you're front-row at a strip show, waiting for the layers to peel away and reveal the mystery.
Given Armenise's penchant for excess, she sets aside church hours for prayers to the double-decker meal of brunch. A 10 a.m. opening allows even late-sleepers and kids the chance to see what this country can do with traditional doughs, a crate of eggs and an endless supply of cheese. Half the tables end up with a massive sticky bun, which comes with the requisite knife and fork and a tart apple cider curd to break the sugar. But the best approach is to mix and match plates given that each one arrives with something intensely intriguing and the only way you'll avoid eating four pounds of one thing is a hardcore commitment to grazing.
As with dinner, food is combined in ways that resemble narcotics. Diners are gregarious and effusive for the first half-hour and then everyone at the table starts to nod off slightly, wishing they had opted for sweatpants and a wagon that someone could pull home. Balls of English muffin dough are deep-fried and served with pimento or cream cheese, but they are often dipped into anything saucy hovering nearby. Take, for instance, a molded pile of garlic-brined home fries topped with cheese curd, brisket, demiglace, cheese sauce and pickled onions. This time-warp food manages to get anybody back to an age when overeating didn't come with consequences.
But who knows? Some people are more demure. Some people demand neater meals. Some people order sandwiches, even in the morning, so that their delicate hands don't touch sauces or shmears. Those people will be sorely disappointed to take on the Hair of the Dog: a brioche roll with buffalo wing cheddar, scrambled eggs, jalapeno jam, guacamole and breakfast sausage, griddled in bourbon maple. Or seventeen other concoctions looking to spill out in multifaceted glory. Those who line up at Blackie's on a regular basis aren't looking for European propriety though. This is Americana, in all its circus-like superfluousness. It might be a warped view of the world but it couldn't taste better.
✱✱✱
181 George Washington Hwy., Smithfield, 231-4777, blackiesbulldogtavern.com.
Open daily for lunch and dinner, Sundays for brunch. Wheelchair accessible. Parking lot.
Cuisine Mall of America meets Culinary Institute of America.
Capacity Seventy-two plus fifty at the bar.
Vibe Like you are inside a college student's concept of heaven.
Prices Appetizers $11–$17; entrees $10–$23; dessert $10–$12.
Karen's picks Anything with cheese. (That's everything.)
Key
✱ Fair ✱✱Good ✱✱✱Very Good ✱✱✱✱Excellent +Half-star