Bistro 22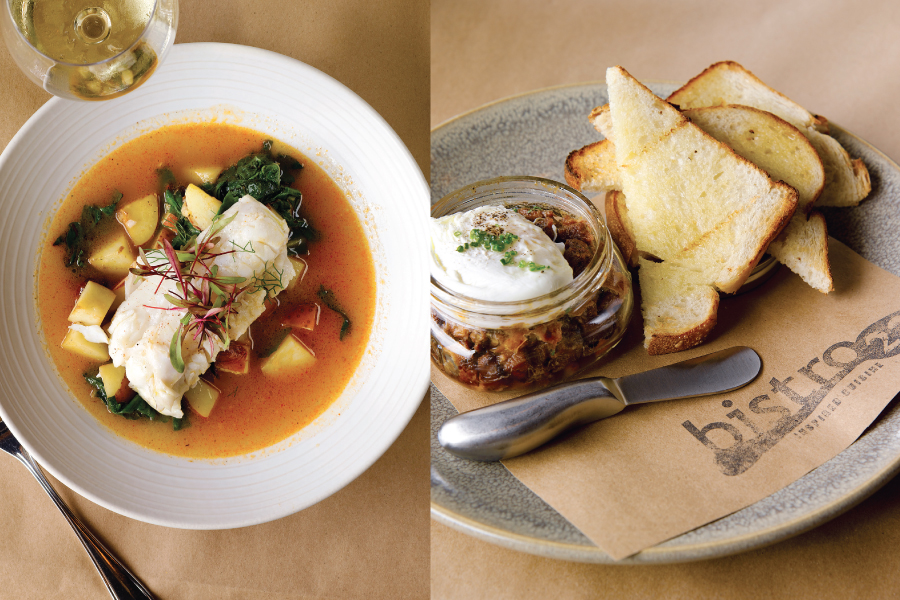 Olive oil poached cod with old bay potatoes and swiss chard in a tomato broth. "Breakfast in a jar," house smoked bacon, crispy potato, pulled short rib, poached egg, truffle jus.
Bistro 22 22 Midway Rd., Cranston, 383-6400, bistro22ri.com. Open for lunch and dinner seven days a week. Reservations accepted. Wheelchair accessible. Lot parking. Cuisine Twenty-first-century Americana. Capacity Fifty plus patio seating. Vibe Small town social life meets big city on a plate. Prices Appetizers $7–$16; entrees $17–$29; dessert $7. Karen's picks Salads, breakfast in a jar, short ribs and gnocchi, poached cod, dessert.
Key
Fair
Good
Very Good
Excellent
Half-star
It's tough to muster personality in a mall, even an outdoor version. After all, the retail construct is America's great homage to homogeny, in which customers know exactly where everything is and what to expect. That's the whole point. People are not only drawn to the familiar, they crave it.
So Bistro 22 is a bit of a surprise — actually a lot of a surprise — not only because of its location but also for its pedigree. Owner Carlo Slaughter (whose brother, Gennaro, joins him in this endeavor) opened d. Carlo in Smithfield years ago, a neighborhood favorite that delivers traditional Italian dishes from Parmigiano to Bolognese. It certainly could have claimed a space in Garden City, even an expansive one, easily. But what Slaughter did instead, with the help of chef Chris Kattawar, was to adopt a space that holds barely fifty people and stretch the parameters of convention just enough to assert some American independence in an Italian-driven town.
The restaurant feels smaller than it is, in part because it's wedged between colossal chain vendors. But the farmhouse-in-the-city feel pervades the abbreviated space comfortably and it's surprisingly easy to forget your surroundings. The patio — more at one with the milling shoppers — rings with conversations about Dunkin' Donuts and the race track but the more colloquial atmosphere doesn't obstruct the restaurant's aspirations.
Kattawar approaches food here with such exuberance that it's hard to respond apathetically. The foundation of the bistro's menu is rustic — rough cuts of cheese, dollops of charred peach jam, toasted bread veiled with coarse pepper — but Kattawar refines the edges of everything just enough to make it unusual. A salad of roasted rainbow beets ($9.95) is served with pools of emulsified mustard vinaigrette but it's the grilled wedge of ricotta salata that anchors the dish. Dense, salty and nearly scorched, it's as earthy as a plate can get — appropriate for a vegetable that spends its life underground. It's a tactic that's common in the first courses: delicate salads are tempered by something less refined. Fried slabs of green tomatoes, slick cornbread croutons and, most often, slow-cooked eggs grace the plate to reign in any governing fragility.
But Kattawar has a wittiness about him and occasionally abandons this game of hard and soft. His "breakfast in a jar" ($12.95) is wholly indulgent and nothing short of charming. It is what it proclaims: a mason jar packed with pork belly, shredded short ribs, a brunoise of red potatoes and a poached egg sitting on top like the Cheshire Cat. It's absurd and delicious — proof that casual and cultivated can coexist. Everything seems to dissolve as you dig in, leaving a puddle of egg juice that tastes like the bottom of a Sunday morning skillet and that, by the laws of all things holy, must be sopped up with the requisite toast.
Short rib and mushroom ragout with house made ricotta gnocchi. The dining room. Roasted baby beets, radish, grilled ricotta salata with peppercress and a mustard vinaigrette.
Most of the entrees show the same enthusiasm. The food tastes good — not always a given — but it's never staid. If there's a signature dish to be found, it's the short rib and gnocchi ($24.95), a stew that's buoyed by a delicate pasta encasing a ricotta core. The result is a coolness that oozes out to balance the richness of the meat without rendering the plate too heavy. The same holds true for a well-seasoned pork loin ($21.95), served with roasted sunchokes and bacon marmalade, a condiment that succeeds because, well, it's a refined version of everybody's favorite preparation of pig.
That's not to say Kattawar can't make a gentler dish. Cod poached in olive oil ($22.95) and presented in a spicy tomato broth with Swiss chard is an appealing New England riff on bouillabaisse. Unctuous but still clean, one server insisted that "you've never tasted anything like it."
It is worth mentioning that, like many Rhode Island institutions, there are still requisite staples. Calamari, littlenecks with chorizo and plenty of steak sit front and center. And while they pass the taste test, it seems a shame to play it so conservative when other options represent the bistro with more confidence. After all, the aesthetics of the space assert a separation from the status quo and customers ought to follow suit if they hope to acclimate to the restaurant's attitude.
But for those who do take the traditional road with entrees, dessert still offers the opportunity to deviate from the norm. There are two approaches at Bistro 22: the sweet and the less so.
Sweet dishes are playful and nostalgic, as favorites often are. Butterscotch cake doughnuts are shellacked in a bourbon caramel glaze, a bite of which would go a long way if you could leave it at that. (Unlikely.) A chocolate moonpie served with drunken peaches and creme fraiche is so close to the original that one can almost hear the crinkled plastic paper — its only drawback is the fact that real chocolate becomes rigid and you need a steak knife to bust into it any way other than using your teeth as shears.
The flip side to dessert though is just as interesting and that's the savory approach. There are hints of Southern America peppered throughout the menu and that influence manifests itself in the final course. Vanilla ice cream sits alongside cornbread, topped with chorizo caramel — not so far from an over-the-top breakfast but not as close as the waffles with buttermilk ice cream and crispy chicken skin. Bistro 22 may never get old-school sweet eaters to bite, but that doesn't mean it doesn't push the concept of American cooking just an inch forward. In a mall of all places? That's the real miracle.