Birdwatching Gets Big in Rhode Island
Our avian friends are attracting all kinds of new fans.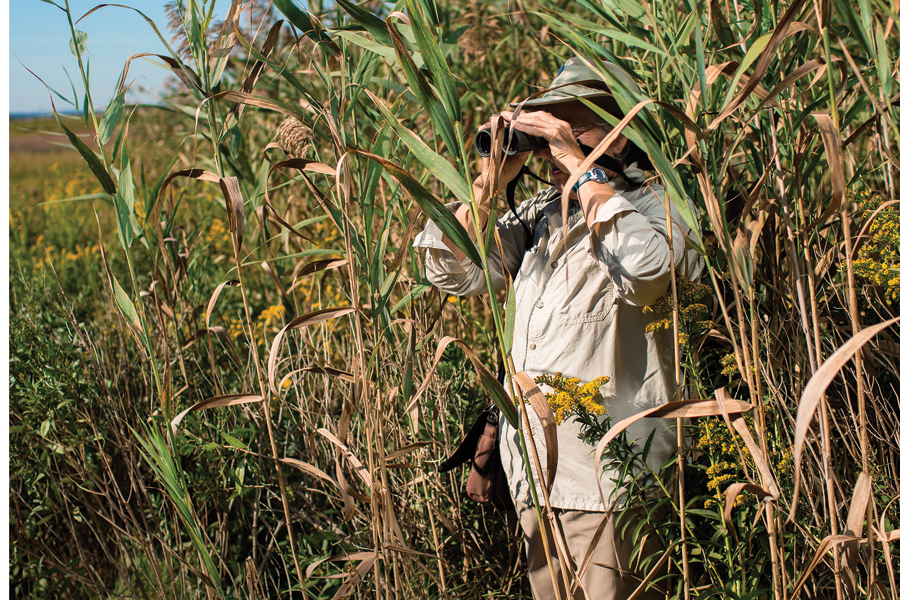 Once considered a retirees' pastime, birdwatching now attracts every demo. But as birders have discovered, the secret world of their airborne friends is its own reality show, rife with mystery, feuding and mayhem.
---
In a perfect world, our days on Earth might go like this: a sandy shore, a cool sea breeze, a bright June sun, a deep blue sky half-full of gleaming white clouds, the scent of beach roses, the sound of waves breaking gently on the sand. And for something to do besides sit and stare, a band of birders has brought their binoculars, spotting scopes, cameras with lenses a half-yard long, and collective decades of expertise, to see what type of shore bird or raptor or stray winged visitor might be found here. There goes a tiny piping plover, no bigger than an orange, with her two fuzzy chicks the size of walnuts, tripping along the shoreline at the edge of a salt pond behind the dunes. A few sporty killdeers and a stately egret stroll in the distance. A gang of terns, annoyed by our lurking so close to their nests, wheel and squawk and threaten us, coming closer and closer, zipping inches above our heads, till we quickly depart to leave them in peace.
It's unsettling to think that without the influence of these dedicated birders, it would have been easy to laze at the beach, read in a lounge chair, and not even notice all this nature going on. But birding, despite its reputation as a dull pastime only for retired folks or the socially challenged, turns out to be a really fun way to explore your world and connect to nature. The birding group I joined at Goosewing Beach, in Little Compton, ranges from millennials to boomers, from career avian scientists to avid amateurs. They're smart and curious and friendly, and their ability to spot and identify the birds, sometimes just from the sound they make or the way they move, seems like a superpower.
But it's a superpower anyone can learn — it's pretty easy to improve our birding skills. We can practice in the front yard or the local park or a vacant city lot, anywhere in the world. We can consult any number of guidebooks, websites and apps, and every week, all year round, local groups offer trips, classes and guided bird walks, often for free or a nominal fee. We can sign up for local e-mail lists that announce when and where someone spots a bald eagle on the Wood River, or identifies a yellow-breasted chat at Rome Point. Just reading these lists on a daily basis can make desk-bound workers feel a little closer to our primal selves, and remind us that we live on a planet full of amazing nature, if we just take a minute to look at it. We can join an infinite number of birding threads on social media and find gorgeous pictures of interesting birds in our own neighborhoods. Interest in birding is growing, and though the majority of birders still fit the white, affluent and gray-at-the-temples stereotype, that's starting to change.
Peter Green, a self-employed graphic designer who works at home in his downtown Providence loft, discovered the allure of the birding world one day while taking a break on his rooftop garden, shooting pictures of the city skyline. It caught his attention that one particular bird kept returning to the same spot, high atop the iconic "Superman" building. "I got a telescope and discovered it was a falcon, and it had a nest up there," says Green. "That was nine years ago."
Watching the falcons as they hunted in the city, and raised their young, became a daily fascination for Green. His photos of the city's bird life have been shown at galleries around the state. He tags along with the bird experts who visit the falcon nest box once a year, to document their banding of the new chicks. He keeps an eye on the nest via a webcam run by the Audubon Society of Rhode Island, and stepped in to help this spring when one of the chicks, not quite ready to fly, strayed and got himself stranded on a ledge. His updates on Facebook, under Providence Raptors, show how well he's gotten to know these neighbors — in a July photo, "resident adult male falcon 25/AB" glares into the camera, his deep black eyes ringed with gold, his fluffy white chin feathers contrasting with his strong, sharp predator's beak. "Born here in 2010, he returned earlier this year," notes Green. Falcon 25/AB then "displaced his father, and mated with his stepmother." Life in the wild can be cruel and lawless.
Recognizing these quiet stories taking place all around us can transform the city, just as the terns and plovers brought life and color to the serene ocean beach. Green takes me on a walk around downtown, his long-lensed camera slung across his back, along a track he follows nearly every day. He knows where all the raptors live and hunt, and he'll photograph them in the trees at Burnside Park, while oblivious city dwellers stroll on by, looking at their phones. He points out a mourning dove, in her cozy nest in the nook of a tree, where he's seen her many times before, hidden in plain sight just inches from the sidewalk. He notes that osprey can be spotted by the river, when the fish are running. A red-tailed hawk often hangs out near this empty lot, he says, where it keeps an eye on this groundhog's lair. Raptors, he says, aren't just a kind of photo op; they're essential to the urban ecosystem.
One raptor can eat 1,000 mice in a year, says Green. Rats are delectable snacks to a hawk or falcon or owl, and in some cities, residents build nest boxes to attract raptors as a method of free rodent control. The message that has gradually emerged, as Green got to know the birds over the years, is that we ignore them at our peril — they're not just pretty things to marvel at. Those steely black eyes, captured in his lens, reveal to us the relentlessness of nature — everything is prey, all that matter and energy will be cycled again and again, over and over, rat to bird, bird to rat, since long before we were here, and for even longer after.
Just a few miles away from that gritty downtown, near the eastern shore of upper Narragansett Bay, some suburban birds enjoy a distinctly different lifestyle. Surrounded by rolling green fields that slope down to a bucolic sandy shore, overlooking breezy blue waters and tall white promenading sailboats, two dozen or so purple martins wheel and spin above the shiny white bird condos they call home. These delicate little swallows, with their broad chests and long, tapered wings, are hunters of a sort, but after nothing so messy or common as a rat. Purple martins — which are mostly just black, with a few purple highlights — eat flying bugs, and because people in general don't like bugs, they really like these birds. It's been said just one purple martin will eat up to 2,000 mosquitoes a day — scientists so far have run into trouble trying to verify that, but there's no question the martins keep busy dashing about in circles and hunting whatever bugs they can find, so people enjoy having them around.
In Barrington, local bird advocate Raymond Marr Jr. has kept busy in his free time for about twenty years, helping to bring the purple martins back. "In the mid-1980s, Rhode Island only had maybe 100 purple martins," he says. People got interested in attracting the birds, not only for their bug-hunting reputation, but because they're pretty, and active and fun to watch. We're at the northern edge of their range, but the limiting factor for these birds, says Marr, is a scarcity of proper nesting spots. The martins like to nest in little holes in trees, but they can't create them themselves, and there just aren't enough to go around in our Rhode Island woods. The trick, Marr says, is to put up a house for them, site it in just the right spot, and keep it clean, and they'll return from their winter homes in South America, year after year.
Peter Green's interest in birds dates to 2007, when he had an encounter with a red-tailed hawk in Burnside Park. Being close to wild hawks as they hunt got him hooked, and he's followed urban raptors ever since.
It can't be just any old house, though. The purple martins like a gourd-shaped house, with a deep space inside for the nest, and a front door just the right size so the parents can squeeze in, but predators won't fit. Marr has put up about a dozen of these custom-built condo projects, which cost about $650 each, at golf clubs and backyards and land-trust properties around the East Bay. He puts the boxes up every spring, and takes them down for cleaning in the fall — and it's working. "The birds are making a huge comeback," he says. His projects, paid for by a variety of landowners and donors, provide homes for more than 200 birds. "They're very happy birds now," says Marr. "But without the houses I put up, we'd have no purple martins in this town."
Keeping a healthy and diverse population of birds happy in Rhode Island isn't just about providing attractive housing. Lawrence Taft, executive director of the Audubon Society of Rhode Island, says his group protects 9,500 acres of wildlife habitat in thirty communities across the state. Sixteen different properties are open to the public for bird watching, and at the group's two nature centers, in Bristol and Smithfield, staffers lead bird walks and teach classes about birds.
Spring and fall are the best times for bird watching in Rhode Island, Taft says. "Each May, we've been encouraging people to get out and see birds. The migrants are just coming back from down South, and there aren't many leaves on the trees, so they're easier to spot. We offer free bird walks every single day during May." The walks, which are listed at the group's website (asri.org), are held at wildlife refuges around the state, as well as at urban sites like Roger Williams Park and Swan Point Cemetery, in Providence, where migrating birds find a welcome green oasis to rest amid the cityscape. Fall brings a Block Island birding trip, and in the winter, hikes along the south shore are popular for spotting shorebirds and ducks that spend the season here.
"We just want to engage people so they appreciate nature," says Taft. "And birding is a wonderful vehicle to do that." That means people of all ages, in all parts of the state. "We had a great experience at Neutaconkanut Hill Park, in Olneyville, where we worked with a group of middle-school kids after school and at summer camp," says Taft. "We had an expert bird bander come onsite, and the kids handled the birds and did scientific studies. It's amazing how much they really loved this. They found you don't have to get in a car and go somewhere to see nature — we have birds right here in the urban areas, too."
Protecting those areas where birds live is crucial to maintaining a healthy and diverse population of birds in Rhode Island. That means scientists must work to continuously learn about them, and constantly reach out to be sure people are educated and connected. Peter Paton, a professor of wildlife ecology at the University of Rhode Island, has studied our local birds for twenty years. I spent a sunny Saturday morning with him in March, when South County was still covered in a deep layer of snow, seeking out bird life and the human life that it attracts. Paton, like the other birders I met, emphasizes that birdwatching isn't just about making an identification and keeping a list. It's about spending time outside, and exploring nature, and even about socializing and enjoying the company of the other birders you meet along the way.
Listening to Paton talk about the birds, how their populations change over time, where they've come from and where they go and how they travel, it's clear there's more to learn than just how to tell one bird from another. Every bird has a story. The blackpoll warblers, a tiny black-and-white songbird just a few inches long, breed in Alaska, then fly to New England in the fall to rest and feed. After doubling their body weight, they launch for a straight, nonstop, sixty-hour flight direct to South America. The loon that we spot swimming in the fast current of the Charlestown Breachway is molting this time of year, Paton says, and unable to fly, so these birds tend to concentrate along the coast, where they can hunt for fish and crabs.
The beach also has attracted one of the local stars of the bird world — a snowy owl, perched among the snow and seagrass on the back side of a dune. A half dozen bundled-up birders, armed with cameras and tripods and lots of long lenses, have arrayed themselves on this side of the breachway, a respectful distance away, to keep an eye on it. Paton speculates on what that owl is up to, hanging out up there for so long. "I think she's caught a rabbit, or something, that's keeping her occupied," he says. He notes the churned-up snow, her position relative to the likely hunting areas, and constructs a scenario that begins to create a sense of what the world is like from the bird's point of view. The patience, the stalking of the prey, the chase and the capture, the hunger that drives them, the constant vigilance and conflict of life in the wild. It's all this, and the crystal-blue winter sky, the open ocean, the beauty of the day, that attracts the birders here, and holds their attention.

A purple martin (left). Ray Marr has built about a dozen customized gourd-shaped bird houses for purple martins in the East Bay.
It's this social side of birding that inspired Jana Hesser, of Providence, and some friends to start the state's first bird club, a nonprofit group that held its launch party last October. "At first, we just wanted to start something that would focus on Providence, and the northern part of Rhode Island, since most birding activity seems to be in South County," she says. But the Ocean State Bird Club quickly evolved to include the whole state, and even trips to Massachusetts, with the mission to be a social group where hobbyists can go to have fun and to learn. "We've had a lot of walks, and held talks at the Warwick Public Library," she says, "and we've partnered with other local groups to offer hikes and events and pelagic trips," which involve hiring a boat to go in search of offshore birds. "We're active online, with a website where we post all these events, and social media, and we're just focused on the hobby of being a birder," says Hesser.
A few members of the group have banded together to form a Young Birders Initiative, with the goal to reach out to youth, ages eight to eighteen, and introduce them to the world of birding. Susan Delfs, who works as education director at the Frosty Drew Nature Center, at Ninigret Park in Charlestown, said the YBI already has offered five hikes this year. The two-hour walks focus not just on identifying birds, but also on understanding the natural history of each site — the plants and animals that live there, and how each bird finds the food, shelter and nesting sites they need.
"We're planning various kinds of service projects related to bird conservation, more partnerships with schools, and ultimately we'd like to expand across the whole state," Delfs says. The Bird Club has younger birders who support the effort, including education staff from the Norman Bird Sanctuary in Middletown.
It's the tail end of a sultry Friday in July, and the crowds have abandoned East Matunuck State Beach. The lifeguard chairs stand empty, the breeze has settled down, the sun is sinking toward the horizon. Two college girls visiting from out of state for the week have had a hard time adjusting to beach life: the sun is too hot, the sand too sticky, the crowds too annoying. Now, at sunset, the beach is starting to weave a spell on them. We explore it end to end, find a gleaming purple man-o-war washed up in the sand, climb on the rock jetty, admire the surfers catching an offshore wave. Drawing on what I learned from the Little Compton birders, I take them to the edge of a roped-off rocky zone, where nesting terns dive-bomb us in protest. One black-and-white parent angrily guards her nest, a tiny depression in the sand, as wide as a silver dollar, just a few feet from the rope line. And there we spot two balls of fluff, scrambling to hide themselves, as their parents glare and squawk. For a brief moment, all of us are fascinated by this glimpse into the private world of the birds — a world full of mystery and conflict, new life and violent death, that intersects with our own, every day.