Bike the City in Search of Lovecraftian Monsters
The Tour de Tentacle returns in its third eerie installment.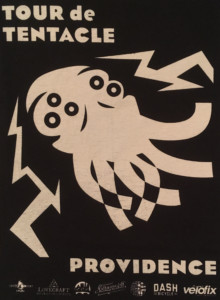 Battle a force of evil to save Providence, or aid in its destruction: The choice is yours during the third installment of the Tour de Tentacle, a bike quest based on the life and writings of Providence's own horror hero, author H.P. Lovecraft, on Sunday, October 29.
"It's basically a continuation of the plot of last year," says C.J. Opperthauser, who co-organizes the hunt alongside Niels Hobbs, executive director of the Lovecraft Arts and Sciences Council. "In this year's version, the evil that was banished a year ago has resurfaced."
That's right: Last year's riders chose to save the city from doom. There's no telling how things will turn out on Sunday. It's been a weird year.
"There are a lot of riders who are coming back for a third time," says Opperthauser, "but it's just as fun for people who have no idea what's going on."
Bikers travel in four-person packs — you can be assigned to one if you're riding solo — to solve Lovecraftian-themed clues and puzzles at various locations across the city. Think: The Athenaeum, Prospect Terrace Park, the Arcade and others.
Each site aligns with the plot, and volunteer actors amp up the eerie factor along the way. One spot, Opperthauser says, will boast a musician who performs a song with a clue embedded in the lyrics. Each clue leads the bikers to their next spot.
"There's more trickery this year than in years past that riders will have to navigate successfully," says Opperthauser.
The event begins at 2 p.m. with a staggered start from the Arcade, and most bikers finish the circa-seven-mile route in two hours.
We don't want to encourage speed and we want people to stay safe," says Opperthauser, adding that the route also boasts a couple of repair stations sponsored by Recycle-a-Bike. "The main incentive is to play to whatever outcome you want. Riders can choose to play to evil or to the good end."
The tour ends at the Arcade with an after-party from 5 to 6 p.m. with food, Narragansett Beer and live music by the Vox Hunters.
"At the end of the night, we tally up all the decisions and let everyone know if Providence was saved or not," he says. "Everyone's decisions are counted."
The event launched a year and a half ago as part of Bike Month.
"It just became so successful and fun so it blossomed into what it is today," Opperthauser says. "It's a way to get people out to bike and explore the city. It's really evolved to be more focused on the game and clue-solving function of the tour."
Tickets for Tour de Tentacle are $10 each, and include one free drink at the after-party. To learn more, visit eventbrite.com.
RELATED ARTICLES
Fall Foliage Walk: Swan Point Cemetery
4 Things You Didn't Know About H.P. Lovecraft
The Dish on Narragansett's Lovecraft-Inspired Beer Series