Bike Pie Jousting in Providence
BikeFest RI has all sorts of fun things planned for you to do on your bike.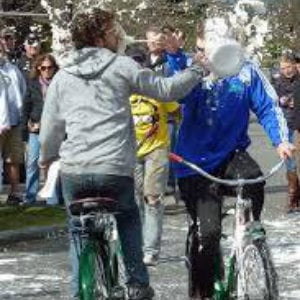 There are lots of things you can do on your bike: commute, race, back flips. (Okay, that's definitely a select few on the last one.) But what about bike pie jousting?
"Because what would be better than pie-ing in the face while riding a bike?" ask the organizers of BikeFest RI.
Yes, on May 9 bicycling enthusiasts from all over the state are coming to the MET School in Providence for this celebration of the cycling life, the only statewide bike festival —with a little whipped cream on top.
The day will begin at 10 a.m. with a scavenger hunt around Providence, in which participants will cycle around the city, take photos of the items on the list and compete for prizes.
Then at noon, bike pie jousting is scheduled to commence. Interested parties should sign up beforehand, and spots are limited to sixteen in a bracket competition. Costumes are "highly encouraged" and the organizers say you should be prepared to get messy.
Bicycles and whipped cream pies will be supplied as part of the entry fee, which is $10 for adults and $7 for students. (Proceeds will go to Women Bike Rhode Island.) The winner of each bout will be determined by how much whipped cream is on a competitor's face. In the case of a tie, audience applause will determine the outcome.
"First and second place will take home the glory and prizes, TBA," the organizers say.
Even if you're not up for getting pie-d in the face, Bike Fest RI is a great opportunity to learn how to make some repairs and check out some new equipment, listen to music, and let your child jump up and down in a bouncy house. The Rhode Island Department of Transportation will also be supplying helmets to the first one hundred young people who attend the event and get fitted.
It's organized by the Met School, Recycle-A-Bike, Rhode Island Bicycle Coalition, FULLCYCLE @the MET, Bike Newport, Women Bike Rhode Island and Circuit BMX. Anyone who would like more information can email Ed Raff at edward.raff@metmail.org.
BikeFest RI is Saturday, May 9, from 10 a.m. to 3 p.m. Free, except for the tournament. The Met School, 325 Public St., Providence, facebook.com/bikefestri?fref=nf