Big Little Cheese
Four Shy Brothers who loved their quiet life on the family farm found a leap into cheese-making brought renewed hope and unaccustomed notoriety.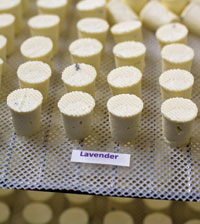 A warrior can be shy: Karl Santos is proof of that. When his family's third-generation dairy farm was threatened with extinction, he went into fight mode. Fight became flight as he boarded a plane to Paris to rescue the farm—but we'll get to that later.
The family spread, Shy Brothers Farm, is in Westport, once the largest dairy town in Massachusetts. In the last five years, seven of the town's remaining eleven dairy farms have gone out of business. Because a federal agency sets the price of milk, many Northeast farms with small herds and supersized property taxes are curdling in competition with Walmart-sized dairy farms on the West Coast.
In 2006, despite working pre-dawn to post-dusk, the four Santos brothers lost money. "It cost us $18 to produce 100 gallons of milk," says Karl. "We could sell it for only $11 to $12."
Many dairies have sold out to survive, often to developers looking to grow a crop of asphalt. But the Santos men are allergic to paving; their boots leave the dirt only to buy farm equipment or cows. Karl is their unofficial spokesman. Of the four brothers (two sets of fraternal twins), he's the most outgoing, although his stoicism might be interpreted as shyness. Karl and Kevin, at forty-four, are the younger twins; Norman and Arthur, forty-nine, are the elders.
They enjoy a symbiotic relationship. Kevin has the Midas touch with mechanical problems, Norman sweet talks the cows into giving it up, Arthur prefers the pasture and Karl likes numbers and "can remember everything you ever said," says Arthur. "That's a problem."
The brothers brainstormed in vain with neighboring dairy farmers about ways to save their dairies. When they researched the idea of a co-op bottling plant, they learned it would cost them $1 more to produce each bottle than what they could charge.
Then a Southern belle answered their distress call. Before moving to Westport from the South, Barbara Hanley did market and feasibility studies, as well as demographic mapping, on golf-oriented housing projects around the world.
"I preached 'no build' as much as I advised to build," she says. "I worked extensively for the National Park Service, working with large landholders to stop development." Hanley didn't want to see another farm go bankrupt, so she volunteered to transfer her expertise to the farming community. "They don't have access to business reports and marketing tools," Hanley says. "They don't have the time or resources."
Hanley taught Karl about the concept of value-added commodities, which means take a product and turn it into something else. He seized on the idea of cheese making. While the price of milk is dictated by giant buyers and government regulations, they saw how gourmet cheese could fetch prices that might sustain the business. Karl wanted to produce a cheese unique to the States, so he and Hanley decided to study under makers in the French Alps and Burgundy region.
"It was very brave of Karl to go," says Hanley. At the eleventh hour, the pair didn't know if their French connections would materialize. "I asked Karl if he still wanted to take the chance, but his attitude was 'Let's go!' " Though it was his first overseas trip, Karl surprised Hanley and her husband with his worldly palate. Their first night in Paris, he ordered tripe.
"I'm not fussy," Karl shrugs.
In France, cheese may be the second universal language.
Hanley marveled at Karl's connection with the farmers, which transcended the language barrier. He quickly found something he liked. Burgundy produces thimble-sized pieces of a dry, salty cheese called boutons de culottes (trouser buttons), a popular appetizer that are also served with aperitifs. In Paris markets, they are considered the truffles of cheese and fetch a dear price. The buttons are usually made with goat's milk, but Karl and Hanley visited a farm that produced them with milk from cows that were a hybrid of the Santos' herd of 120 Holstein and Aryshire cows.
Getting the French to give up the recipe was easy compared to replicating it in the States. Hanley became business partners with the Santos brothers, with each side investing capital and Hanley suggesting the Shy Brothers name. (She calls each coerced photo of the brothers a sighting, as if they are rare birds.) It took Karl six months of tweaking the process: If the temperature is off by one degree, it shifts the flavor.
Karl wanted their buttons to be creamier and less salty than the French ones. He knew he'd birthed his brand when he brought their cheese to the Back Eddy, a local restaurant. The chef rolled the thimbles in herbs, deep-fried them and said, 'I'll take twenty pounds!" Two months later they were selling out at farmers' markets and couldn't make them quickly enough for caterers and restaurants. Demand still outweighs supply. The cheese takes five days to mold and approximately another five days to age. The Shy Brothers produce 11,000 to 14,000 thimbles a week, depending on the climate and the cow's diet. (When several batches had a strong taste, he realized the cows were eating too much clover and it had thrown the recipe off.) The brothers named the bell-shaped thimbles "Hannahbells" in honor of their mother.
For now, the company rents a building in the neighboring town to use as a cheese house. But the brothers aspire to have the cheese company drive their profits (they continue to sell milk wholesale) and move cheese production to the farm.
The Shy Brothers' 150 acres sit on a peninsula between two tidal rivers. If you climb the silo, you can see the ocean beyond the farm. "After people see how beautiful the farm is," says Hanley, "they understand why the boys are so insular."
Hannahbells taste of salt air, like that moment on a vacation drive when you roll down the window and catch the first faint smell of the ocean. At a sampling in Providence, one man took a bite and said, "This is the cheese that God eats!" A customer even wanted to present Hannahbells in gift baskets at the Academy Awards (the Shy Brothers do a brisk Internet business).
The inch-tall thimbles have a buttery texture and allow chefs to play because their split personality lets them go savory or sweet. Chefs have made cheesecakes with them, tossed them in salads, stuffed pork roasts with them and rosemary, used them in brownies and dipped them in chocolate. Flavors include "plain" classic French, rosemary, lavender and shallot; upon request, Karl also makes saffron, chipotle and mint basil. In Providence, Hannahbells are used by chefs at Gracie's, Mill's Tavern, Chez Pascal and New Rivers (among other restaurants), as well as Persimmon in Bristol. They are sold at Farmstead Cheese and Whole Foods at University Place in Providence, and at Tiverton's Milk and Honey Bazaar. If you want to splurge (what recession?), take a trip to Boston and sample them at L'Espalier in the Mandarin Oriental hotel, where the restaurant's maitre d' is a fromager.
Spread the Cheese
With two years of hard-earned knowledge under their belts, from equipment, regulations, packaging and distribution issues to sourcing recipes and managing finances, Barbara Hanley and Karl Santos wanted to share the wealth in hopes of resuscitating other dairies. "If we can show how a diary farm can thrive," says Hanley, "hopefully, some of those that have gone out of business will come back."
In 2007, Shy Brothers Farm received a grant from the Massachusetts De-partment of Agricultural Resources (and matching funds from other or-ganizations). The department iden-tified eight dairy farm families in Southeastern Massachusetts who were ready to explore the transition to a more profitable dairy operation. Now several other dairies are learning the cheese business with direction from Karl, Hanley and Jeffrey Roberts, a founder of the Vermont Institute for Artisan Cheese and author of the Atlas of American Artisanal Cheese. Those farmers are now in various stages of recipe testing and obtaining regulation approval for their cheese houses.
"Our hope, when we get more farm families transitioned, is to dovetail with the Wine Trail that starts in Connecticut and goes all the way to the Cape," says Hanley. "It may also provide the seeds for a cheesemakers' guild in this region."