Big Gamble
Gaming revenue is painless bounty for the state coffers — until it isn't. Feeling the pinch now that Twin River isn't looking too liquid.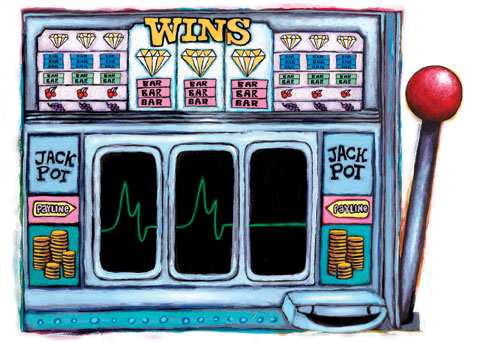 Debra Bissonnette and Twin River are Lincoln natives who go way back. When greyhound racing was at its peak twenty-one years ago, she was a player. When the video lottery terminals were installed in 1992, she took long "lunches" there with the girls. Bissonnette, forty-two, and her husband celebrate their wedding anniversaries at Fred & Steve's Steakhouse on the second floor. Twin River has been such a reliable source of amusement it's hard to imagine her old friend down on its luck. After all, it still looks like a winner.

"It's so much nicer — more machines and a better selection," she says as she settles herself at a terminal just inside the entrance. "I wasn't expecting bankruptcy, especially considering how the lot's always full."
Even at 10 a.m. on a Saturday morning, as a tropical storm soaks the state, the parking spaces, like the storm drains, are filling up. Inside, the faux sails that festoon the Lighthouse Bar in the center of the gaming parlor billow, the faux gulls remain aloft and the neon sunshine from 4,752 video lottery terminals is undimmed. Patrons nursing Dunkin' Donuts iced coffees at the blinking screens are too focused on their own losses to pay any mind to the $568-million hole that's swallowing the facility's current owner, UTGR Inc. On June 23, UTGR placed Twin River into Chapter 11 bankruptcy. According to one August filing, UTGR owed its creditors — banks, contractors and investors — ten times more than the cash assets it held.
"I'm hoping it will keep going," says Bissonnette.
In fact, a whole host of people are praying for Twin River to make a full recovery — not the least of whom are state officials. Every digital nickel fed into the terminals is another IV drip into the ailing state budget. In 2009, the video lottery terminals, or VLTs, generated some $250 million in state revenues. In total, gaming proceeds make up Rhode Island's third largest source of income. Gary R. Sasse, the state's director of revenue, laughs at the thought of Twin River closing its doors.
"That would have a devastating effect on the state's fiscal situation," he then says soberly. "The state currently has to make up $70 million in undistributed savings in the 2010 budget, and we know that the revenue collections are $60 to $65 million below the May Revenue Estimating Conference forecast. We also know the economic climate is still volatile. If we lost the VLT revenues on top of that, it would make a serious fiscal problem more serious."
The Rhode Island Greyhound Owners Association, which declined to comment for this story, has fought to keep a full racing schedule and the $10-million annual payment Twin Rivers is contracted to pay it to operate the racing venue. The twelve kennel owners who make up the association are the keepers of a now-faint flame. The industry has been in decline; only ten states have active dog tracks and wagers at the Lincoln facility have dropped from $168 million in 1988 to $13 million in 2008. Yet the survival of the kennels, and the two hundred jobs they claim to provide, is linked to the survival of Twin River.
Analysts at the Las Vegas-based Union Gaming Group say that no casino in recent memory has completely shuttered; casino bankruptcies are still rare. Nonetheless, casinos, regardless of operator, have a lot of fixed costs — including high state tax rates.
"We have seen a rash of casino bankruptcies this year. It's a relatively new phenomenon," says gaming analyst Grant Govertsen. "Casinos did so well during the economic boom. Now it's our first consumer recession in quite some time. It doesn't take long to get into trouble in a high-tax environment. And as soon as consumers pulled back, that environment becomes much harder to operate in. Your revenues drop off a cliff."
The pain has spread from the seemingly invincible Foxwoods, which announced in August that it was seeking to restructure $1.45 billion in debt, to the storied Fountainbleu on the Vegas strip, which halted construction amid a bankruptcy. Twin River's problems stem in part from the credit crunch, in part from a two-year, $225-million renovation and expansion. Despite an 8.6 percent increase in gross gaming revenues over 2007 and 2008, the facility didn't meet its revenue forecasts.
"It was the perfect storm," says UTGR spokeswoman Patti Doyle.
The state of Rhode Island, in the throes of its own storm, does not have the option of filing for bankruptcy, nor can it entertain a steep dive in revenues. Like most states, says Richard McGowan, an economics professor at Boston College and the author of numerous books on gambling including State Lotteries and Legalized Gambling: Painless Revenue or Painful Mirage, Rhode Island long ago decided gambling revenue was a good thing.
Each year, commercial casinos contribute $5.7 billion to state and local governments, says Holly Thomsen of the American Gaming Association. Race track casinos like Twin River are a growing sector; last year, their gross gaming revenues shot up more than 17 percent. Among the twenty-one states that allow some form of betting, the tax rates vary widely from the low — 8 percent in Nevada — to the high — 61 percent here in Rhode Island. The Rhode Island Lottery also maintains control of Twin River's biggest money-maker. It operates and controls all of the state's video lottery terminals.
"The state becomes addicted to that revenue," says McGowan. "Gambling is no longer considered an evil activity by the vast majority of voters. They say: 'I'd rather you do that than raise my sales tax, thank you very much.' But once you go down that road, that's it."
The real question looming just beyond the bankruptcy is: Where does the road end?
State officials are confident that Twin River will come out of bankruptcy — albeit with new owners. Under the terms of the bankruptcy UTGR reached with its creditors, $290 million in debts would be eliminated along with $153 million from company investors. Dog racing might end and a new operator would be sought.
"At the end of the day, it will be a much stronger facility because debt is going to be greatly reduced, and they will be on sound footing as the economy turns around," says Rhode Island Lottery Director Gerald Aubin. "I'm totally optimistic."
By that time, any optimism in Twin River's bright future might be tempered by competition. Massachusetts, which has debated an expansion of gambling for years, appeared poised in the waning days of summer to approve slot machines or full-fledged casinos — a plan favored by Governor Patrick Duval. New casinos just over the border would renew pressures on Rhode Island to add table games, or at least the clink of real coins in the slot machines. Governor Carcieri, who was once firmly opposed to casino gambling, has reversed course.
In October, he voiced his support for another casino referendum, telling a ra-dio audience: "We need to make sure we protect it, because it is a major source of revenue for the state."
But there comes a point when the painless revenue begins to look like a painful mirage. In the beginning, gambling delivers "a nice hunk of revenue," says McGowan. Then it levels off. Finally, it declines as nearby states add new forms of gambling to keep that money within their borders. There are only two frontiers left: sports betting and Internet gambling. McGowan predicts that states will eventually attempt to legalize and regulate both to keep the transfusions coming. Rhode Island's more immediate threat from Massachusetts may be less exotic, but it's real.
"Rhode Island is going into uncharted territory, and you should be nervous," McGowan says. "It's not 'if.' Now the question is when and where."
For this morning, anyway, the state can bet the ranch on the devotion of longtime boosters like Bissonnette.
"I'm here to make my donation," she says wryly and wanders off in search of a better machine.
Ellen Liberman is an award-winning journalist who has reported on politics and government affairs for television, public radio, newspapers and magazines for more than two decades.