Beyond Custom
Brimming with custom details and features, this home in Common Fence Point allows Horner Millwork's myriad offerings to shine.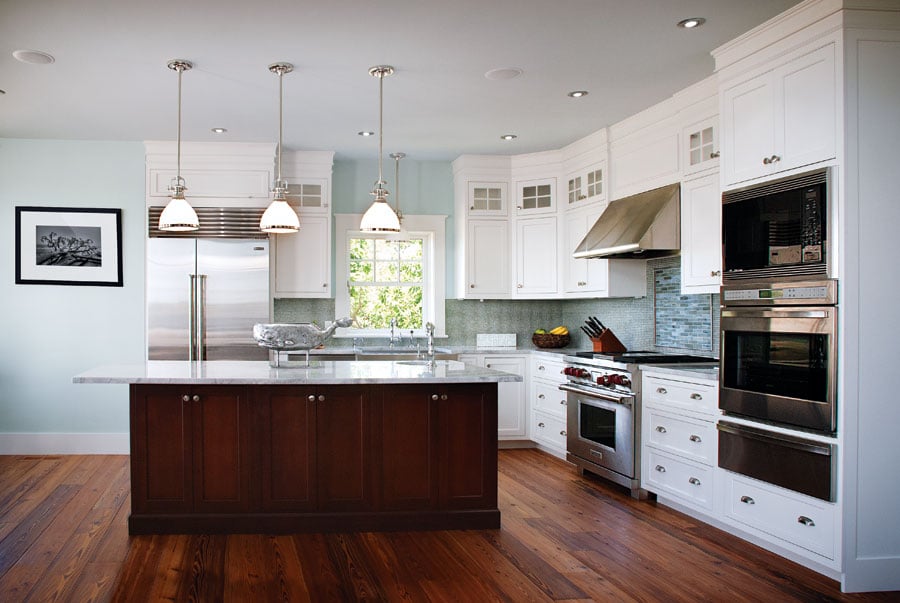 The home was designed with entertaining in mind, providing generous space throughout. The home automation by Home Genius continues in the kitchen, which features a vacuum system hidden within the island. The custom cabinetry is also by Home Genius.
Three years ago, Debra Torres and her husband, Bob, were driving around Common Fence Point in Portsmouth when they spotted a worn down summer cottage by the water that looked like the perfect downsizer home once the kids were off to college. After realizing renovations to the existing home wouldn't be possible, the couple chose to buy and rebuild, wanting a lasting home for themselves and future generations. For thirty years, Torres has worked at Horner Millwork, and this project allowed her to use the very products the company offers, including windows, interior doors and mouldings, custom cabinetry, stairways, entrance units and built-in storage spaces, most of which are made locally in Somerset, Massachusetts. "It was kind of like giving a kid a fresh box of Crayola crayons — and I didn't get the eight colors — I got the big box. All these Horner products I know about and have seen produced for our customers, now I had the opportunity to use them in my home."
The flooring in the bathroom features wood and stone to mimic driftwood and rocks from the beach. Home Genius is again featured prominently in this room, with light dimmers and a speaker system to play music. The bathroom also features a custom vanity with ample storage. The living room features large Kolbe windows for sprawling views of the outside. The open layout includes a dry bar with a wine rack and refrigerated drawers for beer and water. The home features plenty of built-ins, such as bookcases, storage spaces and a his-and-hers armoire.
Torres worked with builder PJR Construction, home designers at Cornerstone Design/Build Services and interior designer Kim Culpan, a personal friend of Torres who passed away from cancer shortly after the project was complete. "To her dying day, she was picking out fabrics with me just to get everything perfect because, in her mind, she couldn't leave anything undone," Torres says.
With the help of her team and all of Horner's crayons at the ready, Torres and her husband have their Portsmouth dream home to share with their children and grandchildren for many years to come.
---
Millwork:
Horner Millwork
1255 Grand Army Hwy., Somerset, Massachusetts
800-543-5403, hornermillwork.com
Builder:
PJR Construction
448 Park Ave., Portsmouth
401-683-1804
Home Designer:
Cornerstone Design/Build Services
163 Grand Army Hwy., Swansea, Massachusetts
508-679-2500, cornerstone-homedesign.com