Beth Nixon Performs "Lava Fossil"
The interdisciplinary artist uses her imagination for theatrical shows (often performing out of a suitcase).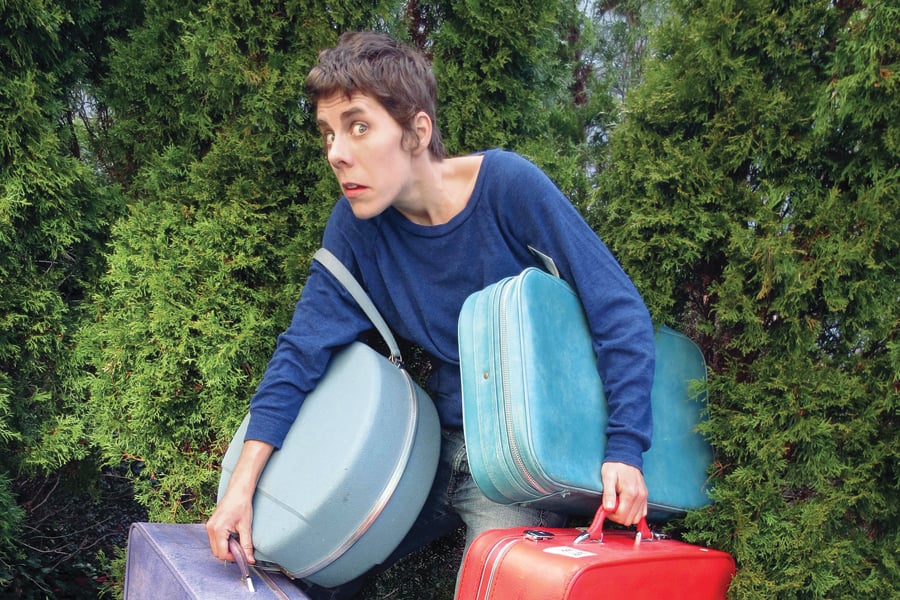 You can't put local performer Beth Nixon in a box. Well, you probably could — she's small, with a wiry frame that folds up neatly on a bench one fall morning on the porch of her bright bungalow in Pawtucket. The box is not quite so literal, although she does spend her time in some tight spaces, navigating entire worlds that she pulls out from a suitcase or peering out from under a creature she's constructed out of paper mache. But these objects are meant to increase imagination, not constrict.
"I have a hard time with categories and labels. I'm someone who resists those," says Nixon, who prefers to bill herself as an interdisciplinary artist, a term she refers to as "loosey goosey."
Nixon's art is more than you could fit in any one container, and her canvas is life. Though she explores her feelings in art forms that come with preconceptions (such as clowning and puppetry), you can tell that it's in her nature to break down walls between what we might think and what could be, what we have seen and what we haven't yet dared to dream. It certainly extends to her setup; she sometimes shares her home studio space with her five-year-old daughter, Ida. "We've had discussions about what are her markers and what are my markers. Sometimes, we work together," Nixon says.
This month, she'll be taking her show, "Lava Fossil," which she performed this summer at the PVD Fringe Festival, on the road to Philadelphia and New York. Written about her father, URI oceanography professor Scott Nixon, who died suddenly of a heart attack in 2012, "Lava Fossil" is a piece that explores "grief and loss and where we go." Using objects both fabricated and found (many of the items are from her father's office, she says), Nixon, who sometimes performs under the name Ramshackle Enterprises, inhabits a world that encompasses our past, our present, and whatever lies beyond.
She says she hopes to put on a more informal performance for local audiences one more time, getting her mind and body back into those suitcases she lugs around. "At the same time that my dad died, my kid was three, and she was just sort of comprehending what it means to exist in the first place," Nixon says. "The show explores this in relation to larger losses and ruptures and tears in our fabric — volcanic eruptions, dinosaur extinctions and things that seem to continue on in spite of death." ramshackleenterprises.net