The Best Towns in Rhode Island
There's a place for every personality.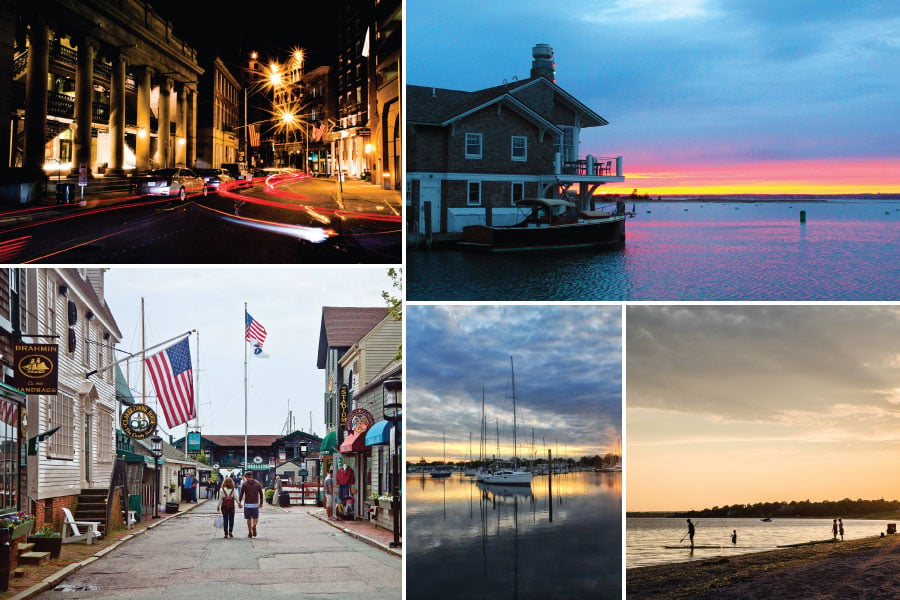 There are thirty-nine towns and cities in our less than 1,300 square miles, and they've all got personality. We consulted real estate agents and others in the know to help us find the best ones for different needs. So whether you want to live in the thick of the action or would prefer to escape into the woods, thank you very much, we've rounded up fifteen places in Rhode Island that you can call home.
East Greenwich
Republicans
In an overwhelmingly Democratic state, East Greenwich is the rare Republican holdout. Former Governor Don Carcieri is a part-time resident, the state party holds functions at 1149 Restaurant and the town council is composed of three Republicans and two Democrats (though the actual number of voters in the 2014 election tipped in the other direction, with 2,473 Democrats to 2,195 Republicans). The waterfront town filled with historic houses enjoys one of the highest median incomes in the state at $97,623, and residents can spend their hard-earned dollars at high-end shops and restaurants along Main Street. Meanwhile, budding politicos can hone their debating skills at some of the best schools in the state.
Median home price: $440,000
Real estate property tax rate: $23.26
High school ranking: 6
Burglaries: 35*
East Providence
Democrats
As of last Election Day, Democrats outnumbered Republicans in East Providence by 17,103 to 2,713 — less than larger cities such as Providence and Pawtucket, but still by a sizable proportion. The city's population of more than 47,000 is more working-class than Jamestown, where "Impeach Bush" stickers appeared on Volvos, though parts of Riverside and Rumford are decidedly more upscale. East Providence did have a Republican mayor in recent years, but the diverse city — made up of many immigrants from Portugal, Cape Verde and the Azores and their descendants — has remained largely a Democratic stronghold.
Median home price: $181,500
Real estate property tax rate: $22.95
High school ranking: 29
Burglaries: 144
Glocester
History Buffs
Driving down the main street through the village of Chepachet is a trip back in time. You'll pass the Dorr Rebellion Museum and the elegant white steeple of Chepachet Union Church on your way to the center of town. Warm yourself by the fire of the historic Tavern on Main, and you just might encounter the resident ghost. The Glocester Heritage Society provides more links to the past and you can browse the historic books and crafts by local artisans at the Brown and Hopkins Country Store in the antique shop section of town.
Median home price: $246,000
Real estate property tax rate: $21.77
High school ranking: 14
Burglaries: 19

barrington beach, Kaitlin Gladney
Barrington
Suburban Strivers
Academics and executives angling to get their kids into the best colleges possible need look no further than Barrington, where schools are consistently ranked among the best in the state. Named by Money magazine one of the best towns to live in the United States, this waterfront community has a median single-family home price of $414,500, making it prohibitive to some (though West Barrington remains a more affordable option). The family-friendly downtown mall area includes a great local bookstore, butcher and ice cream shop, plus liquor stores that opened after the town gave up its status as the last dry town in Rhode Island in 2011.
Median home price: $414,500
Real estate property tax rate: $18.30
High school ranking: 1
Burglaries: 49

sandywoods in tiverton, rupert whiteley
Tiverton
Aspiring Farmers
Do you want to raise both kids and cows? The beautiful terrain of this Aquidneck Island town has had an unspoiled rural quality since before Colonial times. Long home to many family farms and stands, it's also attracting a new generation of growers. Can't afford your own slice of earth? Sandywoods, a community designed to promote the arts and sustainable agriculture, rents affordable cottages and has lots and future homes to buy. For even more nature, check out the rugged beauty and wildlife at Fogland Beach. And you can support dairy by eating ice cream and cheese from some of the great shops in Four Corners.
Median home price: $235,000
Real estate property tax rate: $19.30
High school ranking: 31
Burglaries: 122

providence at night, Anthony Nathan photography
Providence
Arts Lovers
When it comes to the arts in Providence, the question is not so much what is there to do, but more what do I have to choose between? The Creative Capital's colleges and universities attract and generate talent and neighborhoods like Olneyville have long been magnets for artists. The Providence Performing Arts Center and the Veterans Memorial Auditorium bring internationally known acts to town, the Columbus Theatre and Fete feature talent from near and far, and RISD Museum's cutting-edge exhibits attract arts lovers from all over. You can tour the city's many galleries, catch Richard Jenkins and some of the other great actors at Trinity Rep, get cozy with the dancers at Festival Ballet's "Up Close on Hope," or just snuggle into a leather couch and take in a documentary at the Cable Car.
Median home price: $487,500 (East Side), $126,000 (whole city)
Real estate property tax rate: $19.25
High school ranking: 2 (Classical)
Burglaries: 1,834

block island, thinkstock
New Shoreham
Nature Lovers
Block Island's nine square miles are filled with a range of almost unimaginable beauty, from its beaches to its bluffs, dunes, grasslands and ponds. More than 44 percent of the island is protected, and it's home to more than forty species of rare and endangered animals. Named one of the last great places in the western hemisphere by the Nature Conservancy, the island isn't only popular with summer tourists; migratory birds depend on the island on their flights north and south. Biking around the island and hiking through the greenway trails are popular pastimes, as is just collecting shells along a beautiful remote stretch of beach.
Median home price: $950,000
Real estate property tax rate: $5.34
High school ranking: N/A
Burglaries: 6

beavertail in jamestown, thinkstock
Jamestown
Paradise Seekers
There are many beautiful places to live in Rhode Island, but Jamestown is in a class of its own. There's a reason the town's catchphrase is "A bridge away, a world apart." Nine miles long and one mile wide, Jamestown residents can peep eight lighthouses and the Newport Bridge from its shores, or take in the rugged beauty of Beavertail. With just about 6,000 residents, the town has maintained a historic feel, preserving farms and windmills, while its shopping area is dotted with galleries plus all the amenities residents might need. Graced with both beautiful historic and modern houses, Jamestown has long attracted artists, second-home seekers and other movers and shakers, including a former governor.
Median home price: $482,000
Real estate property tax rate: $8.75
High school ranking: 5 (North Kingstown)
Burglaries: 5

all photos by komorton, except lorax by Chrissy Field
Warren
Urban Converts
Creative types looking to flee the hassles of city living but who still want access to plenty of art, music and good food have found a haven in Warren. More affordable than the neighboring towns Bristol and Barrington — but still on the water — Warren has both culture and community with its Art Nights, 2nd Story Theatre, coffee shop and bars. It's also a destination for food lovers with the opening of food incubator Hope and Main and restaurants such as Metacom Kitchen, Simone's and Eli's Kitchen. Still miss the city? Providence and Newport are both short drives away.
Median home price: $260,250
Real estate property tax rate: $20.09
High school ranking: 13
Burglaries: 71

newport couple, Joey Lax-Salinas
Newport
Vacationers by the Sea
The City by the Sea has long attracted wealth. Colonial merchants made fortunes here, sometimes in the slave trade. By the mid-nineteenth century, people like the Astors and Vanderbilts built mansions that attract tourists from around the world to Newport today, while breathtaking homes overlook the sea on Ocean Drive. Edith Wharton captured the high society in Newport in her novel, The End of Innocence, and John F. Kennedy Jr. and Jacqueline Bouvier got married at St. Mary's Church. While Newport faces challenges many municipalities confront, it undeniably still attracts boldface names: President Obama stopped in for a fundraiser not long ago, Martha Stewart hung out for a few weekends last fall and, hey, was that Oprah's yacht?
Median home price: $415,750
Real estate property tax rate: $12.06
High school ranking: 32
Burglaries: 177

wickford harbor, mary shelsby
Bristol
Empty Nesters
With stunning views of Narragansett Bay, great restaurants and shops in its Norman Rockwell-esque downtown — plus the oldest Fourth of July celebration in the United States — Bristol has become a destination for people from other states looking for a great place to retire. Sailors enjoy access to multiple docks while others bike, walk or even cross-country ski along the East Bay Bike Path. Shoppers can stroll among the many shops and galleries, while garden lovers can delight in the beauty of Blithewold. It's also foodie heaven, with options ranging from breakfast at Beehive Cafe to wiener schnitzel at Redlefsen's or a tasting menu at Persimmon.
Median home price: $303,750
Real estate property tax rate: $13.06
High school ranking: 13
Burglaries: 34
Cranston
The Center of Attention
Often described as a microcosm of Rhode Island, Craaanston has it all: homes in Edgewood overlooking the bay, the quaintness of Pawtuxet Village, the diversity that befits the third largest city in the state and suburban shopping at its best at Chapel View and Garden City Center. Home to powerful House speaker Nicholas Mattiello, the city has also yielded such talents as Miss Universe 2012 Olivia Culpo. Just watch out for the parking tickets.
Median home price: $188,000
Real estate property tax rate: $22.84
High school ranking: 21 (Cranston West)
Burglaries: 310
North Kingstown (Wickford)
Villagers
Roger Williams knew what he was doing when he established a trading post in one of the most protected harbors on the East Coast. Today, you can still watch fishermen head out of the working waterfront and appreciate the seventeenth- and eighteenth-century houses and churches. Follow the twinkling lights and stroll along Brown and Main streets and you'll encounter some of the best antiques, clothing, book and gift shops in the state. Or browse each summer at the popular Wickford Art Festival.
Median home price: $307,000 (North Kingstown)
Real estate property tax rate: $18.91
High school ranking: 5
Burglaries: 60
West Greenwich
Space Seekers
West Greenwich is the least densely populated town in the state, and it's proud of its rural character. Just about 6,000 residents share its mostly wooded fifty-one square miles and lots generally start at one acre. The town is also home to the highest amount of protected land in the state, with escapes like Arcadia State Park, Big River Management Area and Tillinghast Preserve. Locals also maintain their independent spirit with few public services and by voting on the town budget.
Median home price: $259,000
Real estate property tax rate: $22.55
High school ranking: 12
Burglaries: 29
Warwick
First-time Home Buyers
With the median price of a family home in Rhode Island about $215,000, Warwick is a comparative bargain. Buyers could purchase a house for the median price of $175,000 in 2014. There's also opportunity for a cute bungalow close to the water in the second largest city in the state. Meanwhile, longtime state attraction Rocky Point has been reimagined as a waterfront park, and with more than thirty public and private elementary schools, there are options for young families. At the same time, it's career-friendly: close to the airport and train to Boston and with employers like Kent Hospital, Warwick was recently named a center for global trade.
Median home price: $175,000
Real estate property tax rate: $20.06
High school ranking: 18 (Toll Gate)
Burglaries: 288
---
Key: *The median single-family home price comes from Rhode Island Associations of Realtors 2013. The property tax rate comes from the municipalities. The high school ranking is the highest- ranking high school in the municipality in a scorecard compiled for Rhode Island Monthly's education issue in September 2014. The burglary figure comes from Rhode Island state police's 2013 report, based on the FBI's uniform crime reports.