2017's Best of Rhode Island!
Editors and readers name their picks for the state's best spots for food, shopping, fun and beauty.
[/vc_column_text][/vc_column][/vc_row]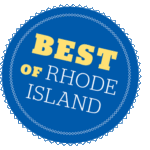 Play: Treat Yourself to Something New and Indulge in Out-of-the-Ordinary Evening Experiences.
Goat Yoga

Simmons Farm
Need to get out of your own head? Try a baby goat on your back. Simmons Farm's summer goat yoga classes take place on a pastoral hill overlooking the ocean. Yogis carry a fuzzy kid to the practice area, then settle in on their mats for beginner-friendly poses. From sun salutation to closing om, the little goats snuggle on your mat, hop on your back and sweetly remind you to go with the flow. 1942 West Main Rd., Middletown, 848-9910, simmonsorganicfarmri.com
Dog-Friendly Outing

Clementine's Homemade Ice Cream
This new shop — named after the owners' pooch, Clementine — serves up homemade delights for humans and canines. Cross our heart, you'll never taste a better pistachio. And your furry best friend? He'll sport a full-body wag over a cup of doggie frozen dessert (think: banana with dog biscuit chunks). 250 Main St., East Greenwich, 234-9742
Music Festival

PRONK!
The Providence HONK! Festival is a sprawling bash on Indigenous Peoples' Day (a.k.a. Columbus Day, October 9 this year). The high-spirited parade, which is powered by a dozen-plus local ensembles, kicks off at India Point Park, roars down Wickenden Street and ends on the shores of the Providence River for some nighttime revelry. If Memorial Day is the unofficial start of summer, PRONK! is its ceremonious last blast. providencehonkfest.org
Writing Community

Frequency Writers
At Frequency, writers — from novices to veterans, of all ages and backgrounds — collaborate with fellow scribes, sharing their words at workshops, readings and open mics, and furthering their craft with courses on publishing, poetry, fairy tales and more. Check the website for events and let your voice be heard. 186 Carpenter St., Providence, frequencywriters.org
Seaside Tour

Rail Explorers
These pedal-powered mobiles cover about six miles of seaside terrain, traversing over Founders' Brook and under the Mount Hope Bridge. The best part? You're the power source, so you can go slow and enjoy the scenery or pick up the pace. Don't sweat it: The seaside breeze will cool you down. 1 Alexander Rd., Portsmouth, 877-833-8588, railexplorers.net
Podcast

Crimetown
Gimlet Media built a hugely successful podcast atop the bloated, seedy underbelly of Providence's past. And we're not even mad about it; it's that good. With Buddy Cianci at its center, Crimetown reminds us how far we've come from the violence, corruption and mob influence of the '70s, '80s and '90s — and how far we still have to go. crimetownshow.com
Community Networking

Bridges Brown Bag Lunch
Caring for a disabled adult can be isolating, particularly for families not plugged into big social service agencies. Amy Barclay of Simpatico Jamestown created the Bridges Brown Bag Lunch series, which is open to all Rhode Islanders with special needs, to help this community network. Each Thursday, during the summer, the restaurant hosts the outdoor space and provides beverages, while thirty to forty regulars and caregivers bring lunch and brainstorm. For Barclay, the parent of a disabled child, "It's an amazing sense of community." Simpatico Jamestown, 13 Narragansett Ave., Jamestown, bridgesinc.com
New Music Venue

Pump House Music Works
Luthiers-in-love Dan Collins and Ariel Rose Bodman packed up their guitar-building business and moved from the Shady Lea Mill to Peace Dale, where they've transformed the former Pump House restaurant into a combination workspace, classroom, performance venue and home. Ready to crank your creativity up to 11? Build your own guitar during the week, then groove to live local music every weekend. 1464 Kingstown Rd., Wakefield, 824-9971, pumphousemusicworks.com
Artsy Social Event

Art After Dark
Art After Dark, which is held from 5 to 9 p.m. on the second Thursday of each month, regularly spotlights the diverse exhibits at the NAM. But the "art" in the title also encompasses concerts, artist talks, opening receptions and gallery games at the stately establishment. The socializing is enhanced by a cash bar and the art of conversation. Newport Art Museum, 76 Bellevue Ave., Newport, 848-8200, newportartmuseum.org
Cooking Class

School of Fish
The nonprofit Eating With the Ecosystem organizes the monthly cooking classes, led by renowned local chefs and featuring underutilized local species. At a recent class, chef Branden Read of Celestial Cafe transformed the oil-rich mackerel into chowder, sliders and a roasted masterpiece atop quinoa. Attendees learned how to do it themselves, then feasted with wine and good conversation. Hope and Main, 691 Main St., Warren, eatingwiththeecosystem.org
All-Season Hangout

Rooftop at the Providence G
The roof, the roof, the roof is on fire. Not literally, but kind of. A recent renovation moved the bar at the Rooftop and made way for fire pits that blaze into the night all summer long and in the winter, too, when snow adds to the cozy ambience. The glass-enclosed roof retracts in warmer weather, but you can soak up the stars in any season while dining and drinking the night away. 100 Dorrance St., Providence, 632-4904, rooftopattheg.com
Talkback Program

Ovation and Conversation
Trinity Rep, the State Theater of Rhode Island, offers a wealth of ways to talk about plays — Lunch and Learn; Great Writers — but its newest series might be the most fun. After the last performance in a run, Conversationalist-in-Residence Christina Bevilacqua (formerly of the Providence Athenaeum) hosts a post-show party, featuring conversations between the cast and audience about a production's relevance today. Ticket holders from previous shows are invited. Trinity Repertory Company, 201 Washington St., Providence, 351-4242, trinityrep.com
Kids' Craft Classes

Stitcher
Traci Vaspol and Karen Katin are training elementary schoolers to wield knitting needles and sewing machines with precision. Stitchery, which also offers fun adult workshops, socials and beginners lessons, teaches little ones as young as six how to sew backpack tags, headbands and chocolate-frosted doughnut pillows (with sprinkles). For the sports-adverse, the kids knit club on Saturday mornings is a fun alternative. 14 Potomac Rd., Unit 7, Portsmouth, 556-5543, stitcheryri.com
Family Night

Food Truck Fridays/Movies in the Park
This bimonthly dinner-and-a-movie night is family-friendly and easy on the wallet. Dine from a food truck and go for a spin on the carousel — but, maybe not in that order? — then walk to the boathouse lawn for a PG-rated outdoor film at sunset. The lineup includes The Secret Life of Pets, A League of Their Own and E.T. Roger Williams Park, 1000 Elmwood Ave., Providence
New After-Hours Experience

Fortnight Wine Bar
It's like a dive bar but…nicer. Fortnight, a workers' cooperative bar that's tended by its three co-owners, nails the dark, communal vibe of a neighborhood watering hole. But the drink and food menus are thoughtfully curated — think natural wines, rare beers and super spicy pickle plates — as is the interior design. You can, indeed, enjoy small-batch goodies without a hint of snoot. 79 Dorrance St., Providence, 572-3355, fornightpvd.com
Literary Outing

Point Street Reading Series
For five bucks, hear from an all-star lineup of writers that suit every taste. A recent night featured émigré novelist Boris Fishman; food writer-turned-memoirist David Leite; and Leah Carroll, who published a buzzworthy new book about a turbulent childhood in gritty Providence. The event also features snacks by local vendors. Point Street Dueling Pianos, 3 Davol Sq., Providence, robinkall.com
Rebellious Art: Performance

Providence Fringe Festival
The enemy of freedom is censorship. FringePVD, presented by the Wilbury Group, ups the ante with a bunch of uncensored music, dance and theater over six days in July. The process is simple: National artists apply, and about 100 are plucked via lottery to stage shows across the city. In a hyper-branded age, FringePVD gives us a much-needed dose of spontaneity — and for less than $15 a ticket. Venues in Providence, fringepvd.org
Rebellious Art: Music

Downtown Boys
Providence-based punk band, Downtown Boys, fronted by Victoria Ruiz, eviscerates politics, capitalism and discrimination in two languages. A new deal with Sub Pop affords the group some international reach, but make no mistake: Downtown Boys paved its own way with raw talent and barbed, relevant songwriting. New album, Cost of Living, debuts on August 11. downtownboys.bandcamp.com
Rebellious Art: Visual

"New and Dangerous Opinions"
This exhibit — the first addition at the RWNM in twenty-five years — examines the "new and dangerous opinions" Roger Williams espoused. The display pairs the theologian's quotes about equality and freedom with contemporary issues (think: refugees, same-sex marriage, Black Lives Matter). The small but striking presentation proves our founder's beliefs are still relevant after four centuries. Roger Williams National Memorial, 282 North Main St., Providence, 521-7266