2017's Best of Rhode Island!
Editors and readers name their picks for the state's best spots for food, shopping, fun and beauty.

Couples hold hands as they wander the streets, the smell of warm asphalt perfumes your commute and the AC dial is cranked up to high: Summer is in full swing. With the arrival of the season of sun and fun affords a bevy of opportunities to experience the best our state has to offer.
We did the hard work for you, strapping on our sandals and exploring to find the best of the best. This year's winners include a yoga studio where baby goats play a role in your downward dog, an East Greenwich sandwich shop that will leave you salivating, a new spin cycle studio to burn off those winter pounds and more. With so much to see, eat and do, there's no time like the present to hitch up your shorts, slap on some flip flops and get out there!
Contributors: Courtney Coelho, Jamie Coelho, Bob Curley, Karen Deutsch, Sarah Francis, Serena Gaitskell, Pippa Jack, Grace Kelly, John Kiernan, Nancy Kirsch, Nicole Mineau, Casey Nilsson, Lou Papineau. Photography: James Jones, Angel Tucker, Chris Vaccaro. Illustrations: Anderson Newton Design.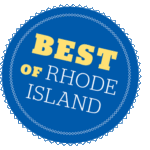 Food: The Latest and Greatest in Good Eats and Potent Pours.
BBQ Brisket
Durk's Bar-B-Q
Sliced brisket at Durk's is smoky, charred and the perfect foundation for some onions and jalapeños. But the chopped brisket sandwich is even better. Stuffed into a soft roll, it alternates unctuous flavor with bites of crunchy exterior for everybody's favorite version of barbecued beef. One is never enough, so make sure you order an extra sammie to sit at the bar with and a shot of whiskey or a hard pineapple cider to chase. 275 Thayer St., Providence, 351-2807, durksbbq.com
BBQ Pork Belly

Binge BBQ
Binge BBQ offers a variety of smokehouse staples to Newport diners, but none are more indulgent than the Char Siu pork belly sandwich. Sticky and sweet Asian-inspired pork belly is served in slices on a sub roll with chicken liver pate, bologna, radish, cilantro and roasted garlic chipotle aioli. What is even happening here? It's a mind-boggling and delicious confluence of culture packed onto white bread that defies all culinary laws except audaciousness. Bring on the meat sweats. 12 Broadway, Newport, 619-3799, bingebbqri.com
Sandwiches

Feast Sandwich Company
We. Want. More. Feast Sandwich has simply fed our addiction for anything on bread. Meatloaf and melted cheddar and brown gravy? Check. Sliced pastrami with fried pickles and coleslaw? Check. Beer-battered, deep-fried hot dogs with sauerkraut and garlic aioli? Yes, please. As if we weren't fixated enough on the main course, they also want to incapacitate us by way of side dishes. Try the crispy chicken skin with honey or the poutine with two kinds of cheese, gravy and an oozy egg yolk. 431 Main St., East Greenwich, 398-8011, feastsandwichcompany.com
Dinner and Drinks

Statesman Tavern
Some people consider their drink secondary to their meal — but not Sam Glynn. He's formed Statesman Tavern around equilibrium between drinks and dinner. In this case, dinner is the familiar: braised beef with tater tots, chicken and dumplings, shrimp and grits, alongside family-style fried chicken, steak and whole fish dinners served Tuesday through Thursday. Cocktails meander into the eclectic. There are new twists on the Negroni, Manhattan and Mule — but just as many new options (including a new tiki lounge on Thursdays) and a carefully chosen craft beer list with local options. Come parched, leave happy. 31 State St., Bristol, 396-5115, statesmantavern.com
New Italian

Massimo
Everything old is new again. Last year, Pane e Vino owners Joseph and Esther DeQuattro took over the largest spot on Federal Hill, named it Massimo and managed to make it both homey and modern. Everything is recognizable but nothing is staid: Pizza is topped with mortadella, potato and poached pear, gnocchi is served with braised short ribs, and ravioli is stuffed with burrata and tossed with asparagus, tomato and extra virgin olive oil. Italy is born again, one plate at a time. 134 Atwells Ave., Providence, 273-0650, massimori.com
Casual Southern

Bucktown
If you've got a spare ten bucks, bring it on down to Bucktown, a West Side homage to low country Southern fare. Fried chicken, po'boy sandwiches and fried bologna are the dishes that define a Southern summer, hanging out with family and loving life. Add some collard greens or cucumber salad and a little slice of Rhode Island is awash in magnolia trees and Southern spirit. 471 West Fountain St., Providence, 343-0441, bucktownpvd.com
Authentic Chinese

Jahunger Restaurant
Forget the basic pan-Asian buffets of yore and head to Jahunger, a homey new spot in Fox Point serving traditional Uyghur cuisine from northwestern China — read: if the Middle East and China had a food baby, this is it. While scallion pancakes and lamb kavaps are required eating, Jahunger's toothsome housemade noodles are the star of the show. The restaurant's namesake dish features beef, uncut chives, lengthy noodles and a spicy "secret sauce." Here's the secret: It's really tasty. 333 Wickenden St., Providence, 861-2735
Bite-Size Eats

Tom's BaoBao
Sandwiches used to be the only truly portable lunch — but that was before baobao hit Providence. Tom's makes these fresh dumplings by hand, wrapping meat and vegetables in a bread-like dough that steams to tender consistency. Sure, you can buy every variety for yourself but doesn't today seem like a good opportunity to have an office party? 326 Westminster St., Providence, 714-0250, tomsbaobao.com
Slush

Kung Fu Tea
Summer has a lot of things going for it but few things are more coveted than a cold drink on a hot day. Wedged on the perimeter of the Brown campus, Kung Fu Tea is a beverage circus, full of color and dazzle. Fruit slushes, iced tea and milk teas are served with tapioca pearls, nato jelly and red beans in rainbow colors and sealed cups so that you can quench your thirst while reclining on a lounge chair. If you like things sweet, try the taro or winter melon. 110 Waterman St., Providence, 861-1888, kfteausa.com
Mexican Takeout

Diego's Bodega
Fans of Diego's in Newport can now take a piece of the restaurant home with them. Diego's Bodega is part market, part restaurant, part caterer — intent on filling your home kitchen with all things Mexican. Take a giant burrito, torta or salad out for lunch or comb the retail fridge for dinner at home; chili rellenos, porchetta chili, empanadas and enchiladas are packed and ready to reheat. Don't forget to pray that tres leches cake is available the day you stop in. 124 Aquidneck Ave., Middletown, 619-1717, diegosmiddletown.com
Bar Food

Cook and Dagger
Cook and Dagger knows what people want to eat at 11 p.m. at night: The rotating flavors of chicken wings might be enough, but consider downing a plate of manchego croquettes with chipotle aioli or toasted bread with duck confit and camembert. Perhaps pork belly quesadillas with charred pineapple? If your best eating happens halfway between dinner and breakfast, you've found your home. 566 Putnam Pike, Greenville, 349-3927, cookanddagger.com
Bakery

Sin
Sin moved to a sleek retail space on the West Side to display its indulgent creations. Favorites (like chocolate cupcakes with tiny red devil horns in the frosting) are listed as Vices while the weekly specials are deemed occasional Virtues. There are plenty of over-the-top creations — including occasion cakes made to order — but passing up the divine brioche roll is a sin against culinary judgment. It's the best in town. 1413 Westminster St., Providence, 369-8427, eatwicked.com
Bagels

Rebelle Artisan Bagels
Each hand-rolled, boiled and baked round has its own shape with a blistered exterior, soft interior and a helluva lot of seeds sprinkled on the outside. Hand-mixed cream cheese schmears involve flavors like bacon chipotle and berries and honey. Until the bakery opens on the East Side, you can find them at Cook and Brown's brunch and the Hope Street farmers market once a month. Collaborations with Revival Brewing, Chi Kitchen kimchi and the Backyard Food Company have broadened the bagel sandwich possibilities. 110 Doyle Ave., Providence, rebelleartisanbagels.com
Popup Restaurant

Laughing Gorilla Catering
We had a case of the happy sads when Laughing Gorilla's chef Jason Timothy moved out of the temporary popup restaurant inside Kitchen earlier this year. While the owner of Kitchen recuperated from illness, J.T. and crew served up tacos, salads and sandwiches with house-cut and fried potato chips, and occasional multi-course dinners with beer from partner Sean Larkin of Revival Brewing. Sometimes, it was a popup within a popup as Laughing Gorilla shared the love with other businesses like Rebelle and Chi Kitchen. As the catering company prepares to move into its new permanent location at the former Bocado in Olneyville, look for popup patio events at the new digs. 484-0431, laughinggorilla.com
Brunch

Simone's
Sometimes it's worth reiterating the things we've always loved. Chef Joe Simone may have moved his namesake eatery into a polished new building, but it still holds the same cozy appeal. From the sweet (hot doughnuts with fresh berry jam) to the savory (olive oil basted eggs with marinated tomatoes and wood-grilled focaccia), Simone continues to make weekend brunch the happiest meal of the week. If only we could show up in our pajamas. 275 Child St., Warren, 247-1200, simonesri.com
Kimchi

Chi Kitchen
Minnie Luong took a family recipe and turned it into a full-fledged business. Her umami-packed fermented cabbage is brined with kosher salt and combined with julienned ginger, chopped garlic and onions, Korean red pepper and first press fish sauce from wild caught black anchovies. "It's the Champagne of fish sauces," says Luong. There's also a vegan variety made with non-GMO miso. Not only does this kimchi taste delicious crammed in a sandwich, as a topping for meat or straight out of the jar, but it also contains gut-busting probiotics that help ward off sickness. chikitchenfoods.com
Cocktails Made Easy

Bootblack Brand
Even if you don't have bartending skills you can pretend that you do by experimenting with these locally made complex cocktail and soda syrups. They come in versions Ginger Cardamom Lime, Cranberry Jalapeño and Classic Citrus Tonic Syrup, which can be stirred or shaken with two parts mixer and one part spirits for balanced cocktails at home. bootblackbrand.com
Neapolitan Brick Oven Pizza

Federal Hill Pizza
We were already regular customers at Federal Hill Pizza's Warren location when we learned the owners were opening a second location in Providence, revamping the historic Castle Theater and turning it into a restaurant and, eventually, pizza school. The sprawling space boasts two fancy Italian brick ovens, expansive seating and great craft beer options. Order the thick and crusty square al taglio style pie and call your friends to come help you eat it. 1039 Chalkstone Ave., Providence, 331-3310, federalhillpizza.com
Gluten Free and Paleo Eats

Blackie's Bulldog Tavern
Hanging out at a bar isn't the easiest way to avoid grains, but sit a few feet from the beer and Blackie's offers the state's most inventive approach to protein-rich eating. You can take the really clean approach: Tuna poke with avocado and pineapple is a summer ritual. But regulars gravitate toward the pulled pork nachos, one of the paleo power plates with braised brisket and two sides, or even the shwarma-style Baffoni chicken piled onto corn tortillas. There are even several gluten-free beers, a cider and cocktails for those who can't forgo a tipple. 181 George Washington Hwy., Smithfield, 231-4777, blackiesbull
dogtavern.com
Mobile Sausage Cart

Gastros
Got a hankering for gourmet smoked sausages and not-your-average frankfurters? Gastros puts its own spin on food truck fare by focusing on presentation. The perfectly grilled housemade sausages and garlic butter brioche buns are worthy of their own magazine spread, topped with fresh herbs and hand-mixed condiments. Try the bacon cheddarwurst, smoked chorizo, chicken sausage and customized hot dogs. We follow this cart on social media in dogged pursuit. 302-0589, gastros401.com
Coziest Coffee Shop

The Nook Coffee House
Settle into the comfy chairs inside the back nook at the aptly named Nook Coffee House where you can savor a frothy latte or iced coffee, pour kombucha on tap or sip the aromatic Dirty Chai made with cinnamon, cardamom, cloves and ginger ground with black tea and espresso. Syrups are house made with vanilla beans, lavender and other herbs and spices. There's no need to rush when service is this friendly and the surroundings beg you to sit for a spell. 307 Main St., East Greenwich, 402-0029, nookcoffeehouse.com
Simple Cup of Coffee

Borealis Coffee Roasters
There are no sugary syrups or Unicorn Frappucinos here: The coffee beans speak (or waft) for themselves. The flavor is in the tasting notes and roasted aromas coming from owner Brian Dwiggins's unusual varieties. He educates people that the coffee itself can have mind-blowing flavor, and you don't really need that extra, extra if you start with flavor profiles from quality beans. 250 Bullocks Point Ave., Riverside, 919-5779, borealiscoffee.com
New Cafe

Sydney
Sydney is everything you dream about in a coffee shop: freshly brewed lattes, outrageous hot chocolates made with Ghirardelli chocolate and steamed milk (we tried the limited edition s'mores) and a soothing space to work in or simply admire the art. The cafe stays open until early evening and offers an array of sandwiches and salads from avocado toast with fresh tomatoes to house-sliced turkey and Vermont sharp cheddar on heavily seeded bread from Iggy's. Sometimes we stay from breakfast to lunch, just to eat our way through the baked goods. 400 Exchange St., Providence, 648-4994, sydneypvd.com
Cheesesteaks

Tilly's Cheesesteaks
Light eaters, be forewarned: Cheesesteaks and burgers barely fit on over-sized trays. Friendly staff, casual environment, sandwich options galore and a children's menu — what's not to like? Build your own cheesesteak from nearly thirty-six items or opt for Tilly's pb and j — pork belly, jalapeño queso, jalepeño mustard, pickles, lettuce, tomato, onion and fresh cilantro — one of six signature cheesesteaks. Desserts include Mexican sopapillas, cow pies filled with cream cheese frosting and milkshakes with every ingredient sourced from Rhode Island. 3711 Kingstown Rd., West Kingston, 783-7711, tillyscheesesteaks.com
Beer Festival

Beervana
Beervana is a bounty of fermented riches with the brewmasters, owners and distributors of sixty breweries (from Rhode Island, the United States and worldwide) pouring rare, exclusive and simply divine beers on both levels at the resplendent venue. And you can enhance your sipping with seminars presented by beer industry legends. This year's fest is on October 20 — treat yourself to a night of beer heaven. Rhodes on the Pawtuxet, 60 Rhodes Pl., Cranston, beervanafest.com
Most In-Demand Beers

Proclamation Ale Company
All roads lead to Proclamation Ale Company for weekly releases of fantastic four-packs and special bottles (the current destination is West Kingston, but they'll soon be relocating to a six-times-larger space in Warwick). Scores of dedicated fans line up for brewmaster Dave Witham and his team's variations of Alpaca Magi (a sour ale), Mouth Breather (a fruited IPA that alternates peaches and mangoes or both), and a parade of acclaimed IPAs and pale ales (Ethereous, Tendril, Derivative and many more). The designs on the bottles and cans, by Dave's wife, Lori, are as engaging as the beers within. 141 Fairgrounds Rd., West Kingston, 787-6450, proclamationaleco.com
Inventive Beers

Long Live Beerworks
Brewmaster Armando DeDona has won an ardent fan base with his ever-creative concoctions, which combine fun flavors and fanciful names, often a nod to his musical tastes. Standouts have included Shake Appeal (a song by the Stooges), an IPA with strawberries, banana, vanilla bean and cocoa; Cereal Milk, an IPA with passionfruit and lactose that was inspired by PVDonuts; and Course Grind, a stout made with an espresso blend from Dave's Coffee. 425 West Fountain St., Providence, longlivebeerworks.com
Brewery Experience

Tilted Barn Brewery
Tilted Barn started as a Christmas tree and hop farm and has evolved into the state's most distinctive brewery for New England-style IPAs. Matt and Kara Richardson's superb brews are crafted in its charming 100-plus-year-old namesake structure; visitors line up every weekend for pours samples and cans to-go, plus the occasional visit from the Pat's Pastured and Pink Pig food carts and Walrus and Carpenter Oysters. And you can combine a beer run with tree-tagging 'round the holidays! Ho-ho-ho! 1 Hemsley Pl., Exeter, tiltedbarnbrewery.com
Vegan Ice Cream

Like No Udder Shop
You won't miss the dairy in Karen Krinsky's icy, creamy creations made with soy-based soft-serve, or hard ice cream blended with cashew, coconut or peanut bases produced right in the shop. There are up to twelve flavors available in the retail store and some favorites include Thai iced tea, mint chip and coconut lace. Even vegan shakes sub in coconut, almond or soy milk for udder-free drinks. Catch the food truck for vegan soft-serve and other treats. 170 Ives St., Providence, 419-8869, like-no-udder.com
Farm Fresh Ice Cream

The Ice Cream Barn
The Ice Cream Barn over the border in Swansea, Massachusetts, is where happy cows at the sixth-generation Baker Farm produce milk. Rhody also plays a role; it's at Winsor SB Dairy in Johnston where that milk is pasteurized, and then returned to the farm to make rich and creamy goodness. The family blends local berries, honey, maple syrup, apples and cranberries into delightful flavors like apple crisp, black raspberry berry, cranberry jubilee and maple walnut. 289 Locust St., Swansea, Mass., 508-567-6278, theicecreambarn.com
Thai Ice Cream Rolls

Mike's Ice
This food truck is run by a veteran and the business is named in memory of a fellow serviceman. To make the creations, a homemade ice cream base is poured onto the cold plate and mixed with baked goods and fresh toppings, then it's frozen flat, scraped with a paddle and coiled up to create curls of flavor. This mobile vendor is on a roll with popular renditions like #Instagood (vanilla base with Oreo, chocolate chip cookies and cookie dough) and #RelationshipGoals (Reese's Cup, peanut butter, fudge and Reese's Pieces). mikesicetruck.com
Creative Gourmet Doughnuts

PVDonuts
PVD is the rebellious teenager of the fried dough world: Flavors are audacious, coffee is dark and customers think nothing of waiting an hour for their fix. There's a different menu every month and it covers far-reaching ground, from towering moon pie doughnuts, to maple glazed bacon bombs and doughnut holes that come with their own dropper filled with syrup shots. 79 Ives St., Providence, pvdonuts.com
Classic Gourmet Doughnuts

Knead Doughnuts
Knead is the style-savvy adult. Its Custom House Street shop is awash in marble and brass, its baked goods perched on retro cake stands. The menu revolves around favorites that tweak tradition: neon raspberry fritters, brioche dough coated in a sheen of passion fruit glaze or stuffed with jam and slicked with chunky peanut butter. (They also deliver for those unwilling to spend their work day in line.) 32 Custom House St., Providence, 865-6622, kneaddoughnuts.com
Noodle Bar

Boru Noodle Bar
The only noodle bar in Newport (and we think the best ramen in Rhode Island), Boru packs pork belly, egg and napa into its most popular bowl. But don't miss spicy miso ramen with pork, corn and bean sprouts, the housemade kimchi and melt-in-your-mouth basil chili wings. The small dining area is the perfect place to cozy up with warm noodles, which is way better than packaged
ramen in your college dorm room. 36 Broadway, Newport, 846-4200, borunoodlebar.com
Family Style Chicken

Wright's Farm Restaurant
Wright's Farm is part banquet hall, part gift shop and all chicken. If you took a time machine back to the 1970s, you'd end up at a Wright's table with your extended family eating iceberg salad, soft rolls and your body weight in baked chicken, pasta and french fries — all for less than $13. It's open only Thursday through Sunday, so that gives you just enough time to forego eating the other three days. 84 Inman Rd., Harrisville, 769-2856, wrightsfarm.com
Korean Chicken Wings

Den Den Korean Fried Chicken
If you're still waiting for a table at Benefit Street's Den Den, you're in luck. Den Den Korean Fried Chicken is open off of Thayer Street and, though it has some of the old favorites, its primary focus is chicken. There are stews, gizzards, sweet and sour strips — but the real draw is the Korean wings in two sauces: soy garlic and spicy chili garlic. If you think Korean food can't surprise you, think again. 182 Angell St., Providence, 234-9955, dendenhospitality.com/dendenfriedchicken
Fried Chicken

Winner Winner
Winner Winner is aptly named if you wake up at night dreaming of fried chicken. The restaurant's beach shack space is as casual and irresistible as its minimalist menu: chicken, biscuits, pickled veggies, mac and cheese and a few other extras. If life were always this simple, we would aspire to nothing more than mealtime. 677 Thames St., Newport, 848-2449, winnerwinnernpt.com