The Best Spots for Brunch and Breakfast in Rhode Island
Trendy newcomers and tried-and-true classics to visit for the most important combined meal of the day.
Brunch merges the most important meal of the day with lunch (the most often ignored and shoveled-down-your-throat-at-your-desk meal of the day). For that reason alone, you're allowed to eat double the calories (whether you take them in liquid or food form is up to you). We're here to provide you with plentiful options — no judgment — so go ahead, dig in and do brunch justice.
THE MENU: Every entree on Blu Violet's international-influenced and American-style brunch menu veers into Instagrammable territory. Chef Joël Eugène puts his own spin on typical morning favorites by adding wow factors in both flavor and appearance. There's usually a local connection to dish and drink ingredients at the restaurant that's named for Rhode Island's state flower.
VIBE CHECK: Sundays feature the Rum and B Brunch, starting at 11 a.m. with a live deejay, Jeremy Braza, spinning nostalgic '90s and '00s R-and-B and old-school hip-hop tunes. Get decked out in your hautiest outfit to coordinate with the bright citrus decor and a cityscape backdrop on the roof deck featuring a scenic view of Providence's iconic Superman building. Snap selfies and watch your "like" count blow up.
GET: French toast isn't just French toast; here it's battered and stuffed with creamy tiramisu custard, drizzled with cocoa, rum and Kahlúa coffee syrup and topped with a tower of whipped cream. Sunnyside eggs get the turned-up treatment as a sidekick to a monster portion of lobster jambalaya with Creole andouille, red beans, Cajun-spiced tomato and peppers or served on top of cheddar grits with pearl onions, pepper, pancetta and beans. The chicken and waffles dish includes a crispy whole fried chicken portioned into two halves (built for sharing) with fluffy buttermilk waffles in the middle and a drizzle of spiced honey.
BOTTOMS UP: Cocktails are named after '90s hits from Whitney Houston to the Notorious B.I.G. There are several sciency drink presentations, including the Big Poppa, which literally arrives with a big bubble atop that's punctured to let out a citrusy smoky aroma over a mix of Bully Boy rum, Aperol, amaro, lemon and orange turmeric. Where My Girls At is more understated, with Industrious Spirit Company's Ornamental gin, passion fruit puree, soda and prosecco. There's even a fancy mocktail made with pomegranate, cranberry, pineapple and lime juices with a blood orange and turmeric foam that makes it look like a layered creamsicle.
BRUNCH FOR TWO: $65–$75 plus tip.
FINE PRINT: Brunch is only on Sundays from 11 a.m. to 3 p.m. Reservations are recommended and leave extra time to find street parking near the Providence Pedestrian Bridge (great for taking a post-brunch stroll).
Aloft Providence Downtown, 191 Dorrance St., 252-0710, instagram.com/bluvioletpvd —Jamie Coelho
THE MENU: Whether you're an eggs Benedict kind of guy or gal or prefer a heaping pile of spicy, cheesy chilaquiles, the Shanty's brunch menu is wide-ranging and crowd-pleasing. If you're trying to increase your veggie intake, check out the red flannel hash. It's a traditional potato hash amped up with beets, a fried egg and a slick of sour cream to top it off. Then there's the decadent French toast: thick slices of eggy, rich challah bread served with seasonal jam and a side of syrup. Meat eaters are also taken care of with dishes like chicken and biscuits or, if you're feeling ultra-peckish, the breakfast burger. This no-nonsense start to the day comes with an eight-ounce Angus patty and
a runny fried egg on top. A burger is like a breakfast sandwich, right? Another hearty option is the breakfast burrito (also available vegan), which comes studded with tater tots, avocado and
black beans.
VIBE CHECK: Like its namesake, the Shanty is unpretentious and welcomes all who step foot through its wooden doors. A large wraparound bar fills the center of the room, while diners sit at cozy booths and tables set up along the perimeter. Sip a cuppa joe (or maybe a cold brewski, if you're a believer in the hair of the dog) and shoot the breeze with your favorite people over hearty brunch fare.
GET: The chilaquiles, which land at the table piping hot in a sizzling cast-iron skillet. Crunchy tortilla chips are laced with creamy scrambled eggs, and the whole dish is draped in cheese and scattered with pico de gallo and a dollop of sour cream. Pair it with a seasonal mimosa and you might forget you're in Warwick. We're also a sucker for a good custardy and caramelized French toast, and the Shanty's version, made with challah bread, is just that.
BOTTOMS UP: The Shanty offers brunch classics with a twist: Try the seasonal mimosa with whatever juice option is available (we loved the delicate pear juice-based one) or, if you're feeling adventurous, spring for the loaded bloody mary. This Instagram-worthy drink comes complete with a crispy rasher of bacon, pickled veggies and skewered jumbo shrimp. But if a boozy brunch isn't your thing, no one's judging if you order a cup
of freshly brewed New Harvest coffee. And if you're the type to clutch an iced coffee year-round, order the nitro brew.
BRUNCH FOR TWO: $55–$65 plus tip.
FINE PRINT: While reservations aren't required, we recommend booking a table in advance since the Shanty is hoppin' when brunch comes round.
3854 Post Rd., Warwick, 884-7008, theshantyri.com –Grace Kelly
THE MENU: No need to sprint to Sunday brunch as breakfast is served daily from 7 to 11:30 a.m. This egg-heavy menu offers omelets, sandwiches and six types of Benedicts. Specialty dishes like the truffled eggs and biscuit and gravy turn your classic diner breakfast into a home-cooked meal. Cinnamon roll pancakes and vanilla almond French toast satisfy your sweet tooth, and there's even a bagel platter layered with smoked Nova salmon, cream cheese, tomatoes, cucumbers, capers and whitefish salad.
VIBE CHECK: Nestled in Westerly across the road from Grays Boat Yard on the Pawcatuck River, vintage string lights illuminate the country-cottage signs and memorabilia. You'll feel right at home whether you're seated solo at the counter or pulling up a chair to join friends. It's a country diner-meets-mom-and-pop-restaurant atmosphere.
GET: The spicy breakfast tartine with avocado and two eggs your way topped off with local microgreens and housemade chili crisp offers a spicy, creamy crunch to every bite. For a sweet start to your day, try the vanilla almond French toast made with ample slices of Italian bread. The home fries are seasoned, hand-cut red bliss potatoes: they are the star of the show in the skillets that come loaded with sausage gravy or as a Mexican twist. Grab a slice of Key lime pie from the bakery on the way out.
BOTTOMS UP: Mimosas are served with fresh-squeezed orange juice and Spanish cava. If you're more of a fruity fan, the Sunny adds raspberry syrup and the Pink mixes peach and passionfruit syrup. A step up from a typical diner, this spot offers cappuccinos and lattes, both cold and hot, as well as nitro cold brew and Aqua ViTea Kombucha. A plethora of milks (oat, almond, regular and cream) are also available to suit your coffee creamer needs.
BRUNCH FOR TWO: $20–$40 plus tip.
FINE PRINT: Breakfast only runs until 11:30 a.m. then switches over to lunch until 3 p.m. Dine-in service is available on a first-come, first-served basis. Outdoor seating is offered in warmer seasons. For pickup or curbside takeout, call to order.
92 Watch Hill Rd., Westerly, 348-9888, thecookedgoose.com —Kerri Tallman
THE MENU: Chef and co-owner Sam Duling has Southern roots and it shows. He owns the restaurant with his partner Joanna Ray, and they previously lived together in Charleston, South Carolina, for two years before moving to Rhode Island. While the food that comes off the line is made from local seasonal ingredients (like Four Town Farm Brussels sprouts, produce from nearby Little River Farm and Baffoni Farm chicken), everything comes with a Southern touch. For starters, ask for hot sauce and you'll get a small bottle of Crystal brand, a Louisiana classic. Then, there's the unabashed appearances of other Southern staples, like Duke's mayo, Newsom's country ham and housemade pimento cheese.
VIBE CHECK: Tucked away off Main Street in Warren, Hunky Dory is here to let you know that everything is going to be all right (or should we say, hunky dory?). The weathered wood-siding exterior and dark green wainscoting inside are nods to the restaurant's Colonial New England locale, while subtle decor touches inside — delicate china, powder pink velvet cushions, small bottles of Crystal hot sauce and a shelf with Sean Brock's tome to Southern cuisine, Husk — harken to chef Sam Duling's time spent working at the restaurant as well as his roots.
GET: The bloody mary. It might not have the visual pizzazz of the loaded versions you often see on Instagram, but what it lacks in bijou it more than makes up for in flavor. Piney gin (or vodka) perks up the tomato base while flecks of fresh horseradish give it just enough kick. Saline and umami-laden with crunchy dilly beans poking out, it's one of the best bloodys we've had. For apps, try the cornbread madeleines with smoked sea salt honey butter, or, if you're not messin' around, get the drop biscuits with country sausage gravy. Then mosey on over to the brunch mains and take your pick. We recommend the fried green tomato B.L.T. (in season) for a creative take on the classic sandwich, or the country ham Benny: crispy slices of Newsom's Kentucky ham are layered over a warm, toasted house English muffin and doused in a cheesy, piquant hollandaise (you might be tempted to lick the sauce off the plate once you're done, it's that good). Just make sure you give the whole thing a shake of hot sauce before you dig in.
BOTTOMS UP: Beyond the killer bloody mary, Hunky Dory offers up an array of simple brunch tipples, both alcoholic and booze-free: think mimosas, mules and spritzes, or if you're still waking up, a hot cup of Borealis drip coffee. The wine list is also simple but chock-full of great selections: There's a floral, juicy gamay that would pair well with the RI Local Veggie Hash, or perhaps go for the unoaked chardonnay (clean with a mineral freshness and notes of pear, peach and hazelnut) to sip in between bites of the fried green tomato B.L.T. After all, who says you can't have wine for brunch?
BRUNCH FOR TWO: $50–$60 plus tip.
FINE PRINT: The menu changes frequently, so some items might not be there the next time you visit. All the better to try something new every time!
40 Market St., Warren, 245-1809, hunkydoryri.com —Grace Kelly
THE MENU: The boozy drinks will elevate your taste buds, while your chosen meal will bring you back down to earth. From contemporary American to seafood and vegetarian options, enter Nomi Park for a sophisticated but fun cocktail and cuisine experience. Brunch is available daily from 7 a.m. to 2:30 p.m.
VIBE CHECK: The restaurant's mix of modern and retro furnishings allows you to escape time on a laid-back morning or afternoon as you indulge in your meal. Make sure to choose a table in the sun-filled solarium to not only capture amazing food pics with brilliant lighting, but to really feel at home while surrounded by unique decor with friends or a significant other.
GET: The stacked mortadella sandwich with fried egg and a brioche bun might require you to eat it with a fork and knife, but only if you don't mind a little egg yolk dripping onto your fingers — that's what makes it a true egg sammy anyway. The shakshuka — baked eggs cooked with tomatoes and cilantro and sprinkled with feta — pairs well with some toast for dipping; think of it as a fancy tomato stew with eggs.
BOTTOMS UP: Choose between the coffee milk brunch cocktail made with Rhode Island Spirits' Rhodium Coffee and Black Walnut vodka, Autocrat coffee cyrup and milk, and a cranberry mimosa combining prosecco, cranberry and Rhodium Rhode Island Red vodka. Cocktails on draft like the house punch and grapefruit spritz are also worth sipping.
BRUNCH FOR TWO: $40–$50 plus tip.
FINE PRINT: No reservations are required but feel free to secure your table in advance. Make it a weekend with an overnight stay at the hotel, then roll out of bed and head downstairs for brunch.
At the Wayfinder Hotel, 151 Admiral Kalbfus Rd., Newport, 849-9880, nomiparknpt.com —Edelinda Baptista
THE MENU: Available weekends from 10 a.m. to 2 p.m., Back 40's brunch menu is divided between savory fare, sweet courses, assorted omelets and lunch favorites. Each category serves up retro American comfort cuisine for the brunch traditionalist and adventurous alike. We're talking
everything from avocado toast, housemade doughnuts and loaded nachos to breakfast tacos, burger omelets, Buffalo cauliflower and a Nashville chicken sandwich.
VIBE CHECK: Owned and operated by the Culpos (yes, as in Miss Universe 2012 Olivia Culpo, her dad Peter, and cousin Josh Culpo), as well as Justin Dalton-Ameen, Back 40 certainly lives up to its down country name. The eatery's barn-red exterior is a beacon for foodies amid its rural North Kingstown setting, with a casual-yet-classy interior to match (picture the occasional farm animal mural and bull head mount intermixed with dark wood trimmings, a massive stone fireplace and charming farmhouse chandeliers overhead).
GET: If you're in the mood for something savory, don't pass on the hash Benedict. This Southern twist on the classic breakfast dish has a little kick to it, with chipotle aioli sauce drizzled over a bed of poached eggs and corned beef hash. If you have a sweet tooth, though, there's a reason Back 40 calls its stuffed French toast "legendary." Bursting with honey ricotta cream and topped with sugared berries, syrup and whipped cream, this fan-favorite will have you calling all other bread-based breakfast treats subpar.
BOTTOMS UP: One mimosa, two mimosa, three mimosa, floor… Isn't that what brunch is for? Just be sure to have Uber preprogrammed on your phone or bring a nondrinking friend to do the driving. Take advantage of the mimosa flight for four tasting glasses filled to the brim with various juices. Or you can make your own by asking for a bottle of bubbly in an ice bucket accompanied by an assortment of fresh juices. Other a.m.-appropriate cocktails include the Fully Loaded Mary (vodka, house bloody mary mix, peppered beef jerky, pickled veggies and more), the Nutty Irish Coffee (Jameson, Baileys, Frangelico and coffee) and cereal-themed shots like the Cinnamon Toast Crunch (Fireball plus RumChata).
BRUNCH FOR TWO: $40–$50 plus tip.
FINE PRINT: Look out for can't-miss festivities like drag brunch, where the gals will serenade you while you enjoy a three-course prix fixe meal (warning: the improv standup between performances may cause laugh-spitting, so plan your mimosa sips accordingly).
20 South County Trail, North Kingstown, 667-4869, back40ri.com —Kaitlyn Murray
THE MENU: You could go the typical breakfast route (omelets, waffles, French toast), but why linger on the conventional side of the menu when there's bliss-inducing Southern comfort food on offer all day? Think New Orleans-style gumbo, slow-roasted pulled pork with caramelized onion and barbecue sauce and classic jambalaya — shrimp, chicken, andouille sausage and creamy Creole sauce, washing over a scarcely visible bed of rice.
VIBE CHECK: The theme in this small eatery is Southern (according to Dante's "mini" primer on the South, y'all is
the only proper noun) and that friendliness extends to the service, which is efficient but not intrusive. Chat up the bartender at the tiny bar or grab a table in the window and watch the world go by on E.G.'s Main Street.
GET: The warm beignets, which arrive in a cloud of powdered sugar, oozing rich Nutella goodness. Dante's version of mac and cheese includes (of course) bacon and pulled pork and comes with cornbread. And the shrimp or crispy pork belly po'boys with jalapeno remoulade provide their own internal heat. Word of advice: Wear stretchy pants.
BOTTOMS UP: Ease into the day with Dante's Inferno bloody mary, a generous pour with shrimp, olives, a shot of Tito's vodka and a slice of bacon as a swizzle stick. If adult coffee beverages are more your thing, there's bananas Foster (vanilla vodka and banana liquor with a swirl of whipped cream) or an Irish kiss (Baileys and Jameson).
BRUNCH FOR TWO: $50–$60 plus tip.
FINE PRINT: Need to satisfy that biscuits and gravy fix? Come on weekdays when Dante's has the full breakfast and lunch menu. They also do takeout on weeknights. Sundays, it's breakfast only and there are no reservations; during warmer weather there's outdoor seating.
315 Main St., East Greenwich, 398-7798, dantekitchenri.com —Sarah Francis
THE MENU: Some of the most perfectly designed dishes come out of Bayberry Garden, where servers suggest sharing amongst the table. Groups get a taste of sweet and savory smaller plates, larger main courses and a bunch of briny oyster options from the extensive raw bar (which is also a prime seat in the house). Chef Mike Seely might plate breaded eggplant under eggs Benedict instead of traditional toast. Dishes are veggie- and fresh-herb forward with seasonal squashes, roasted beets and fresh-plucked greens accenting carefully cooked proteins and flavor-bomb sauces.
VIBE CHECK: With its climbing vines and planted trees, Bayberry is like dining in the middle of an indoor garden or terrarium. Colorful dishes parade out of the kitchen in a casual, unpretentious atmosphere where the cocktails are as alluring as the eye-candy clientele.
GET: Order several shared plates to play the field backward from sweet to savory, including the croissant bread pudding with apple, caramelized white chocolate and Chantilly cream followed by fried Brussels sprouts with 'nduja and peppercorn ranch. Smoked salmon toast with creme fraiche and pickled red onion is nice and light for daintier appetites, while the short rib Benedict on a Portuguese bolo will satisfy any hefty eater used to a diner-style lumberjack special.
BOTTOMS UP: Choose wines from a list of 250-plus rare and curated bottles from bubbles and crisp whites to oaky and berry-forward reds. Cocktails are like a garden in a glass with fruity, herby, smoky and citrusy notes. There are also several zero-proof cocktails for those turning dry January into a year-round commitment.
BRUNCH FOR TWO: $70–$80 plus tip.
FINE PRINT: Open for brunch starting at 11 a.m. on Sundays. Give yourself extra time for parking in metered spots on the street (download the city's parking app to save time and pay digitally).
225 Dyer St., Providence, 642-5013, bayberrygarden.com —Jamie Coelho
THE MENU: Items range from breakfast fare like a delicately cooked French-style omelet with Boursin cheese and hearty Benedicts to lunchtime selections like a bulky brunch burger topped with a fried egg or beef tenderloin served with poached eggs and bearnaise sauce.
VIBE CHECK: Settle in on the enclosed deck on the East Greenwich Marina and discuss which sailing vessel you'd like to someday take for a spin. The upstairs indoor dining room, also available for private events, is lined with windows that open up to the bay in good weather.
GET: You could make a whole meal out of the roasted beet burrata salad with a variety of roasted and pickled beets paired with creamy burrata on top of a bed of arugula, drizzled with lemon-truffle vinaigrette and sprinkled with toasted pistachios. Avocado tartine is a fancier take on toast, with an earthy avocado spread daintily topped with crisp radishes and a light citrus vinaigrette dressing. Since the starters are on the lighter side, main courses are meant for indulging. Soak up those mimosas with any of the Benedicts paired with pan-seared crabcakes and meaty short ribs or opt for the comforting chicken and freshly baked buttery biscuits.
BOTTOMS UP: Sip citrus and spirits with breakfast as a substitute for OJ: The Water Street Marguerite mixes up grapefruit with reposado tequila and maraschino liqueur and the Mezcalita de Muerte combines blood orange puree with mezcal, lime juice and orange bitters. There's also a Chai Latte Martini with Baileys, vanilla-infused vodka, espresso and chai for a different kind of buzz.
BRUNCH FOR TWO: $50–$65 plus tip.
FINE PRINT: Water Street Kitchen's brunch menu is available Saturdays and Sundays starting at 11:30 a.m. Stay a little longer into the afternoon and experience Water Street's special sushi menu, too.
28 Water St., East Greenwich, 398-0202, waterstreetkitchenri.com —Jamie Coelho
THE MENU: Eclectic street fare ranges from curing hangovers to transporting you to the grounds of a local farm through the flavors of fresh and seasonal ingredients. Brunch is available Friday through Sunday from 10 a.m.–3 p.m., offering a menu that consists of mostly savory bites if you find yourself more attracted to the lunch side of brunch.
VIBE CHECK: Enter the hip and colorful art museum-like space packed with murals, unusual light fixtures, art featuring movie titles altered to associate with the restaurant (search for "works" like Troop Alone and Pretty in Troop), bar stools with skateboards that serve as the backrests and other features you might miss if you don't look around. The upbeat R-and-B playlist matches the interior while also foreshadowing the restaurant and bar's nighttime festivities.
GET: The Key lime Frenchie, towering with housemade pound cake, Key lime curd, fresh vanilla whipped cream and pie crust crumble on top. Savory food fans should select the local farm omelet, served with crispy home fries, sprinkled with local pea greens and cooked with herbed goat cheese and a rotating selection of vegetables from Rhody farms. Troop's cheddar biscuits are also not to be missed.
BOTTOMS UP: Besides the classic mimosas, try beachy frozen drinks like the frozen Mexican mocha spiked with Bacardi spiced rum or a vegan strawberry shake mixed with Grey Goose vodka and housemade strawberry syrup. For more sweet heat, there's the Alto Ego, featuring passionfruit juice, pureed jalapeno, lime with black pepper and jalapeno house-infused Altos tequila.
BRUNCH FOR TWO: $40–$50 plus tip.
FINE PRINT: Because of the aforementioned R-and-B playlist, along with your drink choice, be prepared to dance in your seat while munching on your meal. Dine in, outside on the patio on a warm day, or stick to takeout for at-home brunch shenanigans.
60 Valley St., Providence, 473-2900, trooppvd.com —Edelinda Baptista
THE MENU: Skip the weekend rush for weekday indulgence. Derek Wagner's New England–sourced brunch menu is available Wednesday to Sunday, starting at 10 a.m. Baffoni Farm eggs are given the luxe treatment, gently cooked until the yolks are golden, glistening and quivering on top of freshly baked toast or buttermilk biscuits for precise versions of eggs Benedict. Buttermilk pancakes and French toast are given a seasonal flavor boost in brisk months with a caramelized apple compote made from locally harvested fruit, whipped cream and housemade granola, and just-picked berries in the spring and summer, always drizzled with real Vermont maple syrup.
VIBE CHECK: The West Side kitchen is celebrating twenty years of its upscale diner atmosphere with counter seats that peek into the kitchen for a front-row seat on the action. Both friends and families feel comfortable dining in the contemporary-but-not-stuffy dining room, where local food producers and farms are the top priority for menu creation. Be prepared for servers to wax poetic about neighboring farms and the care that goes into plating each dish.
GET: Anything with eggs, preferably flanked by house-baked bread that you can use to scoop up gooey egg yolk and sauces. Hearty black beans with tomato-chili salsa topped with eggs channel Mexican huevos rancheros, while you can also sub in eggs with a main course entree like polenta and veggies with pecorino and grilled bread or as a sidekick to a chargrilled Blackbird Farm steak.
BOTTOMS UP: These morning-themed cocktails make it nearly expected to have booze with your breakfast. Choose from the Pretty in Pink that mixes up grapefruit with Rhodium vodka and sparkling rose or the Kentucky Cold Brew that starts with an Illy cold brew paired with Four Roses bourbon, vanilla and brown sugar. There's also a spiked hot cocoa accented by minty liqueur.
BRUNCH FOR TWO: $50–$60 plus tip.
FINE PRINT: Gone are the days of waiting for a table to open up. Reservations may be made by phone, email or OpenTable. Nicks also has a heated outdoor patio and dishes can be taken home for takeout. If you think brunch is good, don't sleep on dinner. It's even better.
500 Broadway, Providence, 421-0286, nicksonbroadway.com —Jamie Coelho
MORE TOP BRUNCH SPOTS (ONLINE EXTRAS!)
Massimo slays Sunday brunch every week from 11 a.m. to 2 p.m. Guests can start the party early by sipping bloody Marys and mimosas (there's no five o'clock rule here) or go traditional with good coffee and two eggs served with bacon and spicy andouille sausage. Fierce plates include lobster crepes bathed in a cream sauce or porchetta stuffed with herbs and fontina with a sidekick of perky sunnyside eggs. The breakfast-averse can also opt for spaghetti carbonara or gnocchi al forno, so everyone goes home happy. 134 Atwells Ave., Providence, 401-273-0650, massimori.com
Three cheers to a Saturday and Sunday brunch that builds community at extra-long tables, nooks that are great for large groups and a friendly bar. At Bayberry, there's no excuse for not being social. The counter-service beer hall pours an extensive draft list, nitro coffee, bloody marys and mimosas to match a made-from-scratch brunch menu of chicken and waffles, indulgent pancakes dressed with seasonal preserves, vanilla crumble and whipped creme fraiche and the excellent Weatherlow Farms burger. Bayberry is as happy to accommodate beer nerds as it is toddler-toting parents. They have highchairs, changing tables and crayons and coloring mats for the wee ones. Kiddos might sit still (maybe for a minute) for waffle sticks and the Little Farmer breakfast served on a durable tray with an egg any way junior likes it, potatoes, bacon, fruit and an English muffin or biscuit. Long enough for mom or dad to enjoy a beer, anyway. 381 West Fountain St., Providence, 401-383-9487, bayberrybeerhall.com
The late CAV owner Sylvia Moubayed lives on as her faithful family maintains her legacy at the restaurant. The beautiful dining room with her treasured collection of worldly antiques and crystal chandeliers surrounds guests at Saturday and Sunday brunch while they indulge in heaping plates of brioche French toast with sauteed apples, raisins and walnuts, the famous poached egg-topped crab cake and eggs supreme with sundried tomatoes and crusty French bread. The Providence mainstay has been in business since 1989 before brunch was even a thing. If you haven't been yet, it's time to pay respect to one of the original city hotspots that helped make Providence into a culinary capital. Remember: It was probably serving mimosas to your mama and her gal-pals way back in the '90s. 14 Imperial Pl., Providence, 401-751-9164, cavrestaurant.com
Chef Ben Lloyd takes brunch to another level with local ingredients every Sunday from 11 a.m. to 2 p.m. We wish we could start every meal with a bag of warm doughnuts or flaky buttermilk biscuits. Meats are sourced mostly from Blackbird Farm and cured and smoked at the restaurant, including the housemade bacon. The housemade smoked salmon often make an appearance, too, alongside eggs or hash at the restaurant, sometimes served with neighbor Wayland Bakery's bagels. But there's also a following for sweeter choices like lemon ricotta pancakes paired with bay leaf-infused syrup. Breakfast might seem like an easy meal to make, but Salted Slate puts in 110 percent by sourcing from area farms, curing and smoking meats in-house, and pickling vegetables (why not have the whole charcuterie platter for breakfast?). 186 Wayland Ave., Providence, 401-270-3737, saltedslate.com
Little Sister
Putting creative twists and Latin flavor into everything from tropical pastries to egg sandwiches is Little Sister owner Milena Pagán's passion. The cafe started out with pastry popups, serving quesitos with puff pastry, sweet cheese and tropical fruit jam; spicy breakfast egg and cheese sammies and empanadas; powdered sugar-dusted buns called mallorcas and buttery, flaky sweet and savory galettes with tropical fruit and blueberry jammy centers or caramelized onion, potato and bacon baked inside (nowadays the galette flavors rotate but always deliver similar flavor profiles). Now they offer sitdown breakfast, brunch and lunch options, including rice-based lunch specials and egg sammies with a spicy kick from chorizo or spicy sauce, and almost always laced with avocado on brioche. Don't miss the open-faced croqueta madame sandwich with a gooey poached egg, ham croquette, cheddar cheese and bechamel served with a side salad. "We've been mindful to add little touches to every dish to make it tropical, Latin and different," Pagán says. Guests should be prepared to leave with a box of pastries to savor that same day or the next morning. Pagán and her baking crew have learned to perfect croissants in different flavors, including chocolate, as well as an almond sesame version that repurposes the solids from their horchata, a rich, creamy drink made from those ingredients plus cinnamon and other spices. The flavor is stuffed into the middle of the twenty-seven-layered laminated flaky and buttery pastries topped with toasted almond slices and sesame seeds. Even Little Sister's coffee brand, Gustos, is sourced from a Puerto Rican farm that roasts beans right on the island. The cafe is open for brunch and lunch Thurs. and Fri. from 8 a.m. to 2 p.m. and Sat. and Sun. from 9 a.m. to 3 p.m., as well as industry brunch on Mondays from 8 a.m.-2 p.m. (industry folks get a free drink with a dine-in meal, just introduce yourself and tell them where you work). 737a Hope St., Providence, 401-642-9464, littlesisterpvd.com
Kin Southern Table and Drinks
While celebrating its one-year anniversary, Kin recently extended its amazing menu to brunch on Sundays from 11 a.m. to 3 p.m. They are making items like the banana Nutella waffle, savory shrimp and grits, Fruity Pebbles French toast, red velvet waffles, biscuits and savory gravy, served with Bloody Mary J's, mimosas and more. Diners vibe out to music from a live deejay and sip some of the most innovative cocktails around, including the Espress Ya'Self with Rhodium Coffee and Black Walnut Vodka, Baileys and Godiva Chocolate Liqueur; house rum punch called Juju Juice (order a pitcher for the whole crew!) and the "Boss B Mimosa" mixed with vodka, Prosecco, orange juice and peach schnapps. 71 Washington St., Providence, 401-537-7470, kinpvd.com/brunch
Ocean House
Head to Watch Hill on Sundays from 8 a.m.−2:30 p.m. for the jazz brunch. It's like the big buffet they used to have but set on your own table. Get all gussied up for a late-morning seated brunch with the finest dishes from land and sea, glasses of bottomless sparkling wine and live jazz over ocean views. The plated, à la carte menu changes every week, and includes fresh fruit and pastries, a tower of charcuterie and raw bar offerings for the whole table, followed by a choice from a selection of first-course and main course breakfast or lunch dishes, including eggs Benedict, specialty pancakes, country link sausage and omelets served with unlimited sparkling wine. Dessert includes a selection of mini treats for the table. Musician Greg Piccolo performs a combination of jazz, blues and soul in the lobby from 11:30 a.m.−2:30 p.m. The cost for the menu is $68 per person, and there is a separate kids' menu with tot-friendly choices. 1 Bluff Ave., Watch Hill, 401-584-7000, oceanhouseri.com
Julians
You may still have to wait for a table with the whole town, but Julians is the place to go to satisfy diners of vegan and vegetarian diets who don't mind associating with the carnivores. Our pick: Inventive eggs Benedict (one staffer raves about the one served with fried chicken on cornbread with barbecue hollandaise), but it can be ordered every way from traditional with ham to the vegan version with fried tofu egg, garlicky spinach and vegan hollandaise. A special version includes poached eggs atop Italian sausage, Boursin cheese, baby spinach and thick Italian toast topped with maple-dijon hollandaise. They have bursting omelets stuffed with you-name-it, gluten-free waffles with bananas, strawberries and caramel, eggs and hash specials and so much more. They also make the best version of shakshuka around with two poached eggs served in a crock of spicy tomato stew with lemon tahini and fresh parsley. The restaurant is known for its craft beer list, but they also mix up morning cocktails using local spirits from Industrious Spirit Company and Rhode Island Spirits that satisfy the sweet or savory side. There are also a few fun non-alcoholic drinks so those who don't imbibe can still have some sipping fun. 318 Broadway, Providence, 401-861-1770, juliansprovidence.com
Stoneacre Brasserie and Stoneacre Garden
There are so many great spots for brunch in Newport, but Stoneacre Hospitality's two restaurants have the game cornered. Head to the Brasserie Saturday and Sunday from 9 a.m.–4 p.m. for a more comfort-food-style menu with buttermilk biscuits, soft scrambled cheesy eggs, corned bread hash and the decadent French toast bread pudding. For a Parisian twist, the salmon rillette Benedict with poached eggs and Bearnaise sauce, Croque Monsieur (ham, gruyere and parmesan) and Croque Madame (the same, but with a fried egg addition) are the picks. Don't miss the dog show on May 1 from 1-4 p.m.! The Garden is a bit more playful with its brunch menu, served Saturday through Monday from 10 a.m.–4 p.m. and includes items like braised pork chili verde with cilantro, lime and fried egg; a light and fresh green papaya salad with carrots, cilantro, Thai chili and peanuts or burrata salad with apple slices, pomegranate and marcona almonds; avocado and smoked salmon toasts, plus a classic lobster Benedict. Of course, hefty portions are available to fill up empty bellies, like the crispy glazed chicken sandwich and chicken and waffles with fresno lime butter and chili maple syrup. Stoneacre Brasserie, 28 Washington Sq., Newport, 401-619-7810, stoneacrebrasserie.com; Stoneacre Garden, 151 Swinburne Row, Newport, 401-619-8400, stoneacrebrasserie.com/stoneacre-garden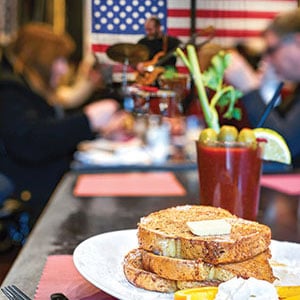 Start the day jamming out over eggs and bacon at these five spots with live music.