The Best of the Brunch in Rhode Island
Be it a late breakfast, an early lunch or both, these spots will hit the spot.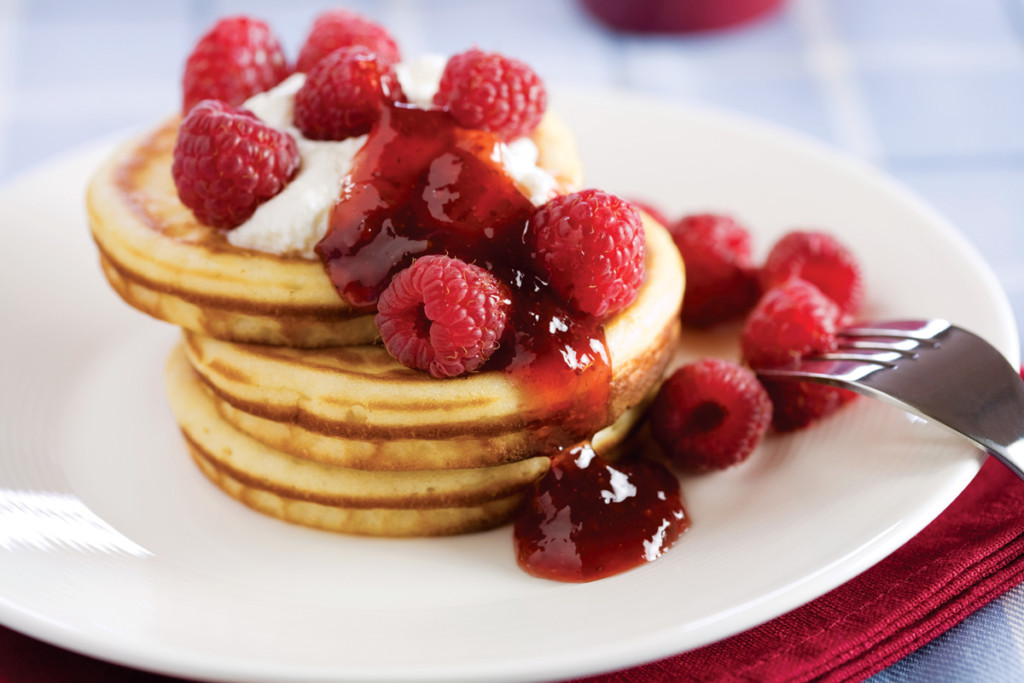 The Duck and Bunny
If you're looking for a brunch to satisfy your sweet tooth paired with an elegant, dollhouse-style ambiance, then look no further than Providence's one and only snuggery. While known for their crepes and cocktails, the Duck and Bunny also offers a variety of other brunchy comforts including a dazzling array of salads, desserts, wines, beers and even cigars -— perfect for a slow summer morning shared with great company. Providence.
Caleb and Broad
Named after the two bustling Newport streets on which it sits, Caleb and Broad features an industrial, pop-art-meets-graffiti-themed interior and a scenic outdoor seating area. Either choice makes for a relaxed brunch setting where you and your Sunday Funday crowd can munch on specialties like breakfast bowls, pork bennys, baked French pretzels, veggie frittatas and chicken and biscuits. Newport.
The Treehouse Tavern
Sunday brunch can sometimes turn into an elegant and stuffy affair, so it can be nice to branch out sometimes with something a bit more casual: Enter the Treehouse Tavern and Bistro, where woodsy, rustic decor creates a uniquely New England vibe that's tough to find outside of Vermont or Maine. Try the wood-smoked salmon over Nicoise salad for a healthy treat, or indulge in the bread pudding French toast. Either way, it'll pair excellently with a house-made mimosa or a breakfast martini. Warwick.
The Boat House
Narragansett and Newport are Rhody's best-known beach towns (for good reason), but lesser known Tiverton has plenty of breathtaking water views itself, and there's no better way to soak them in than during brunch at the Boat House. The menu is long and wide, so visitors can pick their poison and sink their teeth into the unique Portuguese-baked eggs, refine their palate with the coriander-crusted swordfish or enjoy a simple seasonal omelet. Tiverton.
The Clarke Cook House
Is it a restaurant with lodging or a hotel with dining?
Either way, the Clarke Cooke House is universally hailed as a gourmet food focal point in Rhode Island thanks to executive chef Ted Gidly who just recently returned from the world-renowned French Laundry to prepare for another bustling summer. Be sure to test Gidly's cooking with dishes like the eggs Strasbourg, or stick to classics like the johnnycake. Newport.
Athena's
Traditional diner-style brunches seem to be going out of style with the rise in fancy morning eateries, but Athena's is a local favorite for their tenacity in sticking to tried-and-true classics. Located in a green, barn-like building just over the Cranston border, Athena's is the perfect place for a leisurely morning enjoyed with cheap eats, priceless flavors and a relaxing cup o' Joe. Cranston.
Dante's Kitchen
With dishes like pulled pork hash, biscuits, banana and Nutella-stuffed French toast and fried chicken and waffles, Dante's Kitchen is how the Northeast does southern comfort. The menu clearly stands out from what you'll find at most other breakfast joints around here, and the urban-loft digs make for a pretty cool experience. East Greenwich.
Early Foodie Gets the Goodie
Waffles
Move over pancakes and IHOP, there's a new batter-based breakfast item that's poised to take the RI culinary scene by storm. Both sweet and savory, Liege waffles are made with thick dough and pearl sugars and then yeast risen for a dense yet fluffy look. Grab a stack at one of the Bergundian: Coffee and Waffle's pop up locations (be sure to follow them on Facebook for details) or check out the brand-new Waffle in Providence.
Doughnuts
How could we not pay homage to the quick-hit treat that basically took over Instagram last year? Head to either PVDonuts or Knead in Providence for brioche-like goodness, Four Corners in Warwick for an out of-the-box (or rather, box-like) take, or Allie's Donuts in North Kingstown to experience an iconic Rhode Island delicacy/institution.
Bagels
Gourmet bagels of the hand-rolled and boiled variety paired with artisan cream cheese spreads are another hole-in-one for local foodies. Jump on the trend and stop by newbie-but-goodie Rebelle Artisan Bagels in Providence or take a trip to the classic-yet-fantastic New York Bagel in Fall River, Massachusetts.